Don't let the prospect of driving countless monotonous hours get you down. Here are some easy road trip hacks to make the time go by as quickly as possible.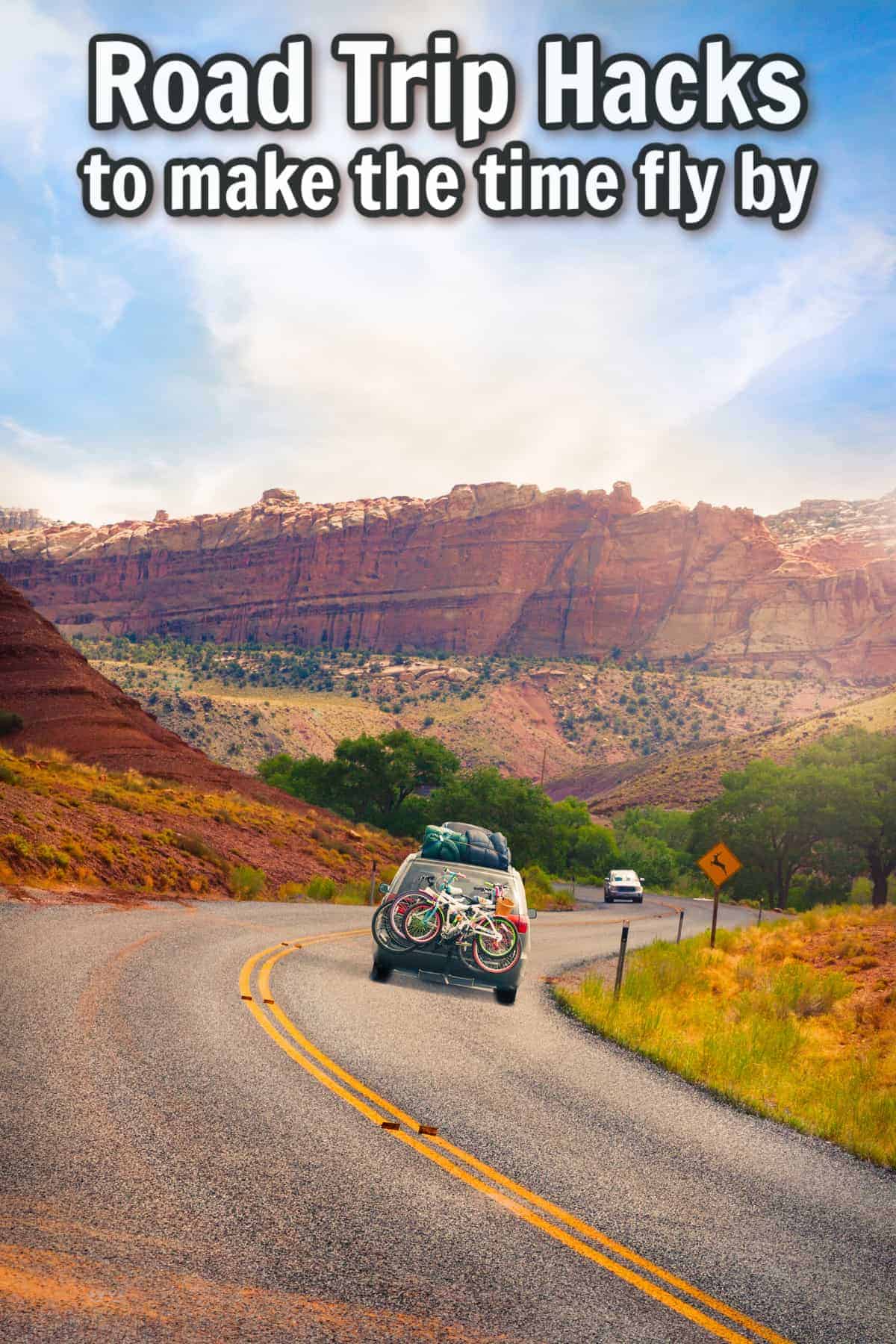 Jump to:
Have you ever driven (or about to drive) on interstate 70 in Kansas? Or I-20 through Texas?
How about I-95 on the East Coast or I-90 through the Midwest?
Then you know the torture of long, butt-numbing hours of uninspiring scenery, cacophonous talk radio and endless country music.
Even if your phone is fully stocked with your favorite music, very long trips in the car are tough. Both on your mind and body.
Going for a several hours long drive through bucolic, beautiful country like California's 395 in the Sierras isn't so bad.
But if you're about to embark on a journey with nothing to look at but flat field after flat field of corn stalks (or worse: strip malls), you'll be wise to use some of the following tips.
Especially if you have kids.
If you don't want to go insane hearing, "Are we there yet? Are we there yet?" then pay attention….
Car Hacks for Road Trips
To keep kids entertained you have to make a bargain with the devil.
Are you strict about how much screen time your kids can view at home? Well, unless you're going to be a hands-on entertainer for most of the ride, abandon your strict screen time rules for the long road trip.
And one of the most popular road trip hacks is hanging a iPad, Kindle or other monitor off your car's sun visor.
This is obviously unnecessary if you're lucky enough to have a new car equipped with built-in viewing monitors.
But if you have an older vehicle that lacks built-in monitors, letting your kids watch movies will help kill a couple hours. You can also download episodes of their favorite shows ahead of time.
This will come in handy if you're driving in an area that doesn't have reliable Wifi.
Another of the most popular entertainment-viewing road trip hacks is using a binder clip for a smart phone holder. Along with a rubber band, you can attach the clip to the air vent.
(Again, this tip doesn't apply if you're in the one percent and own the latest, greatest luxury vehicle.)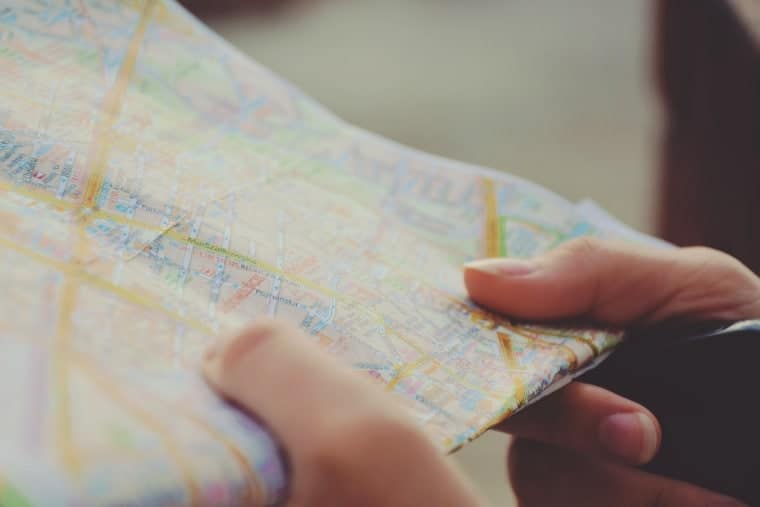 Road-Trippin' Hacks That'll Save You Money
But if you're someone who is looking for a practical way to save money, making this homemade smart phone holder will save you about $10.
And speaking of saving money, another tip for your trip is downloading the GasBuddy app. The app finds the cheapest gas stations in your area.
But let's get back to entertaining the kids in the easiest way possible: with Wifi.
The online magazine, Canadian Family, recommends setting your phone up as a hot spot. By doing this, you can stream live TV or recorded shows through your phone or device without having to worry about spotty Wifi.
However, keep in mind this tip is only good if you are on an unlimited data plan. If you don't have such a plan or don't want to use your phone as a hot spot, there's another option.
Canadian Family recommends purchasing a mobile hot spot device. This is especially beneficial if you have more than one person along for the ride who wants to connect to the Internet at the same time.
But if you don't want your kids staring at a screen or don't want to pay for data, how can you keep them occupied?
This life hacking website recommends hanging a backpack from the headrest. Fill the backpack with books, child-friendly laptops, puzzles and other toys and activities.
Keeping Kids Occupied On Long Drives
For nighttime driving, Red Tricycle says there's no better way to make the time fly by than having a glow stick dance party! Put on some glow-stick appropriate hopping tunes to keep the kids distracted from the fact there's nothing to see out of the window.
In addition, Red Tricycle offers one of the cleverest road trip hacks: edible necklaces.
To make them, string flavorless floss with healthy snacks like olives, gluten-free pretzels (ok, pretzels, even if they're gluten-free aren't that healthy), and hallowed-out grapes.
If your child or children are old enough, Red Tricycle suggests letting them play with a disposable or digital camera. Of course, if you're driving through Kansas on I-70, there won't be much to photograph.
Nonetheless, kids can have fun playing family photographer. Have them keep a diary of what they're taking pictures of; instruct them to record the exact place, date and time of each individual photo … that'll kill some tedious time.
Road Trip Packing Hacks
Another way to organize kid-friendly knickknacks, says Red Tricycle, is hanging a shoe cubby from the back of each front seat.
If you don't want your car seats to get soiled with dirt, here's one more tip courtesy of Red Tricycle….
Cover your car seats with a fitted sheet. By doing so, when you arrive at your destination, you can simply shake out the sheet to clear the mess.
Or you can do so intermittently throughout the drive.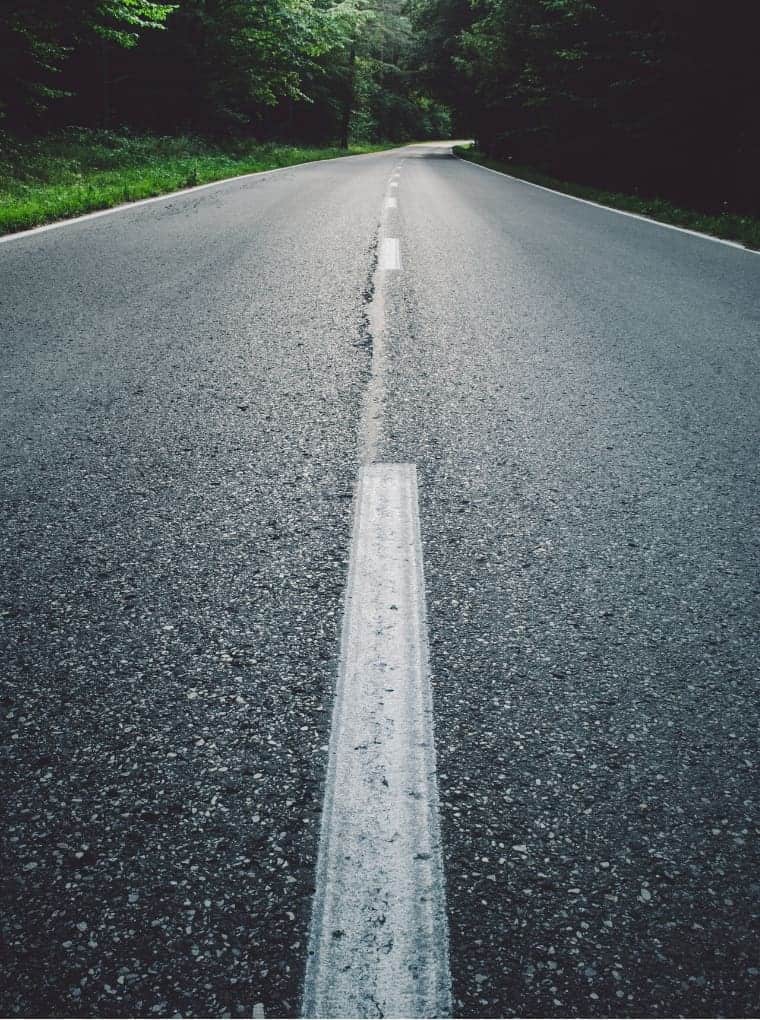 Tips For Sleeping In The Car
If you're travelling solo and you can fold your back seats down and have decent trunk space, you can sleep in your car. But unless you have a large van, sleeping in a car can be uncomfortable.
That's why one of the smartest road trip hacks for solo (or for couples) travelers is bringing an inflatable raft or camping sleeping pad. Use the raft or pad as your mattress.
If you're going to sleep in your car, an important thing to consider is where to pull over for the night. Rest stops are tempting if you're travelling along a major interstate.
However, rest stops can be poorly maintained and, well, just outright sketchy.
Instead, some people who sleep in their car do so at big box chain-store parking lots. Some stores like Walmart may allow overnight parking of cars or RVs.
Another safe option is to park your vehicle in a hospital that has a large garage. There will always be a police presence at a hospital in case you run into trouble.
And if you're going on a really long trip, say, across the country or far up the coast, pay the money to have a mechanic inspect your car.
Not doing so may result in paying far more money out of pocket for repairs.
Killing Time & Going Potty
If you've got a long drive ahead of you, visit your local library before you depart. Check out some audio books and download them. If you're not downloading the audio books on your own device, you might be able to renew the audio books online, depending on your library's policy.
When nature calls, most people stop in a fast food restaurant for a quick potty break. However, hotels are a better option.
Hotel facilities are usually cleaner. Plus, after driving a few hours, you can the time to stretch your legs in the hotel lobby or take a quick walk around the hotel's perimeter.
Road Trip Food Hacks
If you want to cut down on environmental waste, buy a set of reusable bamboo utensils. They usually come with a handy carrying case.
Think about all the meals you'll be eating while on the road and how many napkins and plastic utensils you would otherwise go through.
In light of how much trash you'll be personally responsible for, it's Earth-wise to invest in reusable utensils.
Another of the best road trip hacks is to buy Hot-Cold Insulated Thermal Food Storage & Carry Bags. You don't need to invest in a $400 Yeti cooler; simple hot-cold insulated food storage bags are as low as a couple bucks each.
What tips and tricks for long drives do you recommend? Leave a comment.