After getting a tooth (or teeth) yanked out, the throbbing pain may rob your appetite. But in order to recover and stay healthy, you need to eat. Here, then are some of the best soft foods to eat after tooth extraction.
Jump to:
Wisdom teeth … who came up with that one? What's so wise about cramming teeth we don't need deep in the far reaches of the oral cavity?
Otherwise known as third molars, wisdom teeth are anything other than wise.
When they grow, they poke out through the back of the gums. Often, there's no space for them to emerge erect like your other teeth.
When this occurs, they "impact" and grow askew. Or sometimes, they barely burrow out of the gum line and remain partially buried.
Consequently, this can damage neighboring teeth. It also raises the risk of infection.
Perhaps you've been tricked by your dentist to get them removed. You wouldn't be the first person to have that happen to.
In fact, the most common form of oral surgery is extraction of impacted third molars. [SOURCE]
But the threat of infection and damage to neighboring teeth is indeed a scary and strong selling point. However, don't let anyone yank your third molars unless the teeth are already causing you problems.
Hopefully, this advice isn't too late.
Best case scenario here is that you're thinking about getting your wisdom teeth removed and are planning for every contingency post-surgery….
….Such as what are the best soft foods to eat after tooth extraction? (Or, what are some productive things to do when you're bored.)
If it's already too late and you're reading this hopped up on painkillers, then good news. Below, you'll find some nourishing foods that won't irritate your throbbing teeth.
Eating Guidelines Post-Surgery
Not to scare the living daylights out of you, but tooth removal can be quite painful. Especially if you have removal of all four third molars at the same time.
Depending on how severe the impaction is, it usually takes a few days to a full week of recovery time. And even though during the first few days, when you will likely have little appetite, it's critical that you get enough nutrients.
Eating soft nutrient-dense foods may heal the recovery time. Unfortunately, research on the best soft foods to eat after tooth extraction or nutrients is scant.
Vitamin B12 Reduces Pain
One study shows that vitamin B12 supplementation results in lower pain scores. The study specifically measures the pain scores at 6 hours and 120 hours after tooth removal. The test subjects were given a B12 tablet 30 minutes after the operation and for four days, once a day.
So what are the absolute best foods with B12?
According to this article by Harvard Health, the top two foods with the most amount of B12 are clams and liver.
Doesn't that just whet your appetite?
Should this post stop listing other best soft foods to eat after tooth extraction? After all, you love clams and liver so much that that's all you have until you fully recover?
Obviously, this statement reeks of sarcasm, almost as bad as an abscessed tooth.
Both clams and liver are soft. (It goes without saying to make sure you don't bite into a clam shell. Or for that matter, eat a raw liver, not even with a nice bottle of Chianti; alcohol is a no-no after tooth extraction).
So if you can tolerate it, try to gulp a few ounces down. Clams and liver blow away all other foods in terms of B12 content per serving.
Some people believe that steak and other cuts of beef are good sources of B12. Indeed it is. But it's not nearly at the top of the list.
In fact, it only contains 1.5 micrograms of B12 per serving. In comparison to the 84 mcg and 70 mcg for clams and liver, that might not be enough to make a dent in your pain recovery.
Besides, beef is too chewy post-surgery. And it's not one of the easiest or appealing foods to put in the blender.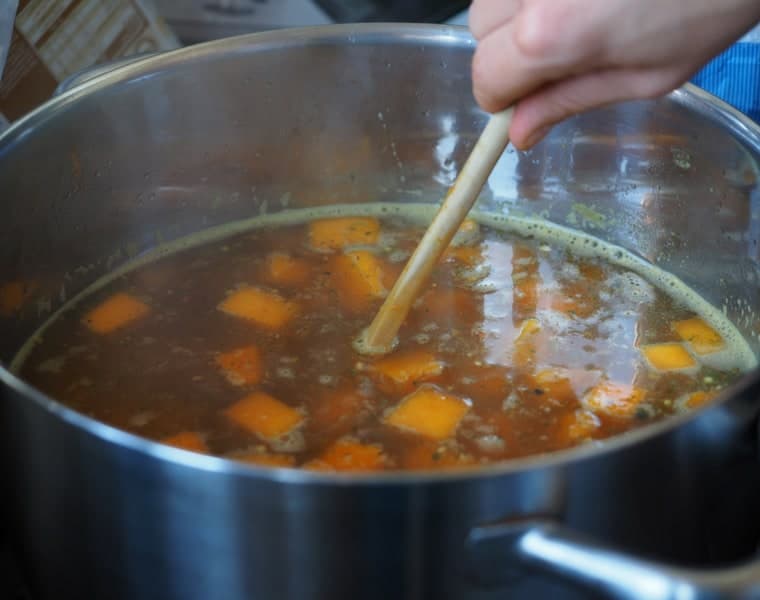 Best Soft Foods To Eat After Tooth Extraction: Broth
But bone broth is perfect. And it seems to be a panacea. There's anecdotal reports of it helping improve skin, digestion, autoimmune disease, and virtually every malady under the sun.
Despite the popularity of it, many people still really don't know what exactly bone broth is.
Is it a huge bowl of soup with a cow's femur sticking out of it?
If that were the case, bone broth definitely doesn't make the top 10 for soft foods to eat after getting your wisdom teeth taken out….
Essentially, bone broth is the skin, bones and/or other undesirable parts of an animal that aren't the source of typical meat. We're talking neck and feet bones, gizzards, scales of fish, and other constituents you won't find at your neighborhood burger joint.
Bone broth also contains savory spices and vegetables.
Typically, it takes many hours–up to 48–for bones to simmer long enough to break down into sippable soup.
Bone broth is rich in protein, specifically collagen protein. The collagen from the cow or chicken or fish breaks down into the soup. And by slurping it, the amino acids in the animal collagen may help rebuild your own collagen.
Collagen is a living, growing tissue that gives bones the strength to withstand pressure. Your teeth mainly consist of collagen.
There aren't any studies that say drinking bone broth is good for tooth extraction. However, it may be possible that the collagen in it can help with tissue repair.
And besides, it's rich in protein and contains fiber. Thus, it's a nutrient-dense food that may help your recovery.
Just make sure the broth isn't too hot. Go for lukewarm at most.
Soup
Obviously, other soups will provide you nutrition and won't cause pain in your mouth. That is, unless, you don't heed the above advice to make sure the temperature does not exceed lukewarm.
Puree or blended soups like carrot, tomato or pumpkin are good choices.
Just make sure if you're making soups in a food processor that it's blended for long enough. This ensures there won't be any chunky morsels that will stab your healing wound.
Applesauce
You can also relive your early childhood years by eating applesauce. While it's not the most nutrient-dense food, organic applesauce with no added sugar at least provides some nutrition and will provide fuel (sugar) for your brain.
Avocado
Avocados are a tricky fruit. They need to be just the right texture to be palatable, much less tasty.
But it's wise to eat them after wisdom teeth extraction. That's because they are an excellent source of fat. (Some people even call it a "smart fat.")
The problem with avocados is that they can be too chunky. For this reason, it's best to pulse it in a food processor until it's creamy and smooth.
Speaking of which, making an avocado smoothie is good to have after tooth extraction. Just make sure it's not too cold.

Other Good Soft Foods To Eat After Tooth Extraction
Other foods to eat include yogurt. Just make sure you watch the added sugars in it. And also make sure you let it sit out at room temperature so it's not too cold.
There are plenty of other soft foods to eat. Any steamed or boiled veggie that you can swallow without causing pain will provide healing nutrients.
Some sources suggest eating salmon because it's a rich source of omega-3 fatty acids. Omega-3's are lauded for fighting inflammation.
But the reality is that eating salmon isn't likely to heal your pain or make the inflammation magically go away in a couple days. You're going to be sore no matter what.
Thus, perhaps the best soft foods to eat after tooth extraction is soup and green drinks (veggie smoothies with a little fruit, finely blended).
You won't want to open your mouth very wide post-extraction. Soup and smoothies require minimal effort from your mouth. (But don't use a straw! This can create a "dry socket" effect.)
Whereas, chewing salmon, no matter how soft it is, will require more effort.
If you get hungry and need something more substantial than soup and smoothie, try oatmeal or finely mashed potatoes. Drizzle some olive oil on the potatoes to get an extra dose of healthy fats.
Foods To Avoid After Wisdom Teeth Removal
Avoid anything acidic. This includes oranges, orange juice or other citrus fruits and their juices. Also avoid tomatoes and tomato sauce … at least for the first few days after the extraction.
According to this Florida-based dental practice, don't eat anything with seeds. Seeds can get stuck in the surgery site.
So you might want to keep your chia, flax, and hemp seeds out of your smoothies for the time being.
Also stay away from popcorn, cracked pepper, spicy foods, and over-the-counter mouth rinse. And obviously, anything that's crunchy or too chewy.