A delicious Filipino fruit salad with cream cheese and condensed milk. It whips up in minutes using drained canned fruits.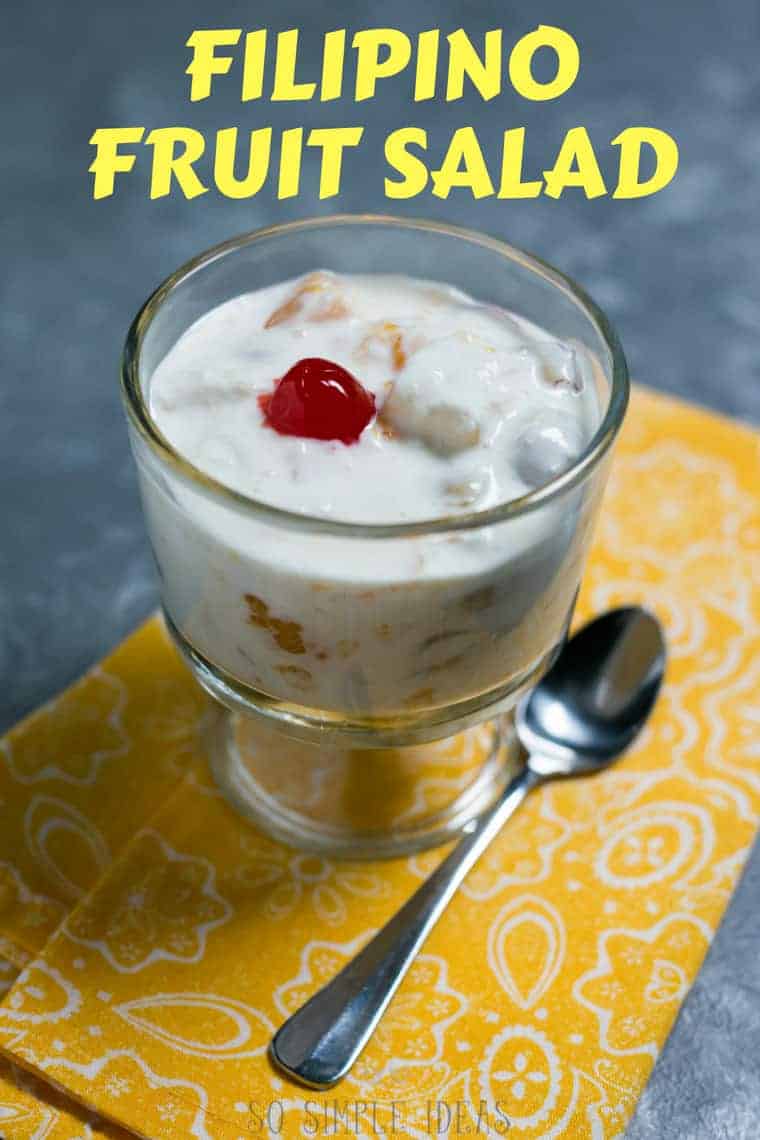 Jump to:
According to my mom, my grandmother didn't do much cooking. However, there was a dessert that she liked to whip up often.
It should come as no surprise that the recipe is a breeze to make. That's because she was super busy with six kids.
My mom shared the recipe with me and it's super delicious. It's a Filipino fruit salad with cream cheese and condensed milk that uses canned fruit.
It's a little different than the standard recipe as my grandmother added extra cream cheese. She loved the flavor and texture it adds to the treat.
It's really a thick and rich dessert that takes almost no effort at all to make. And it's perfect for those who like quick and easy recipes.
If that's you, may may want to check out some useful cooking tips for easy meal preparation. I like to make things as simple as possible.
How To Make Filipino Fruit Salad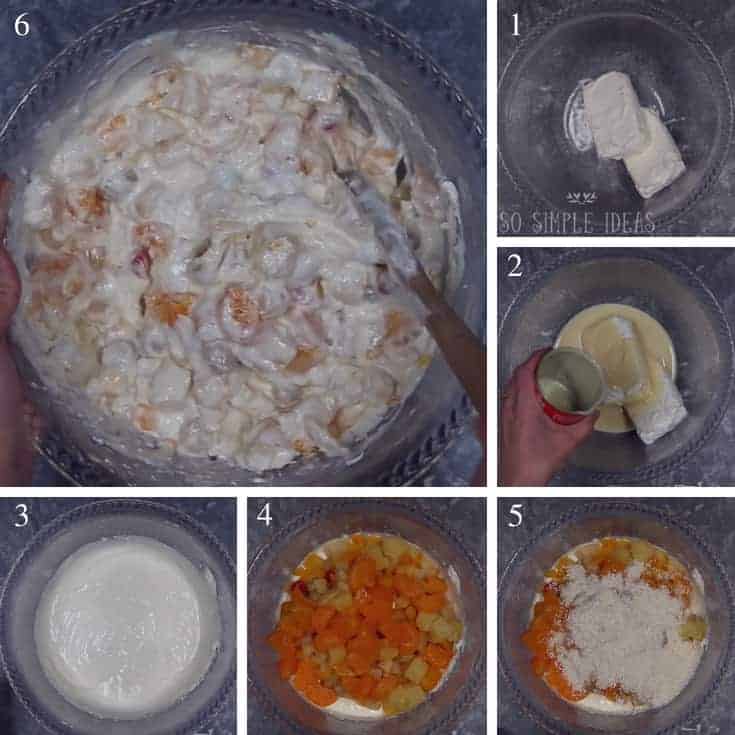 The process for making the Filipino fruit salad is super simple. It's one of those dump and stir one bowl recipes.
To start, add two blocks of cream cheese and a can of sweetened condensed milk into a large bowl. (photos 1 & 2)
Then, the milk and cheese are combined with an electric mixer until smooth. (photo 3)
Drained canned fruit is then added. (photo 4) And, some dried coconut can be added if desired. (photo 5)
Finally, everything is stirred with a spoon until the ingredients are evenly combined in the bowl. (photo 6)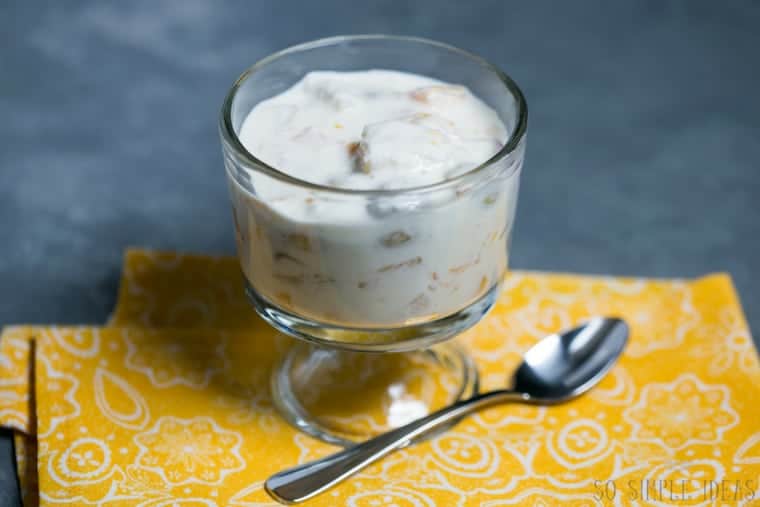 Fruit Salad Variations
At this point, you can serve the dessert if you'd like. However, we like to let in the refrigerator first to chill.
But, you'll often find us taking a few samples at this point along with licking the bowl clean.
It's so delicious that you won't be able to stop yourself. A lot of people think this Filipino fruit salad tastes a little like yogurt.
My grandmother never added coconut. But, my mother wanted it to be more like an ambrosia salad.
Since my mom has gone low carb, she no longer makes this tasty salad. Instead, she came up with a low-carb cheesecake salad made with berries.
You can find that recipe on the Low Carb Yum website where my mother shares her keto friendly creations.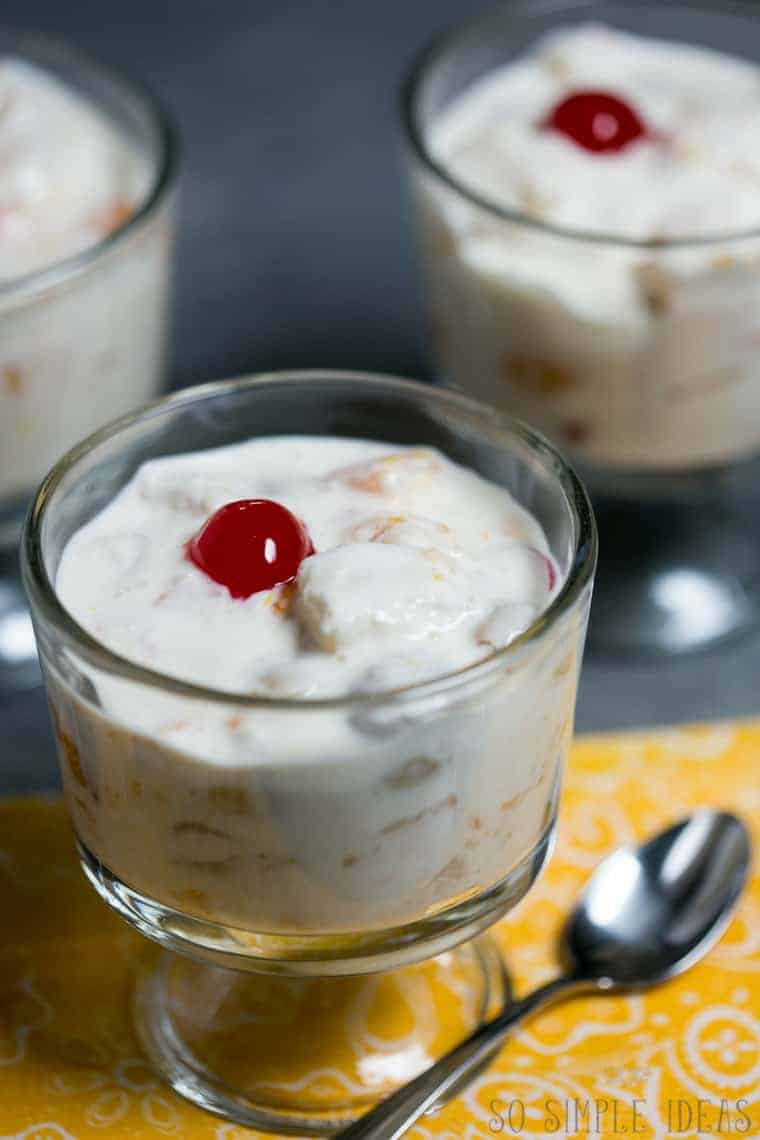 In my mother's low-carb version, she uses heavy whipping cream and zero carb sweeteners to replace the sweetened condensed milk.
My mom's favorite sweeteners to use are stevia powder and monk fruit powder. I'm still into consuming regular sugar, though.
Filipino Fruit Salad with Cream Cheese and Condensed Milk Recipe
Maybe when I get older and start having trouble maintain weight I'll look more into low carb eating. But for now, I'm happy with my sugar loaded treats.
So, I've got no issues eating this delicious Filipino fruit salad with cream cheese and sweetened condensed milk recipe that my grandmother came up with.
I think that you're going to love it to so let me know what you think if you give it a try. If you've moved to a low-carb eating plan, try this keto carrot cake instead.
Yield: 16 people
Filipino Fruit Salad with Cream Cheese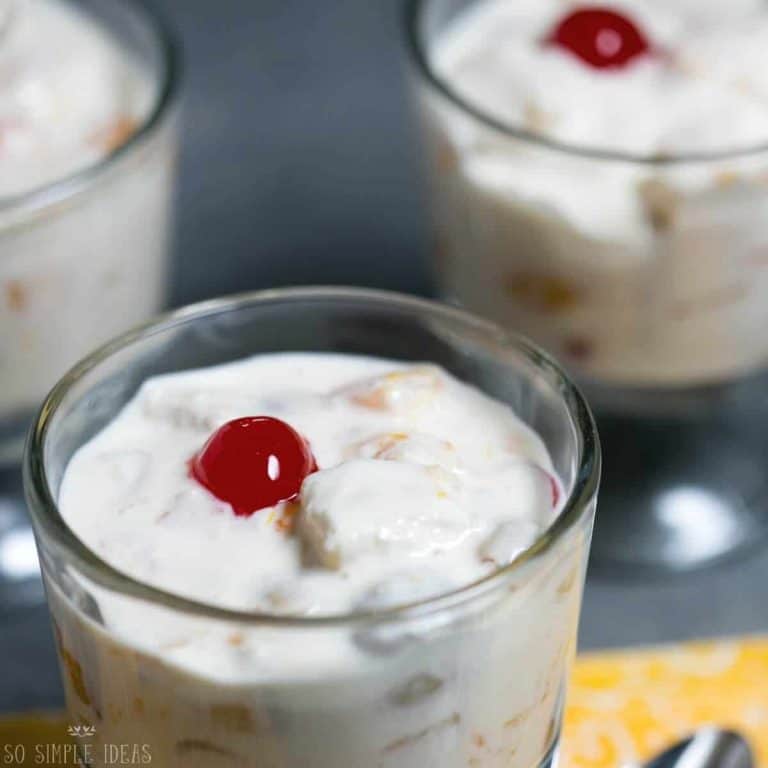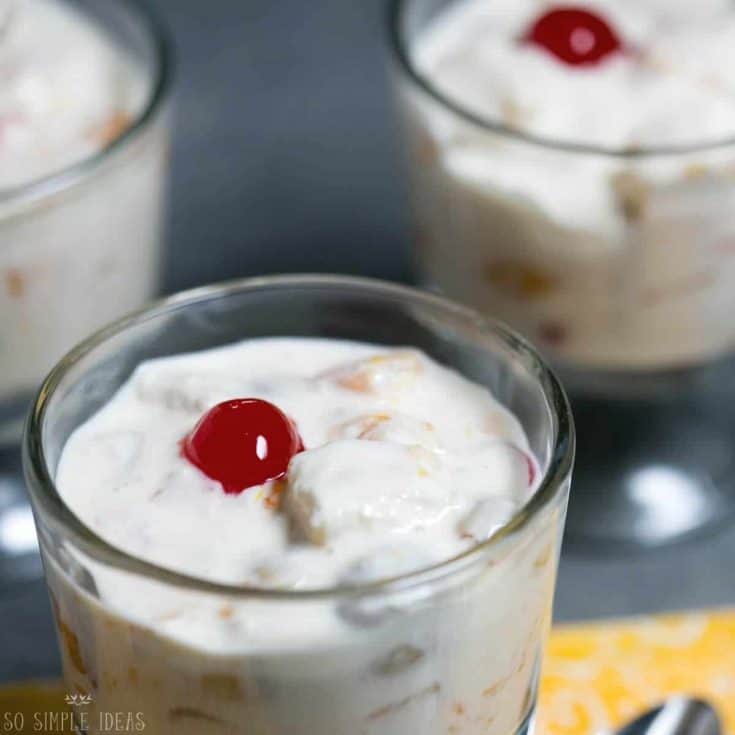 An easy fruit salad with cream cheese and condensed milk. It whips up in minutes using drained canned fruits.
Ingredients
16 ounces cream cheese, softened
14 ounces canned sweetened condensed milk
60 ounces canned fruit cocktail, drained
15 ounces canned mandarin orange, drained
8 ounces canned pineapple, drained
1 cup unsweetened dried coconut
Instructions
In large bowl, combine cream cheese and condensed milk with electric mixer until smooth.
Add remaining ingredients and stir to combine. Refrigerate. Serve chilled.
Notes
To avoid clumps of cream cheese, be sure to use softened cream cheese. Cheese from the refrigerator can be softened by microwaving on HIGH power for 15 to 20 minutes.
Nutrition Information:
Yield:
16
Serving Size:
½ cup
Amount Per Serving:
Calories:

338
Total Fat:

16g
Saturated Fat:

11g
Trans Fat:

0g
Unsaturated Fat:

4g
Cholesterol:

40mg
Sodium:

141mg
Carbohydrates:

46g
Net Carbohydrates:

0g
Fiber:

2g
Sugar:

43g
Sugar Alcohols:

0g
Protein:

5g