Transform bland furniture into sleek furnishings with these simple IKEA hacks. And you don't need to be a master craftsman to do them.


'IKEA." Just uttering the Swedish acronym (for the founder's name and hometown) elicits a love it or hate it response.
There are exceptions to the rule, so please excuse the stereotype, but most often it's the husband who dreads hearing the phrase, "C'mon, hon, we're going to IKEA … get ready!"
"If it weren't for those Swedish meatballs, I'd want to kill myself," is likely a common thought for the furniture-phobic.
But regardless if you're fond of the world's largest furniture store or hate it, there are several things you can do to repurpose furniture from here.
Without doubt, your home has at least a few pieces of furniture from the Scandinavian behemoth.
Why People are Repurposing Their Furniture with IKEA Hacks
We'll review some of the Internet's best ideas for transforming conventional furniture shortly. But first, let's take a look at why the DIY furniture revitalization movement has become immensely popular.
For starters, the store has something like 10,000 items. And it's by far the least expensive furniture chain store.
Shopping here will save you a minimum 10% in comparison to other home furnishing brick-and-mortar locations. Often, you'll save upwards of 30%.
In light of this fact, why not just throw away your old furniture? Wouldn't it be less of a hassle to buy used home furnishing at a yard sale or on Craigslist or NextDoor?
Sure, but where's the fun and satisfaction in that?
And for many people on a tight budget, IKEA hacks are a financial necessity and one of the practical ways to save money. Not everyone has disposable cash to buy, say, a new book shelf.
Another reason some people don't want to mess around with buying a new piece of furniture is the hassle of putting it together.
The chain store is notorious for causing thinning, gray hairs and shortening life spans. Well, that's an exaggeration. However, if you've ever put together something from here, it's probably taken you at least a couple hours.
You may even have needed help from a friend or neighbor. And, perhaps you've frustratingly muttered to yourself, "I need a frickin' engineering degree from MIT to put this _____ (insert 'frickin' name of product here) together."
Consequently, some people might shudder at the thought of having to put together another piece of furniture.
And because of this, simple Ikea hacks using spray paint, vintage knobs, handles and other stylized pieces, can radically transform plain-Jane home furnishings

Creative IKEA ideas
There's perhaps no better place to get transformation ideas than from the website that's entirely devoted to the subject.
IkeaHackers.Net spits out new tips weekly if you sign up for the site's email list.
A global community of hackers (not the bad, break-into-your-bank-account kind of hacking) contributes to the site.
And considering there's ideas that date back to 2013, you could easily spend what seems like an eternity sifting through all the concepts. Which is about the same time many a husband feels like they're spending while in the actual store.
(Once again, reluctant and bored-to-death husbands are eternally grateful for the Swedish meatballs.)
One of the most recent contributions to the site is this table lamp turtle design.
To make the table lamp, the contributor simply uses two steel serving bowls. The larger one is for the "turtle's" body. The smaller is for the "head."
The body of the turtle is the lamp base while the smaller bowl (the head) is the lamp holder.
For IKEA hacks such as this table lamp, you'll need some basic tool-using skills. With this table lamp, the contributor used a drill with a steel cutter extension, joining the two bowls through the lamp holder.
If you have trouble changing a lightbulb, these DIY projects might not be for you. But if you enjoy reconfiguring household stuff without the need to be a master woodworker, here are some other creative transformations….
Cool Stool
Courtesy of Apartment Therapy is an idea for transforming the VILTO line of stools. When you buy it directly from the store, the stool is rather insipid and basic. It can store small things in small places.
To make the stool truly cool and sleek, swap the wood. You can also add a piece of fabric sling underneath the stool. If you're going that route, you can add fabric with a pocket to double your stool as a magazine holder.
You're Benched
Another of the creative Ikea hacks is taking the line of Ekedalen benches and spray painting it or adding some upholstery.
Like the VILTO stool, these benches are utilitarian; not all that inspiring to look at though highly functional. To really spruce up the bench, after spray painting, add some glitter if that's your style.
Adjustable bed
Here's one more idea from Apartment Therapy. The Utaker stackable bed functions as a pair of twin beds, sectional sofa, or convertible daybed.
Sure, you can paint and get as creative as you want by adding your own posts and curtains. But where the hackability lies in this piece of furniture is its innate ability to adjust to room sizes. In other words, hack included.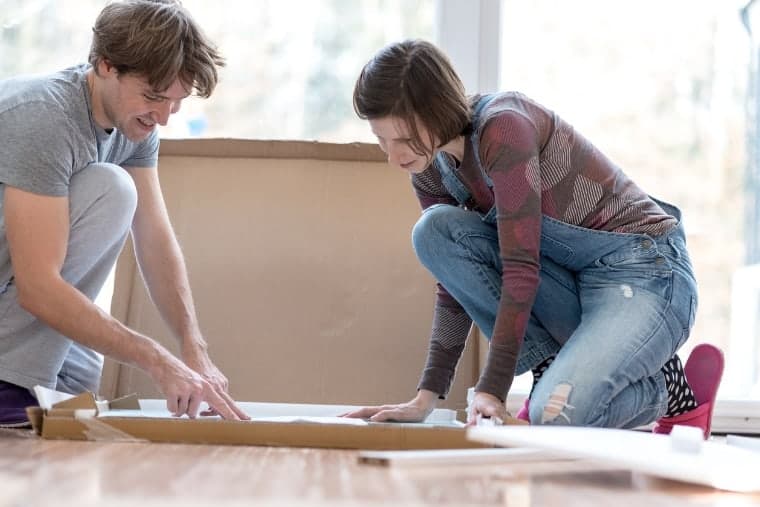 Best IKEA ideas on the net
Arguably, some of the most clever Ikea hacks comes from this compilation at Dwell.com.
One DIY project is taking the Maskros light and turning it into a retro space-age looking chandelier. To achieve the look, you'll need gold spray paint and vinyl and clear plastic cups. And of course, a healthy portion of ingenuity.
But let's now take what is perhaps the chain store's most ubiquitous item: wooden shelves.
You can take Ekby Tygvve Mensola wooden shelves and combine them with Cekby Tore brackets and caster wheels. This transforms static shelves into moveable design marvels.
Another DIY project is transforming a standard magazine rack into a coffee table. To do this, you place four IKEA Knuff Magazine Files around each other, creating a tabletop. The tabletop attaches to a rotating artist stool.
Let's look at one more idea from Dwell. It features a popular IKEA product, bedding. More specifically, it's the wooden slats that provide mattress support.
What you can do with the wooden slats is hang them from a wall. Just two sturdy hooks is all it takes. And doing this achieves exactly what?
Well, you can use it as a magazine rack, hang books and photos from it, you name it….
So you see, there's more useful things to the world's largest home furnishing store besides Swedish meatballs.
Do you have any IKEA hacks you'd like to share? Leave a comment.