Who says you can't have expensive-looking furniture without spending a fortune? Get the best DIY IKEA hacks to transform their minimalist and plain-looking home decor into works of art.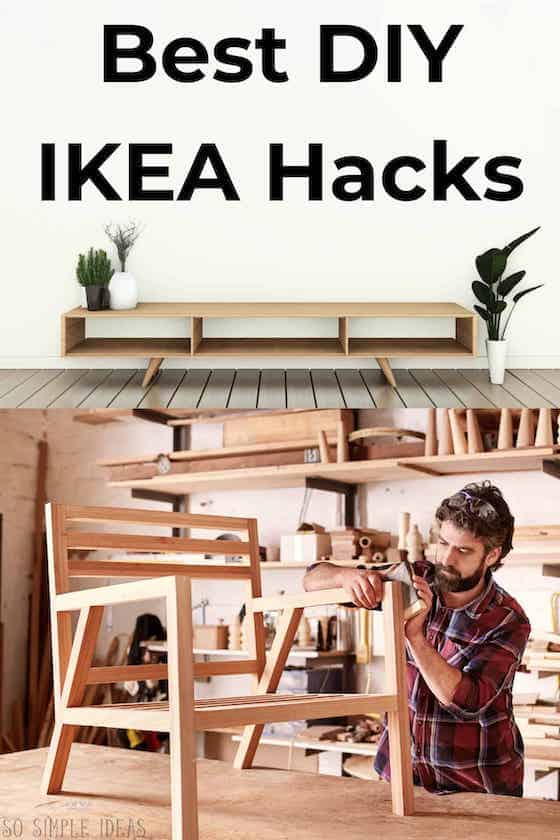 Maybe you have a love/hate relationship with IKEA. You love the low prices and practical things the world's largest furniture retail store offers. But you hate that the building materials are sometimes flimsy and awkward to put together.
Hopefully you love it more than hate it, and maybe the free Swedish meatballs tip the scales in favor of more love. Either way, if you have several pieces of furniture from the Swedish-based chain, you can transform them into conversation starters.
You'll find some of our favorite IKEA DIY ideas below. But first, let's take a look at why the DIY furniture revitalization movement has become immensely popular.
Why People are Repurposing Their Furniture with IKEA Hacks
For starters, the store has something like 10,000 items. And it's by far the least expensive furniture chain store.
Shopping here will save you a minimum 10% in comparison to other home furnishing brick-and-mortar locations. Often, you'll save upwards of 30%.
In light of this fact, why not just throw away your old furniture? Wouldn't it be less of a hassle to buy used home furnishing at a yard sale or on Craigslist or NextDoor?
Sure, but where's the fun and satisfaction in that?
And for many people on a tight budget, IKEA hacks are a financial necessity and one of the practical ways to save money. Not everyone has disposable cash to buy, say, a new book shelf.
Another reason some people don't want to mess around with buying a new piece of furniture is the hassle of putting it together.
If you've ever put together something from the chain store, it's probably taken you at least a couple hours. You may even have needed help from a friend or neighbor.
Consequently, some people might shudder at the thought of having to put together another piece of furniture.
But for those who don't mind the sweat equity, simple additions can make the pieces look amazing. You'd be surprised how a little spray paint, vintage knobs, handles and other stylized pieces, can radically transform plain-Jane home furnishings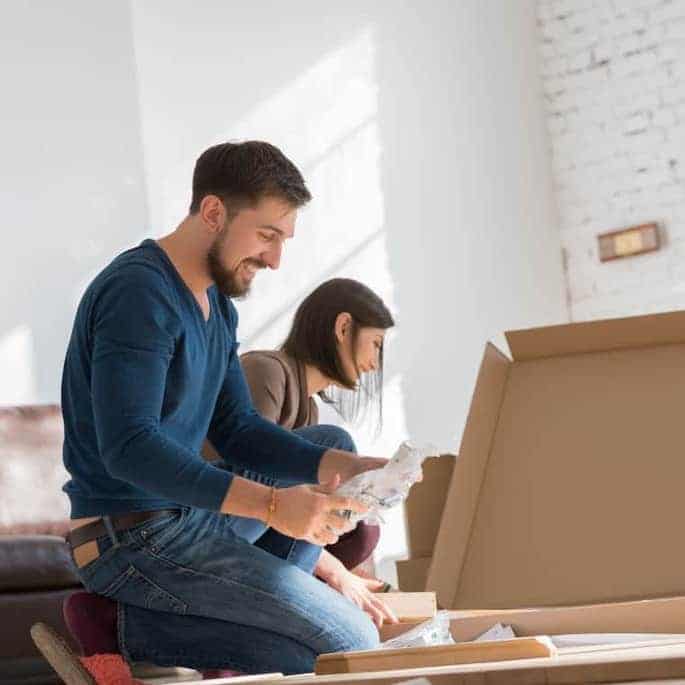 Creative IKEA ideas
There's perhaps no better place to get transformation ideas than from the website that's entirely devoted to the subject. You'll even get weekly tips if you sign up for the site's email list.
A global community of hackers (not the bad, break-into-your-bank-account kind of hacking) contributes to the site.
And considering there's ideas that date back to 2013, you could easily spend what seems like an eternity sifting through all the concepts. Which is about the same time many a husband feels like they're spending while in the actual store.
One of the most recent contributions to the site is this table lamp turtle design.
To make the table lamp, the contributor simply uses two steel serving bowls. The larger one is for the "turtle's" body. The smaller is for the "head."
The body of the turtle is the lamp base while the smaller bowl (the head) is the lamp holder.
For IKEA hacks such as this table lamp, you'll need some basic tool-using skills. With this table lamp, the contributor used a drill with a steel cutter extension, joining the two bowls through the lamp holder.
If you have trouble changing a lightbulb, these DIY projects might not be for you. But if you enjoy reconfiguring household stuff without the need to be a master woodworker, here are some other creative transformations….
Cool Stool
Courtesy of Apartment Therapy is an idea for transforming the VILTO line of stools. When you buy it directly from the store, the stool is rather insipid and basic. It can store small things in small places.
To make the stool truly cool and sleek, swap the wood. You can also add a piece of fabric sling underneath the stool. If you're going that route, you can add fabric with a pocket to double your stool as a magazine holder.
Another easy hack is to take a common MARIUS stool and customize it. To quickly transform a utilitarian, pedestrian step stool just place a patch of faux fur on it. Do this and what was once a plain item now looks like a high-end statement piece.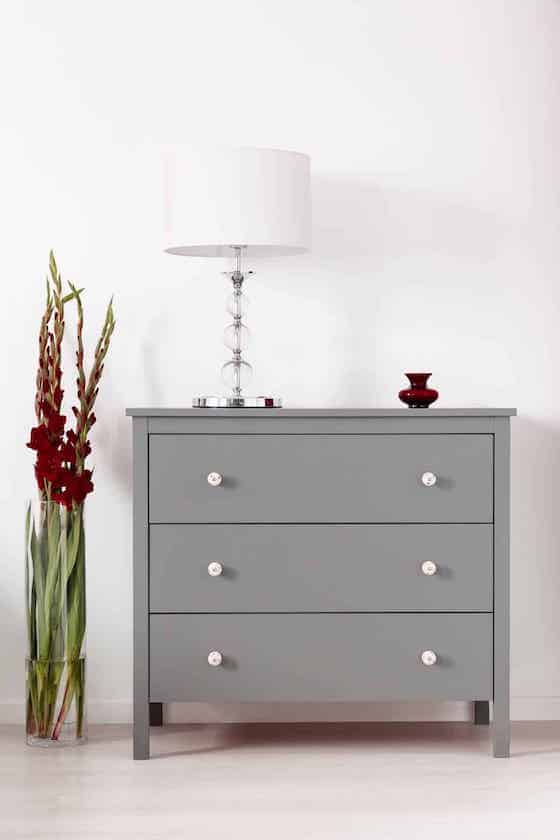 Best IKEA Dresser Hacks
Let's take a piece of home decor that's very popular. Chances are, if you have just one piece of furniture from IKEA, it's a dresser. Comfy Dwelling has not one but 25 hacks for transforming a TARVA dresser.
Here's a brief breakdown of how you can manipulate your dresser to look like something you're proud of:
Stain it: Comfy Dwelling recommends a combo of staining and painting. This simple idea makes a dresser look super cool. Stain one half of the dresser and paint the other half. Or, stain one side and paint the other side.
Elegant handles: you've already saved money by buying an IKEA dresser instead of a high-end alternative. Now, it's time to fall in love with your dresser by investing in elegant handles. A combo of lavender-toned paint and gold handles will make you excited to fetch a clean pair of undies in the morning.
Add Wheels: Besides making your dresser look more expensive and utilitarian, adding wheels has other benefits. For example, it makes it easier to vacuum under the dresser. In addition, you can store small items if you live in a tiny apartment and need all the free space you can get. It's really easy to add wheels to your dresser. Just buy casters at your local hardware store and if you know how to use a screwdriver, you're in luck.
Paint it yourself: Get in touch with your inner Jackson Pollock and paint modernistic designs. When you host dinner parties and give people "the tour" they'll think your dresser costs a fortune.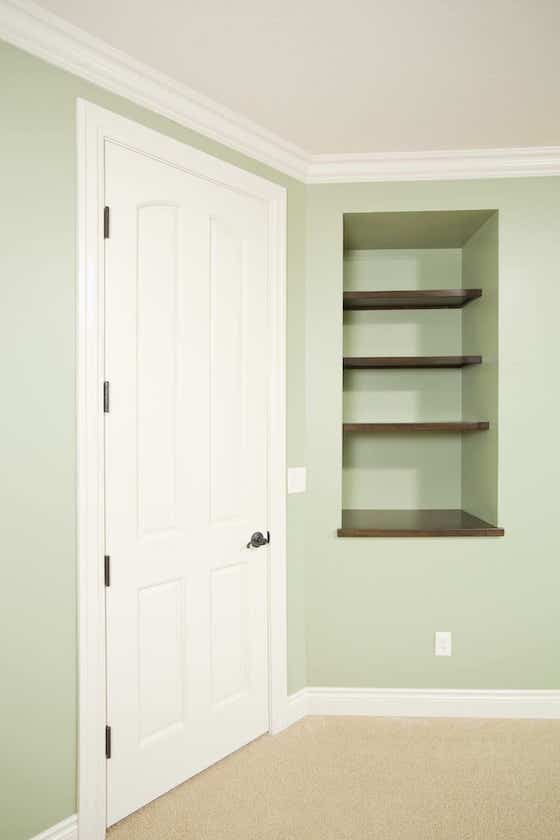 Turn a Shelf Into a Built-In
The Billy bookcase can transform a staid, ordinary bookcase into something that looks like an interior designer dialed up. You'll need a decent amount of space in your living room to pull this off. But even if you have a small space, all you need is a few separate Billy units, to get the look.
You can choose to leave the backs off the wall space units, but for this hack, it might be best if you leave them open. Open-backed shelves give the appearance of custom cabinetry (at least for this application.)
Now granted, this hack is much more complicated than merely slapping some elegant handles on a dresser. But if you're in the least bit handy, it shouldn't be too difficult.
You'll need to build a base frame; add top and side framing; anchor the shelves into framing wood and a few other steps. However, it's a pretty easy task for anyone that's handy.
You're Benched
Another of the creative Ikea hacks is taking the line of Ekedalen benches and spray painting it or adding some upholstery.
Like the VILTO stool, these benches are utilitarian; not all that inspiring to look at though highly functional. To really spruce up the bench, after spray painting, add some glitter if that's your style.
Adjustable bed
Here's one more idea from Apartment Therapy. The Utaker stackable bed functions as a pair of twin beds, sectional sofa, or convertible daybed.
Sure, you can paint and get as creative as you want by adding your own posts and curtains. But where the hackability lies in this piece of furniture is its innate ability to adjust to room sizes. In other words, hack included.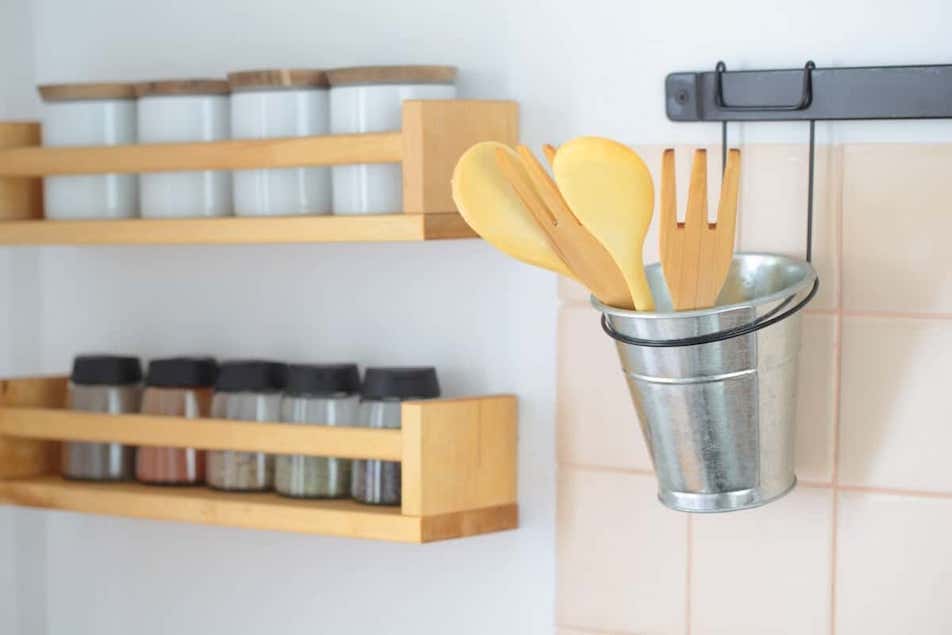 Spice Racks For The Kids? Wall Shelves For the Cats?
Got a young kid or two? Wouldn't they love having cardamom, turmeric and paprika handy in their bedroom? Just kidding.
What's really cool is buying a few spice racks from IKEA and hanging them from the kids' bedroom wall. You can hang stuffed animals, books, puzzles and other items that aren't too bulky.
If you have an extra book shelf that you don't know what to do with, transform it into a stuffed animal menagerie. Or, use it to prop up all your daughter's dolls. Don't have kids? Than transform a wooden shelf into a shoe caddy.
And if you're a cat lover, you must stop reading this and check out this Instagram post. It's a genius IKEA hack for cat lovers. A few small wire baskets hanging from a wall with towels or pads can be a fun place for your cats to chill out.
Best IKEA Hack For Wine Lovers
This one isn't the easiest hack to pull off but it's so clever, we couldn't resist including it. Take a look at this wine table. It's actually two stools and a leftover chair base fused together. There's a perfectly-placed and shaped hole which houses a wine bottle and two side cutouts for wine glasses.
Need a Headboard? Check out this genius idea….
This bedroom idea is perfect for anybody who needs more storage space and wants a headboard. It's not a comfy headboard with lots of cushioning but it does make the room look modern. It's actually two headboards (from the brand, MANDAL) stacked together using posts. Super clever!
Hack for More Office Space
We already mentioned spice racks. But it turns out we can't get enough of them. They're not only good for the kids' bedroom, they actually, excuse the pun, spice up office space.
Instead of cluttering your desk with supplies, you can store staplers, paper clips and the like on the spice racks. To hang the spice racks, this hack from Good Housekeeping suggests also buying pegboard to place against a wall. Hanging spice racks ($4 each from IKEA) on pegboards. That's really a neat idea.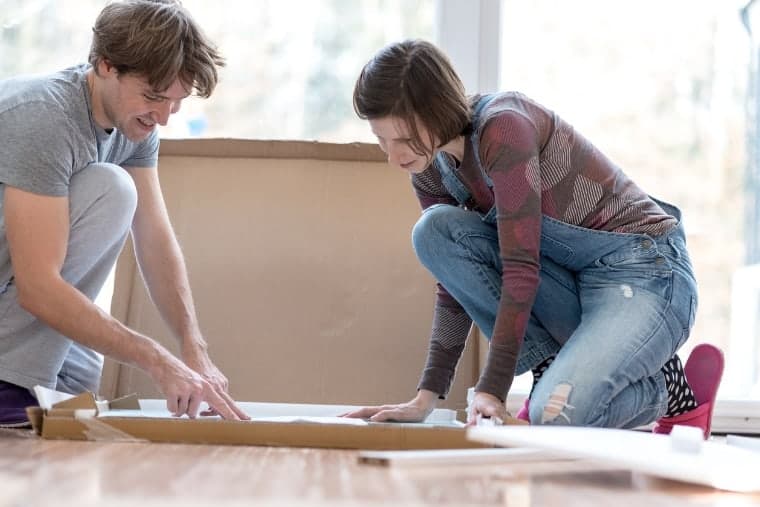 Best IKEA ideas on the net
Arguably, some of the most clever Ikea hacks comes from this compilation at Dwell.com.
One DIY project is taking the Maskros light and turning it into a retro space-age looking chandelier. To achieve the look, you'll need gold spray paint and vinyl and clear plastic cups. And of course, a healthy portion of ingenuity.
But let's now take what is perhaps the chain store's most ubiquitous item: wooden shelves.
You can take Ekby Tygvve Mensola wooden shelves and combine them with Cekby Tore brackets and caster wheels. This transforms static shelves into moveable design marvels.
Another DIY project is transforming a standard magazine rack into a coffee table. To do this, you place four IKEA Knuff Magazine Files around each other, creating a tabletop. The tabletop attaches to a rotating artist stool.
Let's look at one more idea from Dwell. It features a popular IKEA product, bedding. More specifically, it's the wooden slats that provide mattress support.
What you can do with the wooden slats is hang them from a wall. Just two sturdy hooks is all it takes. Then you can use it as a magazine rack or hang books and photos from it.
So you see, there's more useful things to the world's largest home furnishing store besides Swedish meatballs.
There are just far too many unique IKEA hacks to mention in one post. You can check out Pinterest for more inspiration. And if you need more home organization ideas, make sure to check out our home organization hacks.
Do you have any IKEA hacks you'd like to share? Leave a comment.
First Published on September 4, 2018. Updated on February 17, 2021, with new images and additional information.