If you're looking for a quick and delicious way to enjoy strawberries, then you should try making a strawberry tanghulu recipe. This simple treat is made by dipping fresh strawberries into a hot sugar syrup that surrounds the fruit in a sweet candy shell.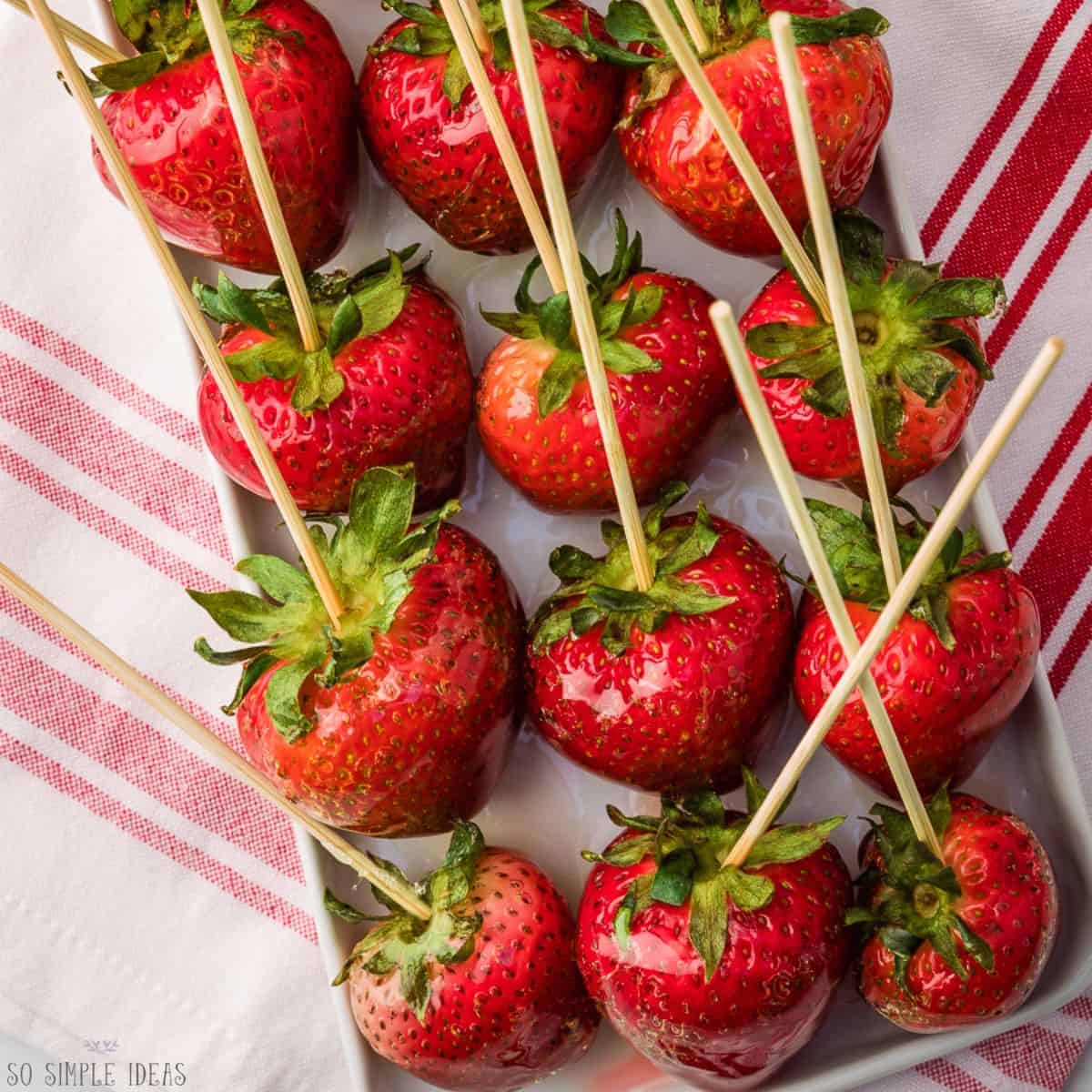 Tanghulu is a traditional Chinese dessert made from hawthorn fruits. The fruit is placed on a bamboo skewer, dipped in a sugar syrup, and then dried. The candied fruit is popular in northern China and can be found at most street vendors and markets.
This strawberry tanghulu recipe is a delicious way to enjoy fresh fruit in the summertime. The recipe can easily be changed to use other fruits such as bananas, mandarin oranges, and grapes. Making them into mixed fruit candy kebobs is another great option.
Ingredients
The great thing about this simple recipe for candied strawberries is that you only need skewers and a handful of simple ingredients to make them.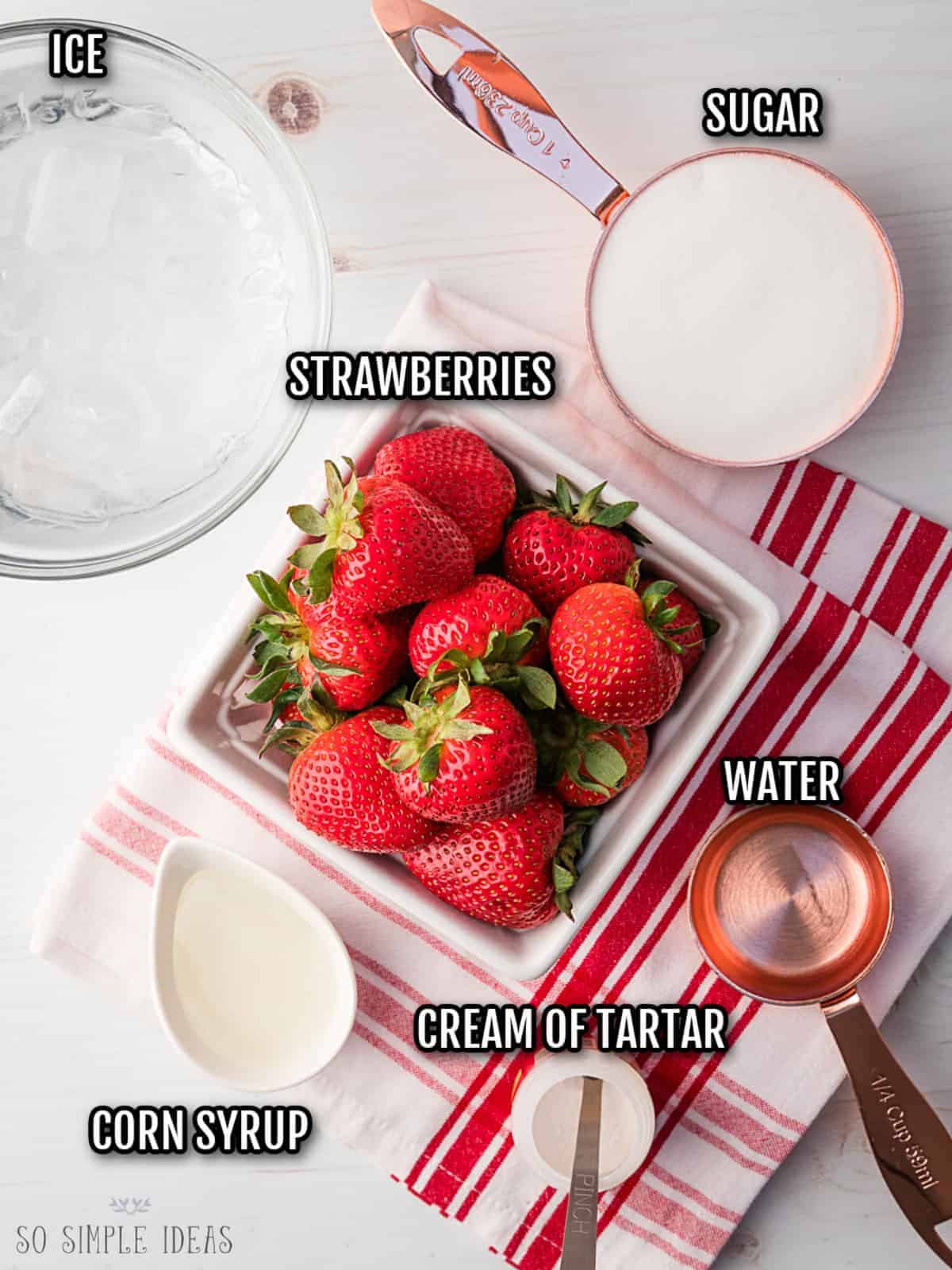 Here's what you'll need to make the traditional candied fruit from China:
Sugar is needed to make the hard sugar coating.
Cream of tartar prevents large crunchy sugar crystals from forming in the melted sugar.
Corn syrup is an inverted sugar that will inhibit the formation of sugar crystals and provides a smooth texture to the hardened sugar syrup.
Strawberries are the fruit used but you can candy other fruits too. It's best to use fresh fruit.
Ice and water are used to make an ice water bath to quickly harden the hot sugar water syrup.
Toothpicks or skewers are used to dip and serve the tanghulu strawberries.
Instructions
Ready to make tanghulu? This sweet treat is easy to make at home. Just follow these simple step-by-step directions.
Make each fruit skewer
After washing and drying all the strawberries, skewer each fruit with a toothpick or bamboo stick. You can also use lollipop sticks to make the candied strawberries.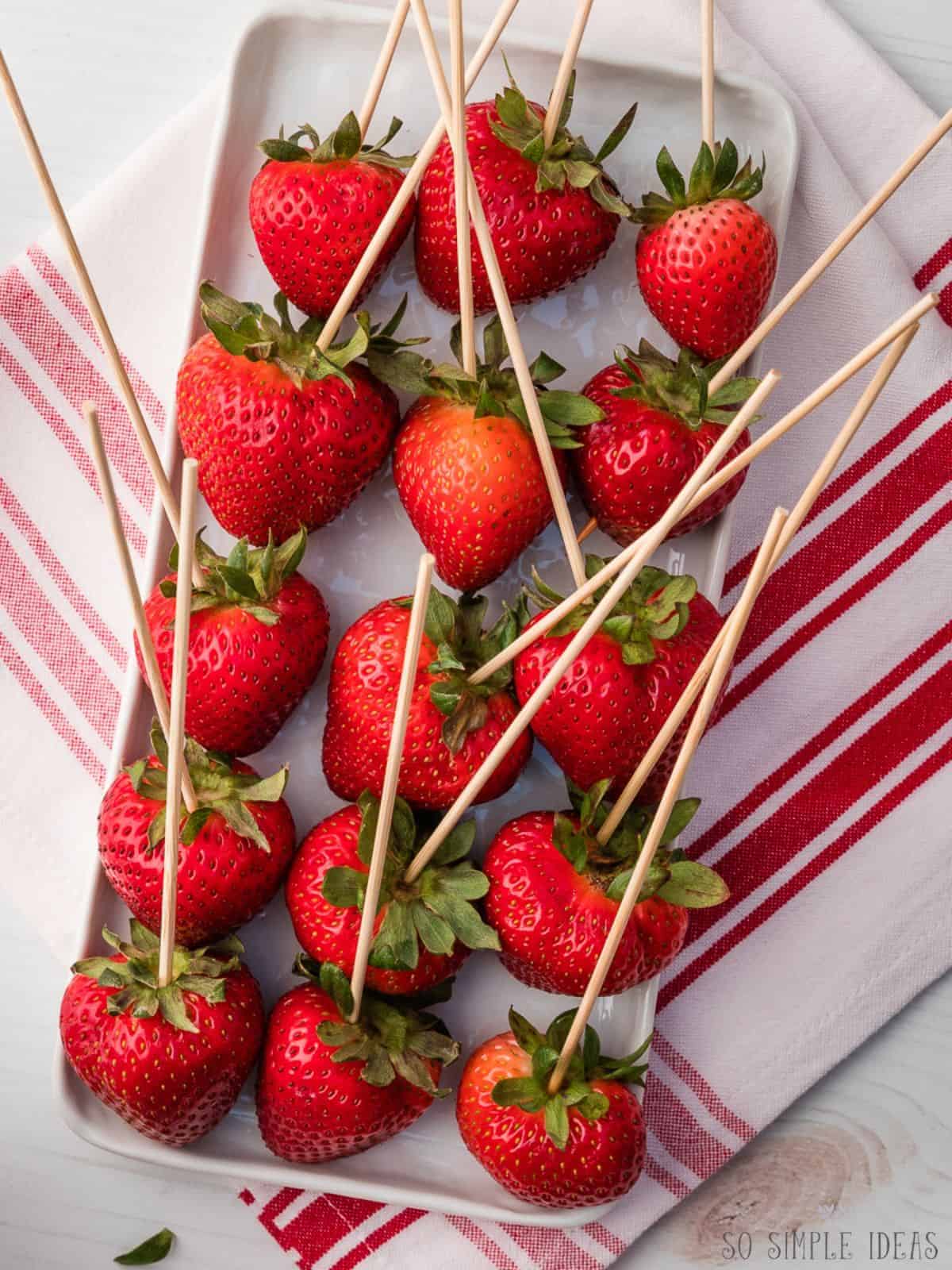 Prepare sugar mixture
Stir water, corn syrup, granulated sugar, and cream of tartar in cold saucepan to moisten sugar.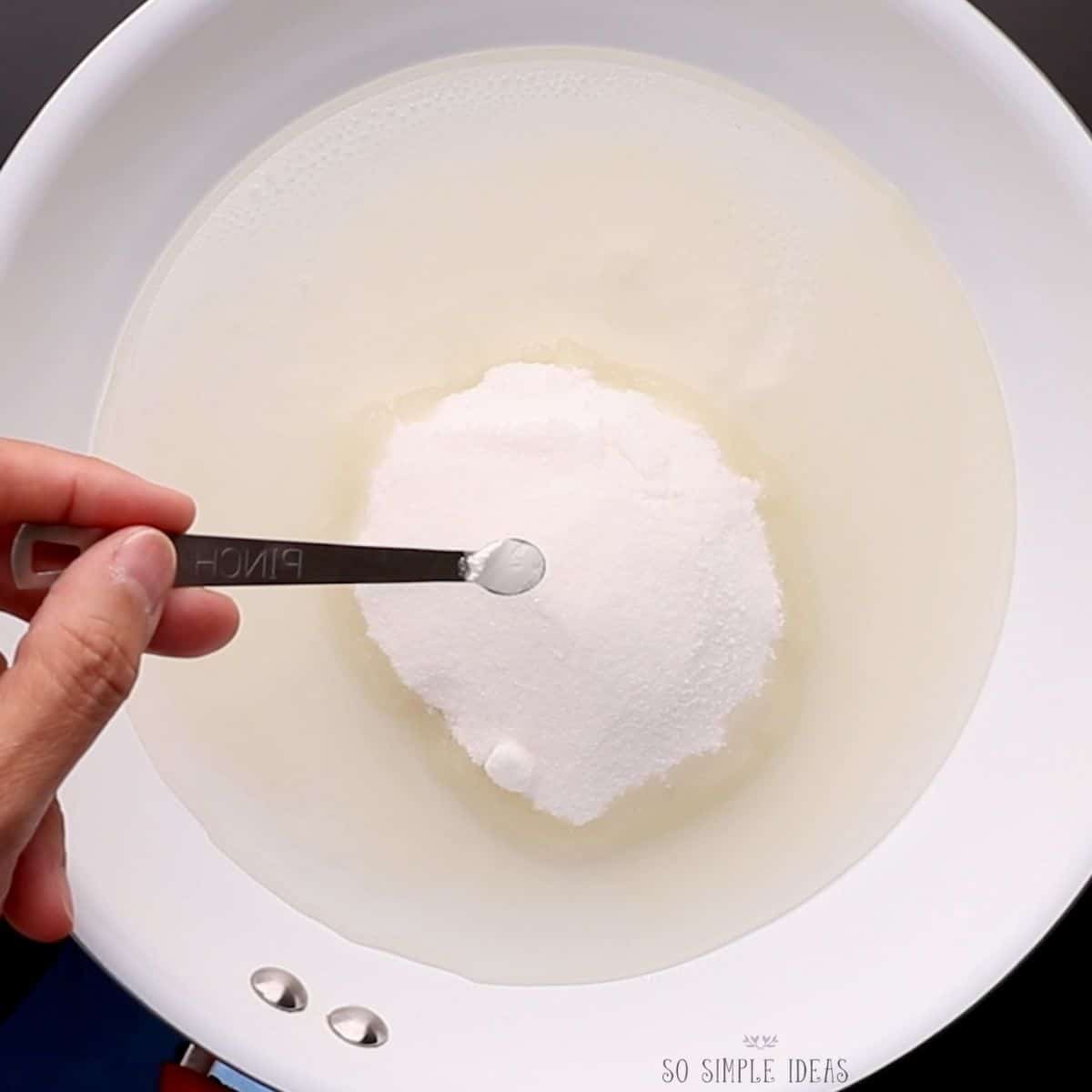 Bring sugar water mixture to a boil over medium-high heat without stirring. Boil until the sugar dissolves and bubbles.
After boiling for about 7 to 8 minutes, the candy syrup should be at a "hard crack" stage. You can check that it reads 300°F on a candy thermometer.
To check without a candy thermometer, dip a skewer stick into the hot syrup and then into ice cold water. If it hardens, the candy is ready.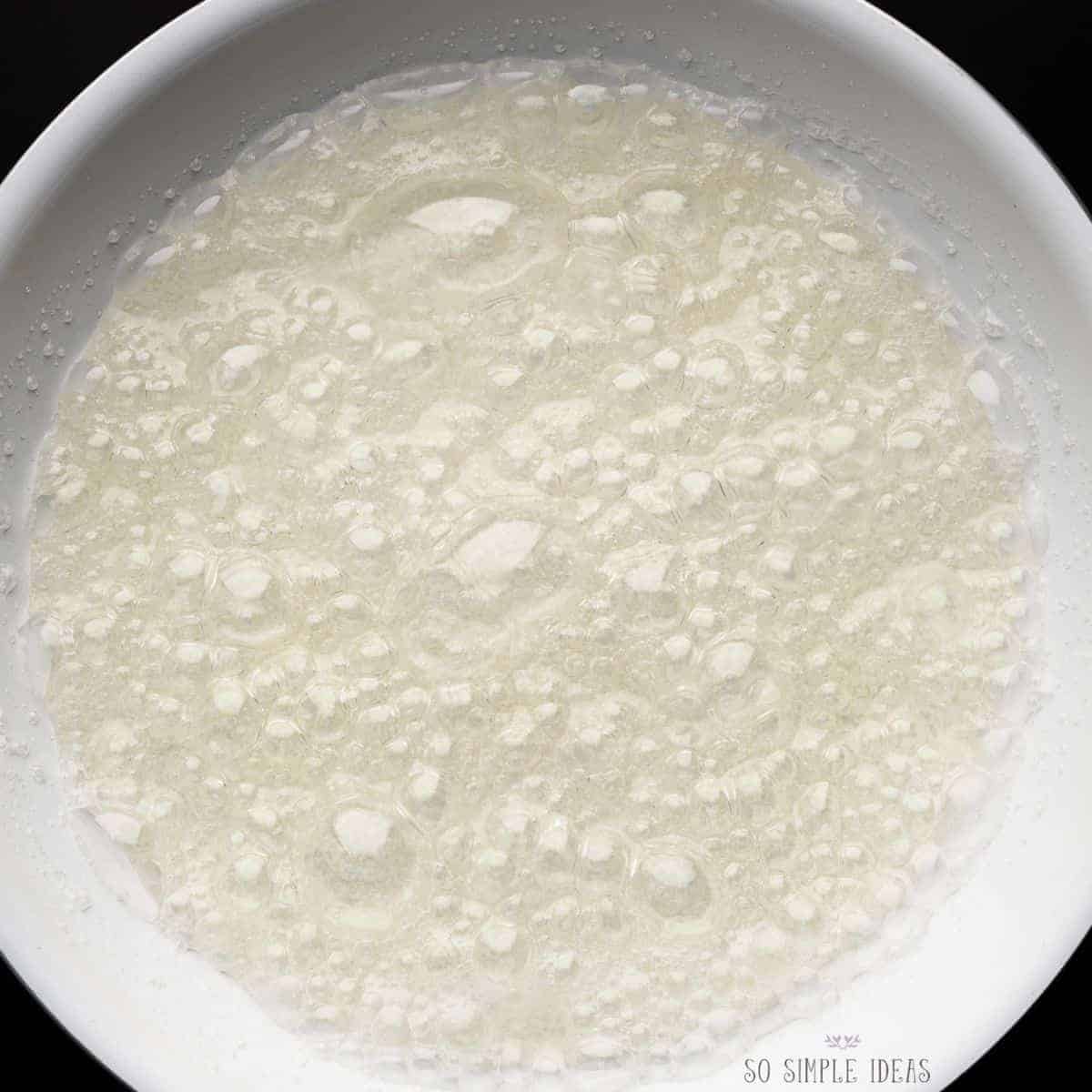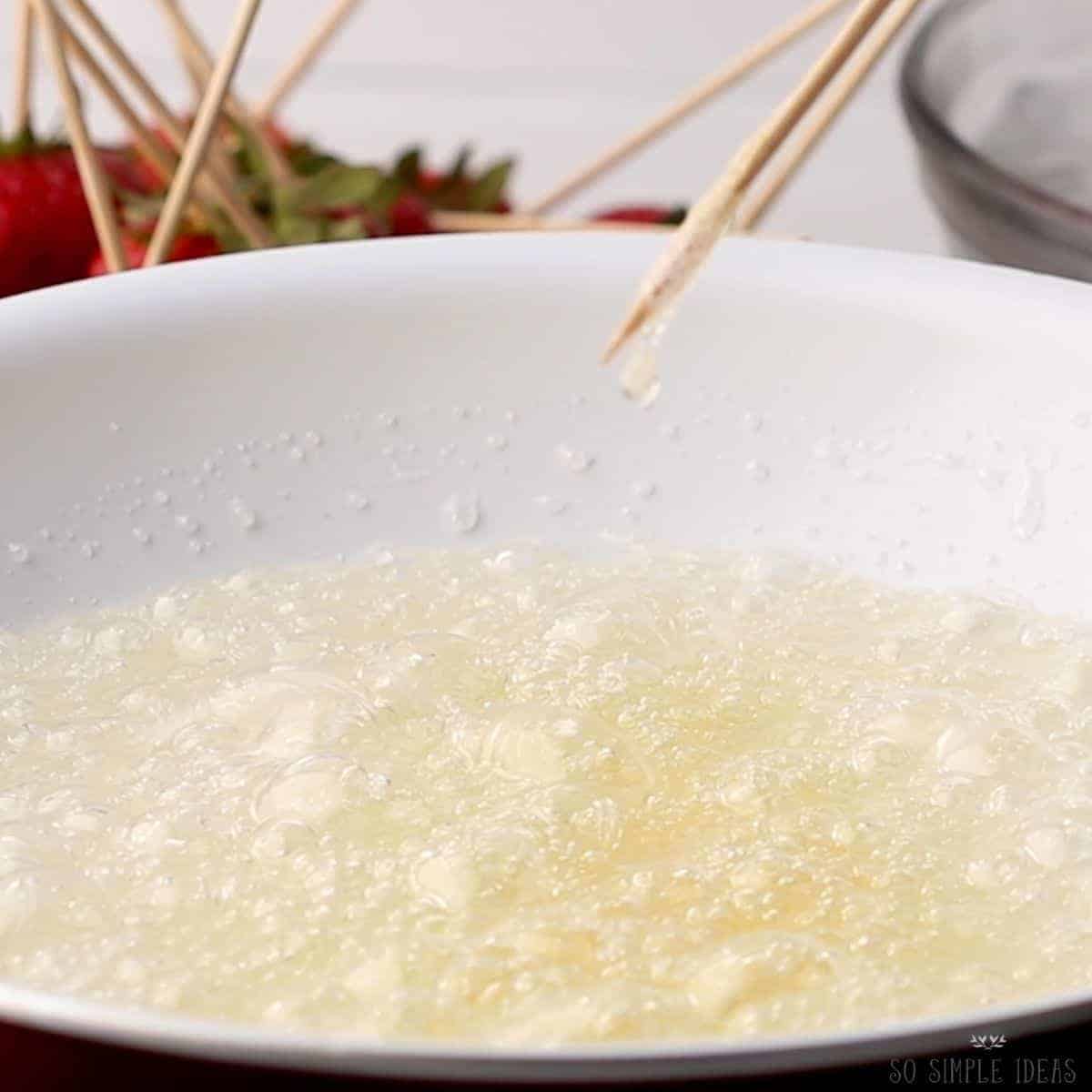 Dip fruit
Turn off the heat and tip the pan to pool the hot syrup on one side. Dip and swirl skewered strawberry into the hot syrup to coat. Immediate dip into ice water to set sugar coating and cool the fruit. Set on plate. Repeat with remaining skewered strawberries.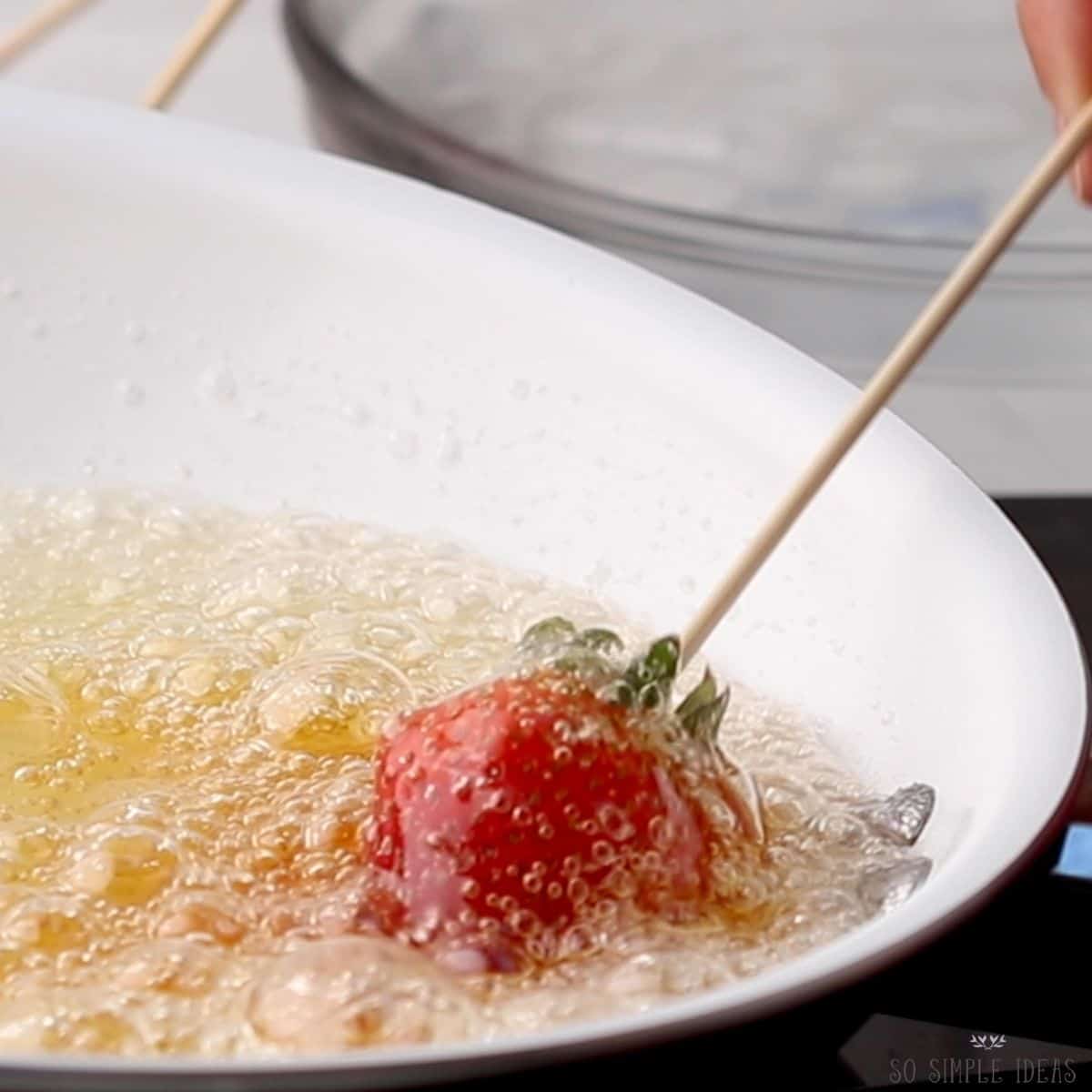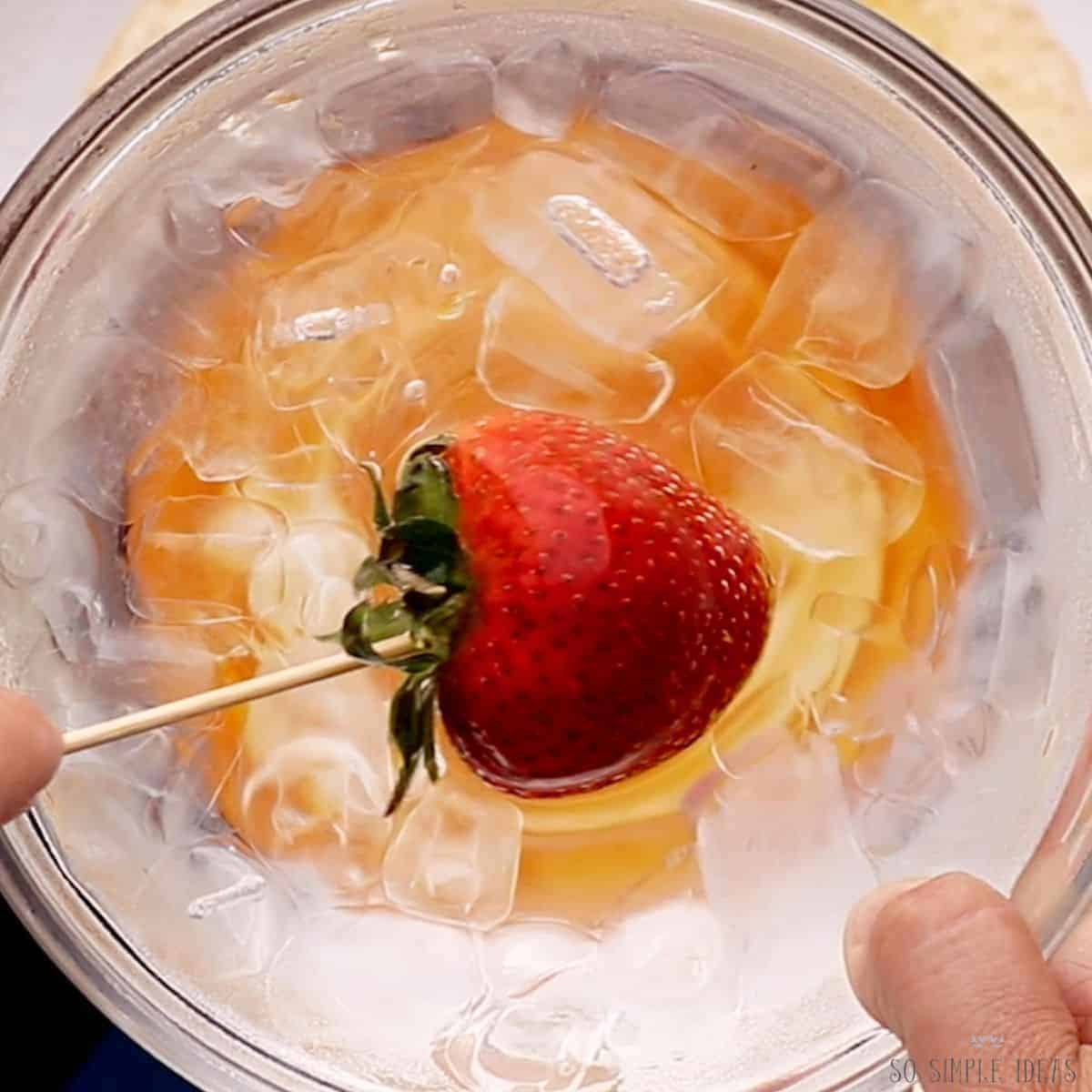 Tips
If the syrup gets too thick, stir in water a spoonful at a time and bring it back to a bubbling boil to get it back to a workable consistency.
You can use the leftover syrup to make caramel. Just continue simmering the sugar solution until it bubbles and darkens into an amber, then caramel color. Quickly whisk in a few tablespoons of cold butter until combined. Use a spoon to drop caramel onto parchment paper to harden into candy.
Serving suggestions
This Chinese snack is a fun treat to make and enjoy with the kids. It's best to serve tanghulu right away. The fruit inside releases moisture which will make the candy coating soft and sticky after as little as an hour.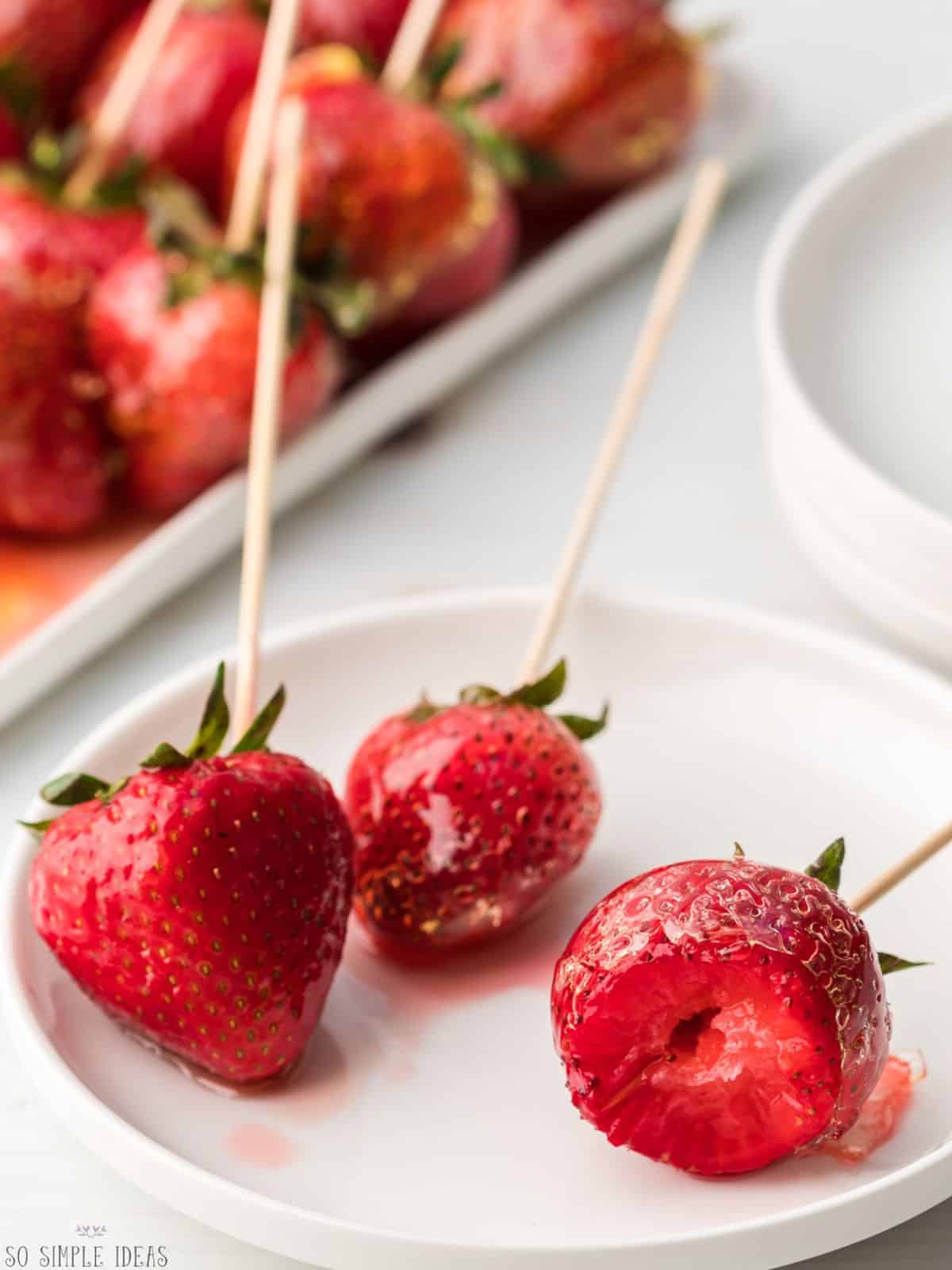 FAQs
What does Tanghulu taste like?
Tanghulu is a traditional Chinese candy that is made with fruit and sugar. The candy has soft fruit center with crunchy clear candy shell.
Is Tanghulu supposed to stick to your teeth?
The sugar on Tanghulu is supposed to stick to your teeth, but it's not supposed to be so sticky that it's difficult to remove.
What is traditional tanghulu made of?
Traditional tanghulu is made of sugar, water, and fruit. The sugar and water are boiled together to make a syrup. The fruit is skewered and dipped into the syrup then cooled to harden into a candy coating.
Can you put tanghulu in the fridge?
Tanghulu can be stored in the fridge, but it is best to eat them as soon as possible because the fruit inside will start to go bad after a few days.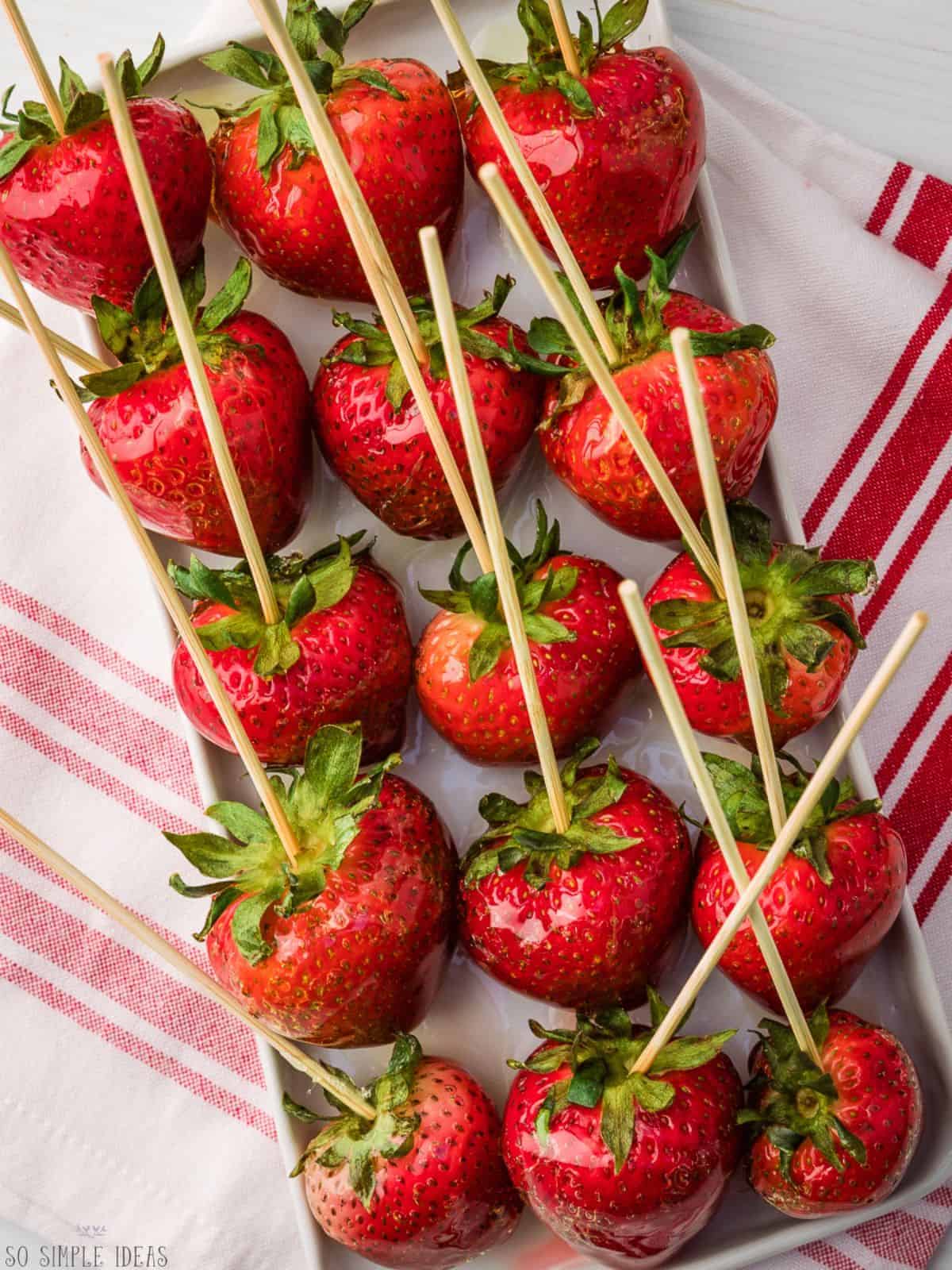 Related recipes
If you like this strawberry tanghulu, you may want to check out these delicious recipes too.
Chocolate cheesecake ice cream is a cool treat that's perfect for summer.
Macaroni fruit salad is a Filipino treat served for holidays.
Peanut butter fat bombs is a popular keto treat that fills you up with fat.
Hot chocolate stirrers are a great way to add flavor to your hot cocoa while stirring.
Candy kabobs are a fun way to eat gummy candies on the go.
Strawberry Tanghulu
Skewered candied fruit is easy to make and perfect for any occasion. So give this strawberry tanghulu recipe a try. It is sure to please!
Ingredients
¼

cup

water

1

cup

sugar

1

pinch

cream of tartar

2

tablespoons

corn syrup

15

medium-sized strawberries

Bowl of ice water

15

wooden toothpicks or skewers to dip the berries
Instructions
Wash and completely dry the strawberries.

Skewer strawberries, one per skewer, and set aside.

In a cold saucepan, add water, then corn syrup, then sugar, then cream of tartar. Stir to moisten sugar.

Bring to a boil over medium-high heat and boil until sugar dissolves and bubbles. Do not stir the mixture while boiling.

The sugar coating is ready after bubbling for 7-8 minutes. You can check readiness with a candy thermometer if you have one. Sugar syrup reaches the "hard crack" stage at 300°F. Or test by dipping a stick into the sugar syrup, then into ice water. If the sugar coating hardens, it is ready.

Turn off heat immediately.

Tip the pan so the syrup pools to one side.

Dip and twirl strawberry into the sugar syrup to coat.

Immediately submerge the coated fruit into ice water. This does 2 things, it sets the candy and chills the fruit, which was warmed by the hot syrup.

Repeat with the remaining skewers until candy or strawberries are used up.

Remove strawberries from the ice water bath and set aside on a serving plate.
Notes
Most simple recipes for tanghulu use a blend of just water and sugar. However, this simple syrup can seize up after just a couple coatings.
This recipe adds a pinch of cream of tartar to prevent the creation of large crunchy sugar crystals. Corn syrup is also added to inhibit crystallization and provide a smooth coating.
With the additional ingredients in this recipe, you won't need a thermometer. You just have to wait until the sugar solution bubbles.
Nutrition
Serving:
1
stick
|
Calories:
64
kcal
|
Carbohydrates:
16
g
|
Protein:
0.1
g
|
Fat:
0.1
g
|
Saturated Fat:
0.002
g
|
Polyunsaturated Fat:
0.02
g
|
Monounsaturated Fat:
0.01
g
|
Sodium:
2
mg
|
Potassium:
30
mg
|
Fiber:
0.2
g
|
Sugar:
16
g
|
Vitamin A:
1
IU
|
Vitamin C:
7
mg
|
Calcium:
3
mg
|
Iron:
0.1
mg