Is your desk a gigantic mess? Discover some easy DIY desk organization ideas to help make your life easier and the time you spend working more productive!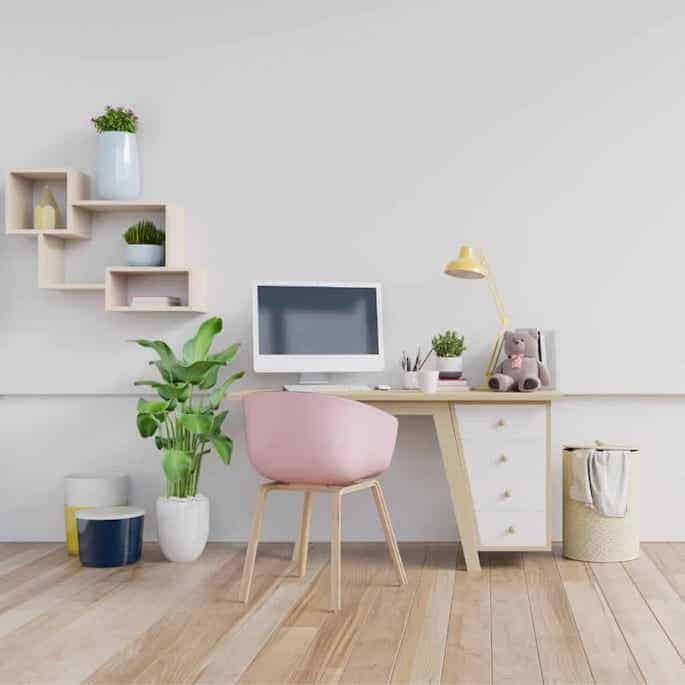 This unorganized chaos on my desk leads to messy files on my laptop and even leaks into my productivity. It's hard to concentrate on work when I'm distracted by my own mess!
I finally decided to organize my desk and give it a cute theme to fit my personality. I found some really fun and easy organization ideas to create an inspirational and fun space to work.
So, let's check out some awesome, easy ways to create the best space at your desk!
Office Desk Organization Ideas
No matter what the space is, the first thing you need to do is de-clutter. Once you start looking at what you have, you'll realize you've saved a lot of unnecessary things.
Instead of using sticking notes, put together your own DIY planner or keep your notes on a digital device. You can also scan important documents and file them on your computer to save space at your desk.
Anything that you are currently working on should be kept in a paper organizer storage area on your desk. All other paper should be thrown out or organized into a filing cabinet. You can also use a labeled storage box or keep electronic copies on a cloud drive.
Categorize everything else and place them in handy areas. Pens and pencils can be kept in top drawer or a multi-function holder. Notebooks can be stacked in a short pile or kept upright on a shelf. Small notepads can be kept in wire mesh or plastic organizers.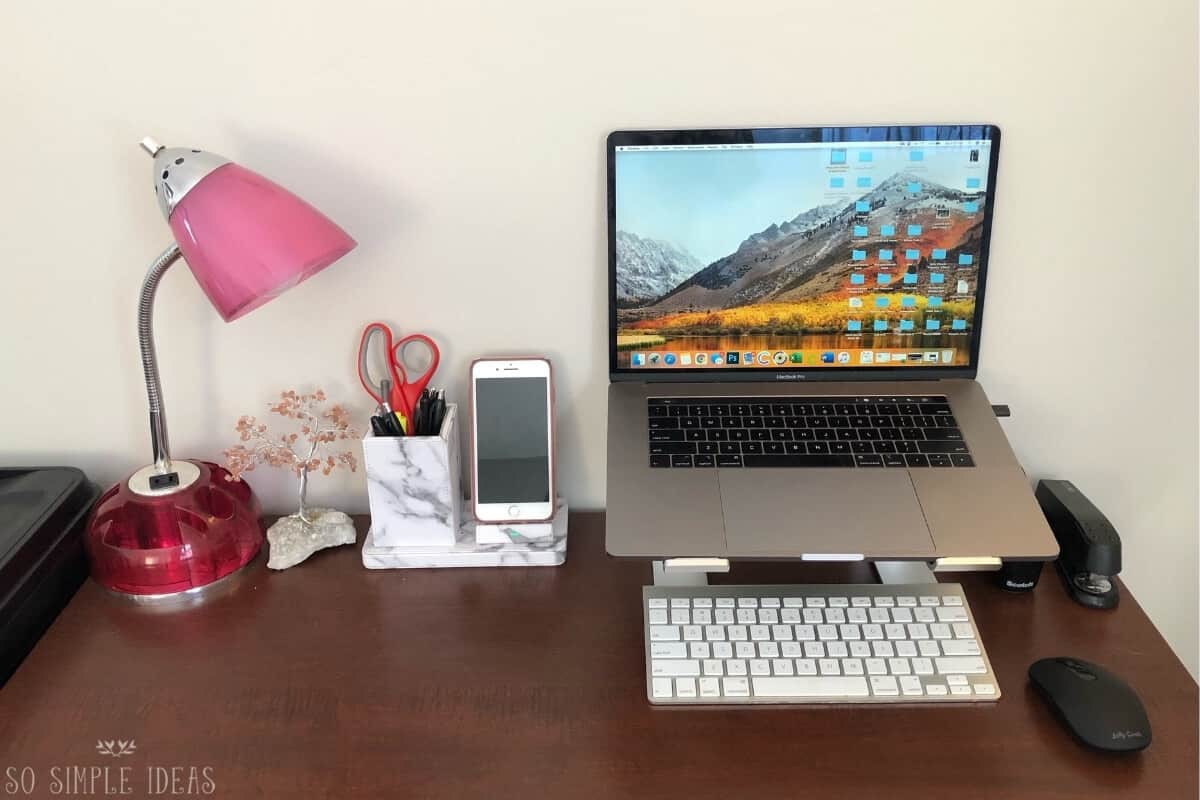 Small Desk Organization Ideas
It can be tough to work at a small desk area covered in clutter. So you'll want to get a tiered storage cart where you can keep things organized.
If you have some desk drawers, use dividers to keep things sorted in easy to access areas. A tiered shelf sorter can be used to store things neatly on top of the desk.
Frequently Asked Questions
I've gathered the most asked questions here. But if you have other questions about how to organize your desk, be sure to ask them in the comments area below this article.
What's the best way to organize desk drawers?
Place small storage bins or a compartment tray to group items together in a drawer. Things that are used most often should be kept in the top drawer for easy access.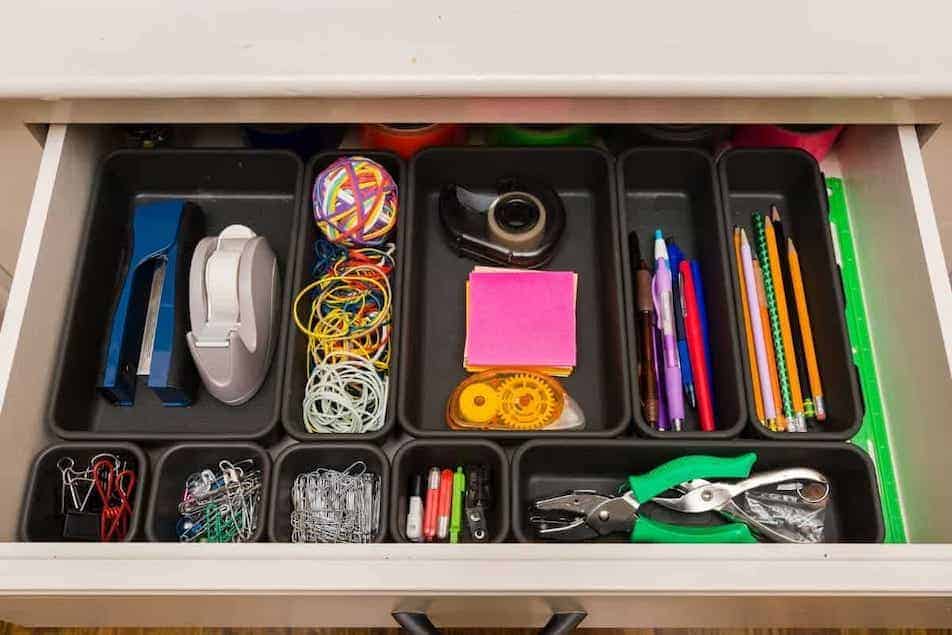 How can I organize a desk without drawers?
One of my favorite IKEA hacks is to use a peg board to hang up IKEA spice racks as small shelves for organizing desk items. You can also use a monitor stand and keyboard tray to give you more desk space.
How should I organize my office or cubicle at work?
Just like desk organization, you'll first want to de-clutter and remove all unnecessary items. Have a bookshelf and filing cabinet to organize papers and books. Designate specific areas on your desk and in the office space for all your essentials. Limit your personal items if you need more room.
What's the best way to keep my desk clean and organized?
No doubt keeping things organized will be a struggle until it becomes a new habit. Until then, keep a garbage can near by and set aside a half hour at the end of the week for a quick clean up.
How can I organize a kids desk?
Use the same principles for organizing your desk for a kids desk. But use bright colors and decorate it in a fun theme. Keep lots of bins handy for storing small items.
10+ Easy DIY Desk Organizer Ideas
If you need some inspiration for your work area, I've gathered my favorite ideas for desk organization below.
1) Funky Color Theme

Okay, so this one obviously isn't an organization idea, but it's a great start to design your desk to fit your personal style.
If you want more of a feminine theme, go for pastel colors like a light pink and purple. If you want more of a sophisticated feel to your desk, try the classic black and white combo. There is no right or wrong in what you choose as long as you love it!
Plus, picking your color theme first will help you choose what colors you use for the easy desk organization ideas that you are about to use for your workspace.
2) Planner and Calendar

Purchasing a cute planner and calendar will help you organize your ideas and your work. A big calendar hanging over your desk will help you remember special deadlines you need to meet. A planner will help you focus on and finish daily tasks that you need done.
For chic bonus points, buy a matching planner and calendar for planning more easy desk organization ideas DIY!
3) A Whiteboard or Pin Board

Whiteboards and pin boards are a great asset to any home office. They work as great memo boards. You can use them for messages and tasks. They also come in handy for brainstorming and random inspiration!
4) Mail Organizer

Mail holders next to your desk will be your saving grace in keeping your bills and letters sorted.
There are several different ways to make your own mail organizer. A quick, easy solution is gluing manila folders or hollowed out books on top of each other.
Then you can decorate however you want to fit your theme. Easy desk organization ideas DIY like this one are cheap and oh-so-simple!
5) Drawer Organizers

Drawer organizers are a fantastic easy desk organization ideas that will help with keeping your stationery and office supplies sorted. You can separate paper clips, markers, and anything else you can think of. This makes it super easy to grab what you need when you need it.
You can buy drawer organizers at most stores, and there are a variety of types you can choose from. You can buy plastic containers, or you can buy simple dividers for your desk drawers.
There are also some great DIY projects for making your own organizers, so you can design them yourself! You can cut out the bottoms of cereal boxes and other similar household items to size them for your drawers. Use fun washi tape, drawer liners, or fabric to decorate them.
6) Paper Holders/Magazine Holders

Paper holders will have all that loose paperwork you have scattered across your desk organized. Use multiple paper holders for multiple projects. You can even use it for your magazines.
Wanna make your own chic-y paper holder? Check out this DIY paper holder made out of a cereal box!
7) Pen Holders

Pen holders for the top of your desk will keep your writing utensils easy to get to. I use pens more than I use any other office supplies, so I prefer to keep them on my desk instead of in a desk drawer.
Again, you can buy pen holders from several retailers. Try substituting a chic coffee mug or cup to hold your pens. Mason jars work fantastically as well.
Check out this fun DIY project for gorgeous pen holders that are super easy to craft! These are just a few of the easy desk organization ideas DIY for pens.
You can even add an extra chic cup to hold a bouquet of fake flowers (or fresh if you have time to care for them) to spruce up your desk environment!
8) Storage Boxes
Storage boxes can hold any and all other junk that you can no place to put. They can be easily stacked on one another to save space.
There are zillions of cute storage boxes on the market, or you can get creative with these as well and make your own!
9) Bookends
Do you want to showcase your favorite books on your desk and keep them looking organized? Funky bookends can do all this and bring a cute vibe to your desk.
10) Rolling Cart
Rolling carts are awesome for extra storage and books. They are super convenient too since you can move them around your home office. Better yet, you can find adorable carts to go with your chic theme!
11) Cord Organizers
There is no bigger nuisance than the tangled cord mess strung out on your desk and underneath your desk! It will be a large headache but untangling and organizing those cords will be worthwhile in the long run.
Binder clips on the edge of your desk will work fantastically for keeping your tech cords untangled and in perfect order. They won't take up much room and won't take away from the chic vibe you have going on.
Label the bottom of the cords using sticky notes. So, the next time you are under your desk, needing to unplug a device, you won't be guessing what is what.
Getting Started With These Desk Organization Ideas

Now that you've got some chic inspiration it's time to get to work! Start by trashing anything you don't need and getting in order what you do need.
Decluttering your desk will help declutter your mind. There's no need to sit in chaos, and you don't have to break the bank to decorate your workspace.
We hope these easy desk organization tips help you create a distraction-free workplace today!
Need some ways to be more productive? Take a look at our list of things to do when bored at home.
First published on July 25, 2018. Last updated on February 24, 2021, with additional photos and ideas.