If only you could get a facial every day. But who has the time and money for that? Instead, try these DIY beauty hacks for skin.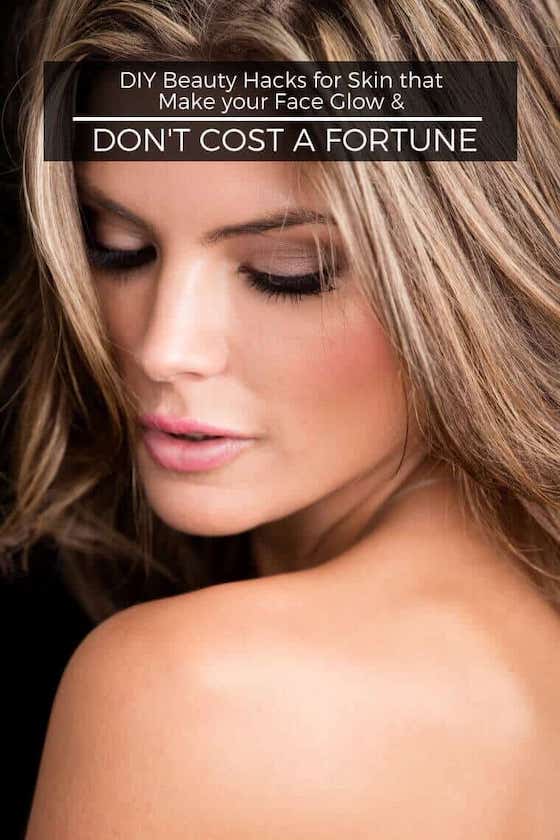 Blackheads, dry skin, pimples, puffy eyes, stretch marks, hyper-pigmentation, wrinkles and fine lines … oh my! It's enough to make you cry.
Beauty comes naturally to the lucky ones–and the wealthy. But for most people, it takes time, patience and energy to look pretty.
And, it takes ingenuity if you don't have the budget to visit the spa or aestheticism every month.
So to help you look radiant and give your epidermis that healthy, youthful glow, we've scoured the web for the best DIY beauty hacks for skin.
Let's just right into it….
Natural Beauty Hack
Byrdie has an interesting remedy for blackheads. It's a homemade pore strip for the poor. After all, the strips that are sold in stores are pricey. Moreover, they don't always work all that well.
So here's a simple trick you can use to combat blackheads. All it takes is a few ingredients: a teaspoon each of warm purified water and raw honey and one tablespoon of unbleached organic four.
To use it, simply combine the ingredients and dip a cotton pad or clean cloth into the mixture and apply to the affected area. You can wash your face after letting the mixture sit for up to 15 minutes.
You probably have a microfiber cloth at home to clean your sunglasses, laptop, phone or tablet. That very cloth can also be used as an all-purpose face cleansing massager, says Allure.
After applying a cleanser to your face, simply take the cloth to massage the cleanser into each section of your face. Use small downward strokes to release tension. Your skin will instantly looks brighter and more energized, promises the blogger at Allure.
Coconut Oil Beauty Hacks
Truth be told, you could fill a whole book about DIY beauty hacks for skin just featuring coconut oil. This saturated fat isn't only for cooking and coffee.
Because of its antibacterial properties, coconut oil has many applications in skin and hair care. It can help eliminate cold sores, chicken skin, and much more.
Coconut oil can help moisturize your skin. If your skin is naturally on the too oily side, don't use it. However, if your skin lacks glow, it can be your best friend.
Moreover, the nutrients and compounds in coconut oil, such as antioxidants, can help your skin look younger.
Teen Vogue recommends using it as a makeup primer. Even the best makeup in the world needs a base, suggests Teen Vogue. And coconut oil can serve as an excellent hydrating base, thanks to its high profile of deep-penetrating essential fatty acids.
In addition to being a great foundation for makeup, coconut oil can also help remove it. Teen Vogue suggests melting a few tablespoons in a double boiler and mixing in some grapeseed oil.
But make sure you allow the coconut-grapeseed oil makeup remover mix to cool first. There's no use in trying diy beauty hacks for skin if you're going to scald yourself.
The amount you need to remove makeup is more or less just a teaspoon. Even if you don't have grapeseed oil, warm, liquid coconut oil alone when massaged onto the skin can remove makeup. To remove excess coconut oil, the source at Teen Vogue recommends using a damp cotton pad to gently wipe it away.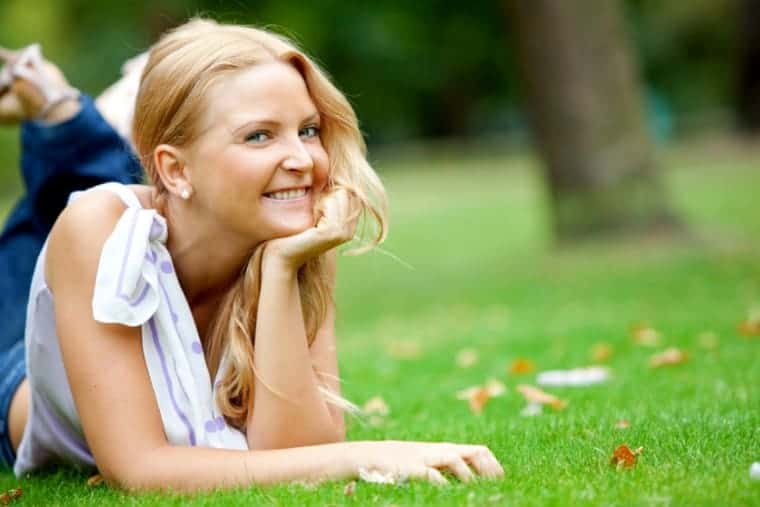 Weird Beauty Hacks
Are you willing to do anything to make yourself prettier? How about some of these odd DIY beauty hacks for skin?
For example, coffee grounds, says The Indian Spot can help reduce dark circles. Especially if you combine the grounds with coconut oil. (See, you really can fill a whole book of homemade skincare hacks with coconut oil.)
So don't be so quick to dump your coffee grounds in the garbage. (You should be composting anyway.) The source recommends this trick for nursing mothers who have to wake up every couple hours to feed newborns.
Don't want to use coffee grounds to get rid of puffy eyes? You can always dunk your face in a bowl of ice. That's what Madonna does supposedly.
And here's a weird hack for getting rid of acne: open an Advil gel cap and apply the liquid to the pimple. That's what Scout The City recommends anyway. Perhaps because of its anti inflammatory properties, Advil for zits works. Who knew?
Here's a rather unusual way to combat stretch marks, courtesy again of Scout. Cut a lemon in half and rub the inside of the lemon over the stretch mark. Let the lemon juice soak in the affected area for a minimum of 15 minutes before rinsing with warm water.
Weirdest Homemade Remedy: Eggs?
For some reason, applying eggs right to the face has become one of the most popular DIY beauty hacks for skin.
Salmonella risk aside, using egg whites is hyped online because of its natural anti-aging properties.
Moreover, eggs supposedly aids in brightening and tightening the skin. So instead of cracking them open to make an omelette, you can use it as part of your beauty regimen.
And if those benefits weren't enticing enough, some bloggers suggest it can help eliminate fine lines and minimize wrinkles.
Ready to get eggy?
To give it a try, mix an egg white, 2 tbsp of honey and 3 tbsp of clay mud together.
The blogger recommends applying these ingredients on your face and neck and leaving it on until it's completely dry. Once dry, then you can rinse your face with cold water.
The source also says that you can ditch the clay and just use the egg and less of the honey.
Dark circles under the eyes can also be minimized with eggs, says the same source. If you want to give it a try, pat egg white under your eye area with a soft makeup brush.
Leave on for 5-10 minutes until dry and rinse off with cold water.
Also, combining egg whites with lemon juice can get rid of pimples and blackheads, says the source.
Bonus DIY beauty hacks for skin
More.com, a beauty, lifestyle, fashion and entertainment blog offers an interesting tip: use green tea for a steam facial. The antioxidants offer anti-aging benefits and will help control inflammation and redness, claims the source at More.com.
Even if there's no scientific proof to back the claim, at least the steam will help unclog your pores. And when you're done with your green tea facial steam, don't throw away the tea bag.
Instead, you can use the tea bag to stimulate blood flow and reduce puffiness and under-eye circles.
The source at More offers a couple more interesting homemade beauty tricks. You can place a business card behind your lashes when applying mascara. And you can use Vaseline itself for mascara by rubbing some of it over your lashes.
Doing so will define and condition your lashes, claims the source.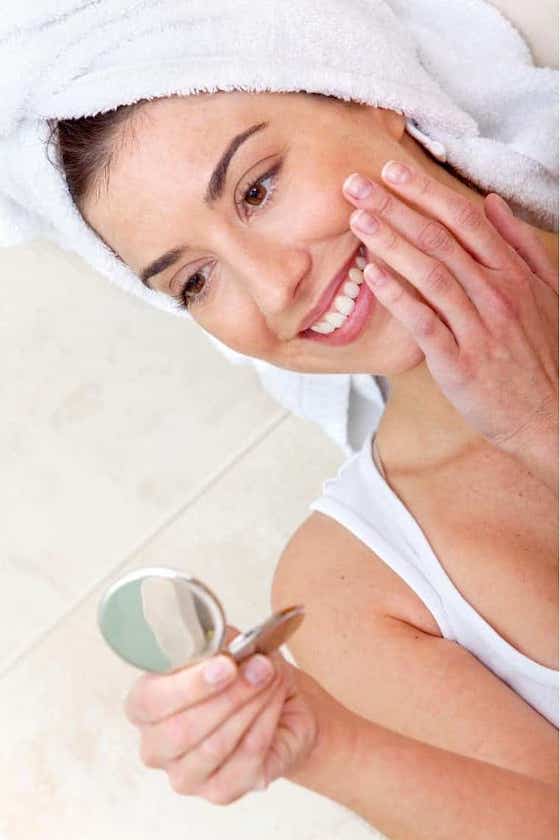 DIY Beauty Hacks for Skin you Shouldn't Try
But there are some homemade beauty tricks you should never try.
One of them is making a peel-off face mask out of glue, says Self.com.
"Not only could it cause a breakout after sitting on your face for 15 minutes, but you also risk ripping off skin and peach fuzz—all for a cool Instagram-worthy peel effect," says the blogger at Self.
And although baking soda is recommended for nearly everything, the same source strongly advises not to exfoliate with it.
The author of the post quotes a skin doctor who says that baking soda can alter your skin's pH level. Specifically, it can cause it to become too dry. That's because baking soda is alkaline whereas the skin's natural pH is acidic. It might work in the short-term, but long-term, your skin is more prone to breakouts.
And last but not least, do not try to remove pimples with toothpaste. Especially if the toothpaste contains … you guessed it, baking soda.
Do you have any great or weird DIY beauty hacks for skin that'll help you save money?
If you need more money for beauty supplies and aren't old enough for a real job, check out how to make money as a teenager.