Don't have the money or space to do a complete makeover in your home? Then consider trying some of these dollar store hacks.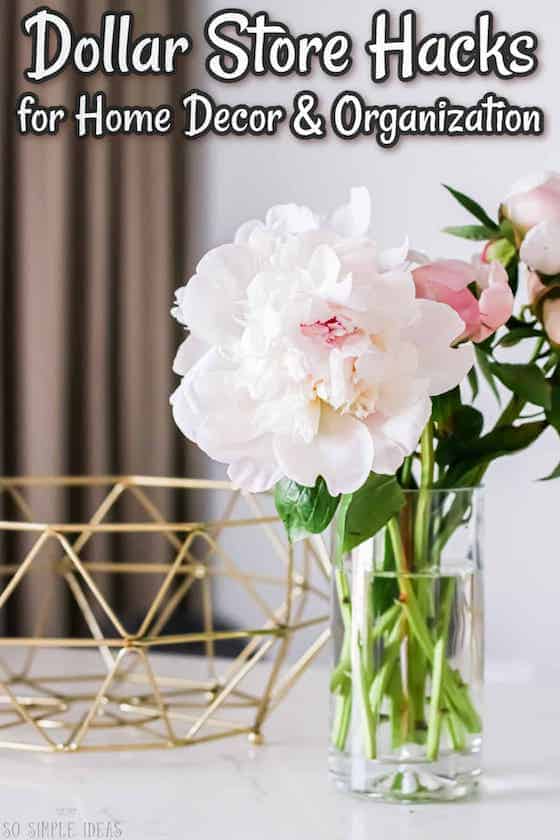 Whether you're decorating or reorganizing your home, hiring a professional is prohibitively expensive for many people.
An interior designer can charge a few hundred dollars per hour or per room. You can expect to pay roughly the same for a professional organizer.
To save money, do it yourself. Simple, everyday items for sale at discount merchandise stores can help both decorate and eliminate clutter in your home.
Let's take a look at several tips and tricks for pennies on the dollar….
DIY dollar store hacks
Walk into any home, especially a small apartment and one of the first things you may notice is the large stack of utility bills on a shelf.
To hide the clutter, buy some wire baskets. You can easily hang the baskets on the wall. Or if you have space, you can keep a couple on your counter or home-office desk.
Another common clutter source in many a home are electronic cords. One smart technique that's been shared on several websites is to organize small chargers for smart phones and tablets in eye glass cases.
Make sure you place labels on the cases to easily identify the cords.
You're home can look spotless but are your bathroom and kitchen cabinets under the sink well organized? If not, you can store cosmetics and hair care products such as hairspray, mousse, styling gel, makeup bags, etc., in plastic storage baskets.
Offsetting Your Plastic Footprint
Let's stop for a second before discussing more dollar store hacks.
The 800-pound gorilla in the room is that most of the goods sold in low cost stores are made with petroleum-based products, i.e. plastic.
Our planet is polluted in large part because of plastic. In fact, there's over 5 trillion (yes, with a "t") tons of plastic littering the ocean.
Currently, there are five enormous plastic gyres (circulating debris) in the world's oceans. The largest one, in between California and Hawaii is twice the size of Texas.
But instead of feeling guilty (or apathetic) about buying more plastic, here's what you can do….
You can donate to TheOceanCleanup.com , an organization which is currently conducting the largest clean up operation in history. And, of course, you can recycle and reuse plastic items you currently have.
Bathroom dollar store hacks
Ok, now that you're feeling better about reducing your carbon footprint, let's figure out how to de-clutter your throne area.
Mason jars will be critical for the organizational therapy. You can store your lipstick containers, nail polish bottles, cotton balls, pads and q-tips, hair ties, bobby pins, and lots of other small things that otherwise take lots of space.
Shower caddies aren't just for the shower. You can hang a few of them from bathroom walls.
You can also hang magazine organizing racks from the inside of the under-the-sink cabinet. These are perfect for storing cleaning bottles such as your toilet bowl cleaner, shower glass spray and bleach.
(Here's a pin that shows how orderly storage baskets under the sink look.)
Dollar store hacks for the kitchen
To organize the area where you cook and store food, let's rehash some ideas from an article on this very blog on kitchen organization hacks….
Cans take up a ton of storage space.
Most people just stack cans on top of each other or arrange them on a shelf in rows. Doing this wastes space in the pantry.
And although you may think stacking cans is a prudent space saver, think about how many times you've knocked cans over reaching for something in the back of the pantry.
There's a better way….
Enter again the multi-purpose magazine holder. It can transform unsightly canned goods into a easy to use storage rack. Access to cans in the back of the rack is a breeze and storage space is optimized.
If you have small storage containers and bins in the garage or in storage that you're not using, they are really great for organizing your pantry.
More kitchen storage ideas….
Speaking of storage bins, however, can you relate to this kitchen annoyance:? Scattered and misplaced storage lids.
If so, we found a clever idea here for this problem. You'll need a large plastic container and a dish drying rack that will fit on top. Voila! The perfect lid organizer.
(But in the future, if you have the money, the new generation of food storage containers have lids attached to them.)
You can use s-hooks to hang light pans. And adhesive hooks can help lots of space in the cabinets and pantry.
You can also use a hook on one of the doors under your sink to hang trash bags.
Good Housekeeping (of all places) has one of the cleverest dollar store hacks if your pantry is cluttered with coffee mugs: use a coat rack to hang them from the wall.
Another tip we love from Good Housekeeping include hanging a cork board in the pantry door. You can insert push pins into the cork board and hang measuring cups and other light objects that otherwise clutter your space.
To get cutting boards out of the way, BuzzFeed recommends tension rods. Not sure what a tension rod is? It's the same thing from which you hang a shower curtain.
Obviously, you don't want to get the same size tension rod as your shower but it's possible your local dollar store sells smaller versions.
If not the dollar store, your local hardware store most likely sells them. Maybe not for a dollar, but pretty cheap nonetheless.
Once you have the tension rod in place, you can arrange your cutting boards. (See how it looks on Pinterest here.)
Dollar store decorating ideas
Your home reorganizing isn't complete without making your entrance appear inviting.
This budget-saving idea website has a fabulous idea. You can buy a dollar store rubber door mat and glue vase pebbles to it. This DIY stone welcome mat (you can also make one for your bathroom), is a low-cost surrogate for luxury mats that sell for over $100.
Inside your home, beautify your living room by purchasing cheap bowls, filling them with soil and succulents. The cheap bowls make excellent planters.
Got any dollar store hacks you'd like to share? Leave a comment.