Want to know how to get free Amazon gift cards without falling for a scam? All you need is an Internet connection and you're halfway there.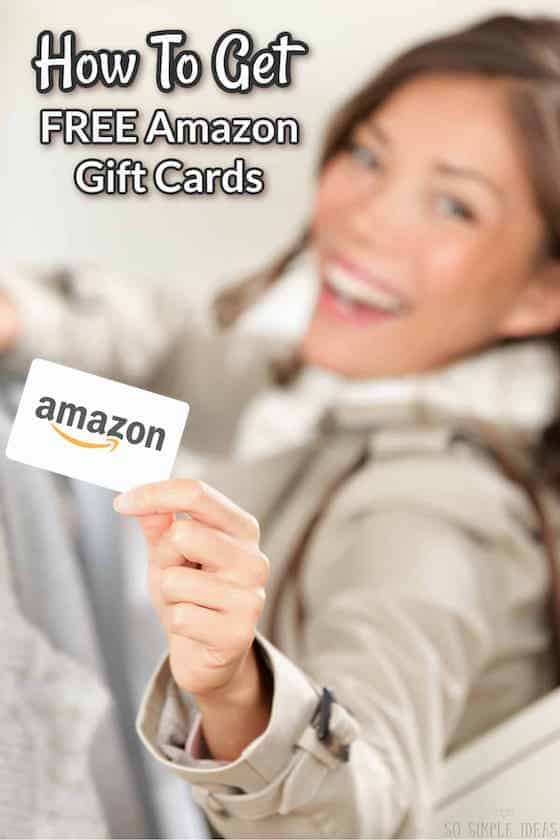 The only time of year most people get a free gift card is for birthdays or the winter holidays.
But what about the rest of the year? Wouldn't it be great to buy whatever you want on Amazon, almost whenever you want?
It turns out it's ridiculously easy to do it.
All you need is an Internet connection. And an opinion.
You see, just as there are several websites that will give you free makeup samples by mail, there are many online offers for Amazon gift cards.
It tuns out you can get a complementary gift card directly from the retail giant. (You'll read how in just a little bit.)
Avoiding Free Amazon Gift Card Scams
Some offers are indeed scams. If an ad offer sounds too good to be true, assume it's a scam.
For example, if you see an ad saying you've been selected for a $1000 gift card, it's likely a scam. Don't click "OK" to claim your reward.
These ads are the result of malicious hackers. By clicking "claim your free gift card" or similar call-to-action buttons, you may have your data stolen.
Many websites that offer free content offset the cost of running their website by hosting advertisements. Ads on free content sites are run by a publishing network. And sometimes, scams fall through the cracks of these ad publishers.
The bottom line is this….
Are you being offered the chance to win a gift card by an entity you're not familiar with? And all you have to do to claim your prize or enter the chance to win is enter your email?
If so, it might be a scam.
Legit Free Amazon Gift Card Offers
However, there are plenty of websites that are offering gift card freebies and aren't a scam.
But you have to do some work to get it.
The reason why websites can give you gift cards is because your opinion is a gold mine.
Many companies and brands rely on opinion surveys. These surveys help form collective opinions about products.
If a company has no idea what thousands of people think of a certain product, without data, the next product they launch can be a commercial failure.
And what better way to entice people to take the time to do a survey than by offering a free Amazon gift card?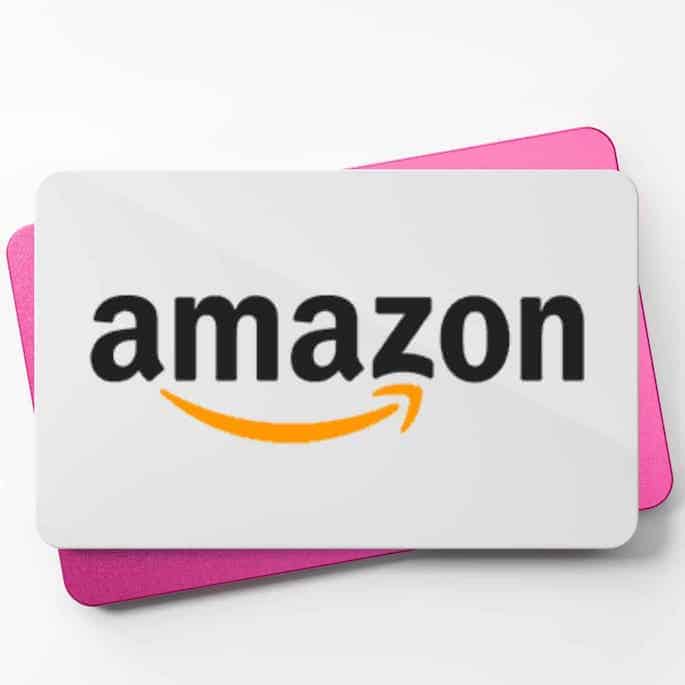 Websites That Offer Free Gift Cards
There are several websites where you can get the freebie.
On some of the most popular ones, you earn points. And once you accumulate enough points, you can trade it in for a card.
One website that operates on this model is GrabPoints.com. In the realm of online reward programs, GrabPoints has a reputation of offering the most generous perks.
So how do you earn points? By taking surveys (more on this below) and watching videos. Sounds pretty easy, right? After all, if you're not a big survey taker, you probably watch lots of videos as it is.
In addition to videos and surveys, with GrabPoints, you will likely have to download different apps. That's a small price to pay for getting rewards. And besides, it's another simple thing you're already likely doing.
The apps you download are for the different brands you will take surveys on. Or, the apps can be for data collection companies.
Either way, you can always delete these apps at a later date. Moreover, the apps are completely safe to download.
However, keep in mind that your data may be shared with other companies; the companies that acquire your data may later market to you, which means more junk mail.
Anybody can register with GrabPoints. And, it doesn't cost anything to sign up for an account.
Remember, your honest opinion on products and brands is extremely valuable. Even though it's nice you're getting comped with a free Amazon gift card, the companies that collect your data are the ones really benefiting the most.
Therefore, if you come across a website that makes you pay to get started, don't sign up.
Using Free Gift Card Programs
For some websites, GrabPoints included, after you register, you'll get an invite code in your email inbox.
You'll need to enter the code on GrabPoints or similar websites to start earning points.
So now comes the points to gift dollar value equation….
For GrabPoints (other websites have different systems), 1,000 points equals one free gift card dollar. As for how many points you can earn, it depends on the task.
Unfortunately, the GrabPoints website is not transparent as far as how many points you earn for each task. You only learn the finer details once you sign up for an account.
According to the website, once you collect 2,000 points, you can claim an Amazon gift card. You receive the card via email (it's not a physical card).
Again, it would be nice if GrabPoints were more transparent before signing up. The promise of a gift card after accruing 2,000 points sounds enticing. But remember, 2,000 points equals only $2.
Other Ways to Earn Amazon Gift Cards
Another popular website for getting rewards is American Consumer Opinion. The website actually pays people for their opinions. In fact, the company can pay by mailing you a check or through a linked account like PayPal.
But you can choose to opt for a free Amazon gift card instead.
If you're familiar with the concept of a focus group, that's pretty much how American Consumer Opinion works.
Focus groups are part of market research. There are still in-person focus group opportunities. You'll find them on sites like Craigslist. Basically, you show up to a conference room for a few hours and answer questions a marketer asks about a particular brand or product.
With American Consumer Opinion (ACO), it's like an online focus group. You can evaluate new products, rate advertising campaigns, and take surveys.
As for the surveys, the longer they are, the more points you earn.
For ACO, one penny you earn is worth a point. Survey incentives range from 100 points to 5,000 points. Thus, doing the math, if you do a 5,000 point survey, you will get a $50 gift card.
ProductReportCard.com is another website that you can earn rewards for your opinion.
You can even cut out the middleman and directly earn a free gift card from Amazon through its trade-in program. If you don't want to take surveys, this is an excellent way to cash in with a gift card. If you have, say, an old laptop or cellphone, you might be able to trade it in to earn a free gift card.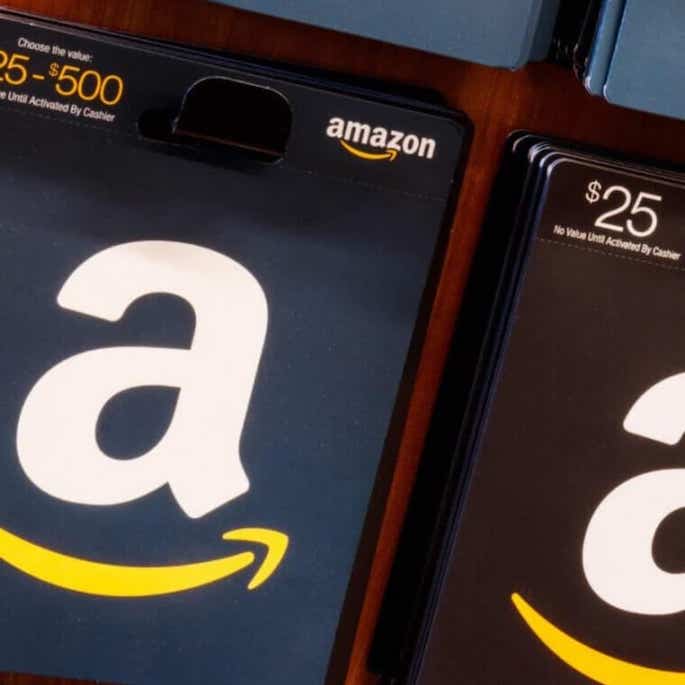 Apps To Get Amazon Gift Cards

Free

As mentioned above, some gift card programs require you to download apps. Survey Junkie has an app that contains dozens of paid surveys. Depending on the survey, you earn a specific number of points.

With Survey Junkie, once you earn 1,000 points, you can earn a $10 gift card. That's the minimum cash-out value, by the way. You'll have to do anywhere from 5-10 surveys to earn 1,000 points.

This may sound like a lot of work just for $10, but Survey Junkie has one of the highest payouts in the rewards niche.

And besides, it's so simple to do a survey on your smart phone or tablet. You can do it while laying on the couch or in bed.

Swagbucks is another popular rewards app. In addition to the standard incentive of points for surveys and watching videos, you can even earn rewards through a shopping portal. With the shopping portal, you earn points on online purchases. In essence, it's like a credit card reward program.

If you want to redeem an Amazon gift card with the Swagbucks app, you need 500 points to earn a $5 card.
Earn Gift Cards for Surveys
Remember, it's the opinions of hundreds of thousands of consumers that drives how reward programs operate.
Companies pay websites like the ones above to reach you and get your opinion. Speaking of your opinion, OpinionOutpost.com is another portal for earning rewards.
You can provide feedback on various things, such as divulging your favorite TV shows, musical artists, movies and more.
In addition, you'll be asked your opinions on politics, food, the electronics and appliances you use and much more.
Surveys for Money
And if it's money you're after, you can always redeem points for cash. Many rewards websites offer cash for opinions.
Just remember to be on the lookout for scams. If you see a rewards program that requires you to pay to play, avoid it. It's your opinion that's the most valuable commodity.
That's why multi-million and multi-billion dollar companies are able to dish out tons of free gift cards.
And besides, you're donating your valuable time. It's not like you're getting a $50 gift card for taking a 10-minute survey. If you see an offer like that, it's likely too good to be true.
Best Apps For Free Amazon Gift Cards
There are several apps that you can download to scan receipts to earn money. The best part is, you can use the same receipt within several apps. These are our favorite ways to get free amazon gift cards.
Apps That Reward For Receipts
These are the best apps to earn money just for scanning receipts for things you are buying.