It's possible to have the style of a country farm home even if you are living in a big city or suburb. Just take a look at all these cozy farmhouse decor ideas that bring country charm.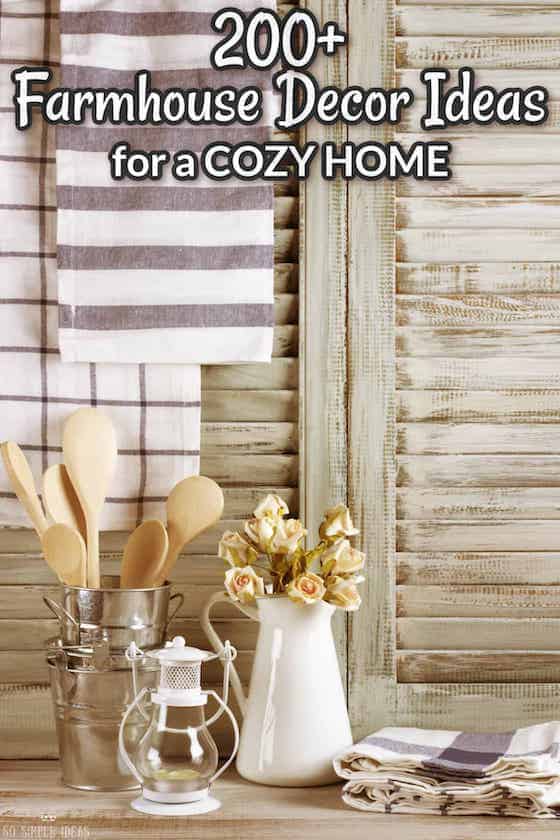 It's simple to add the a cozy country feel to any house regardless of the location. And you don't have to live in an old farmhouse to make it work.
Rustic pieces found in antique shops can be worked into the style. But, the antique look can also be replicated with new items that are easy to make yourself.
We've scoured the net for the best country home ideas. There's over two hundred DIY farmhouse decor ideas contained within the linked content below.
It's simple to get the look of a country farmhouse and you'll save money by making things yourself. So read on for some inspiration on getting your house decorated with this popular style.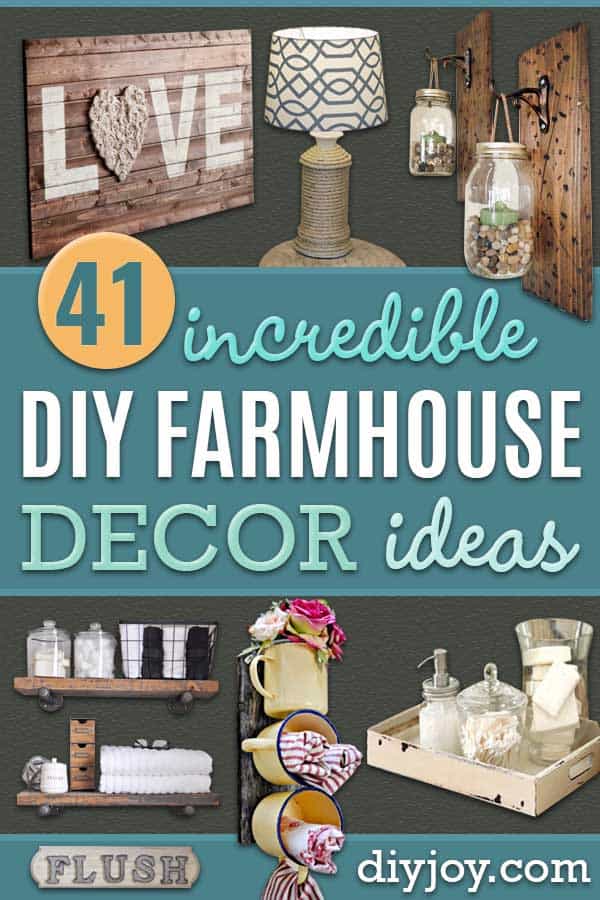 41 Incredible DIY Farmhouse Decor Ideas
DIY projects are easy ways to give your bedroom, bathroom, and living areas some vintage charm. Handcrafting your own pieces make them unique and you can add in your favorite colors.
Creating your own wall art and giving furniture a distressed look is simple with step by step directions. For some incredible farmhouse decor ideas that are easy to make check out the list DIY projects at diyjoy.com.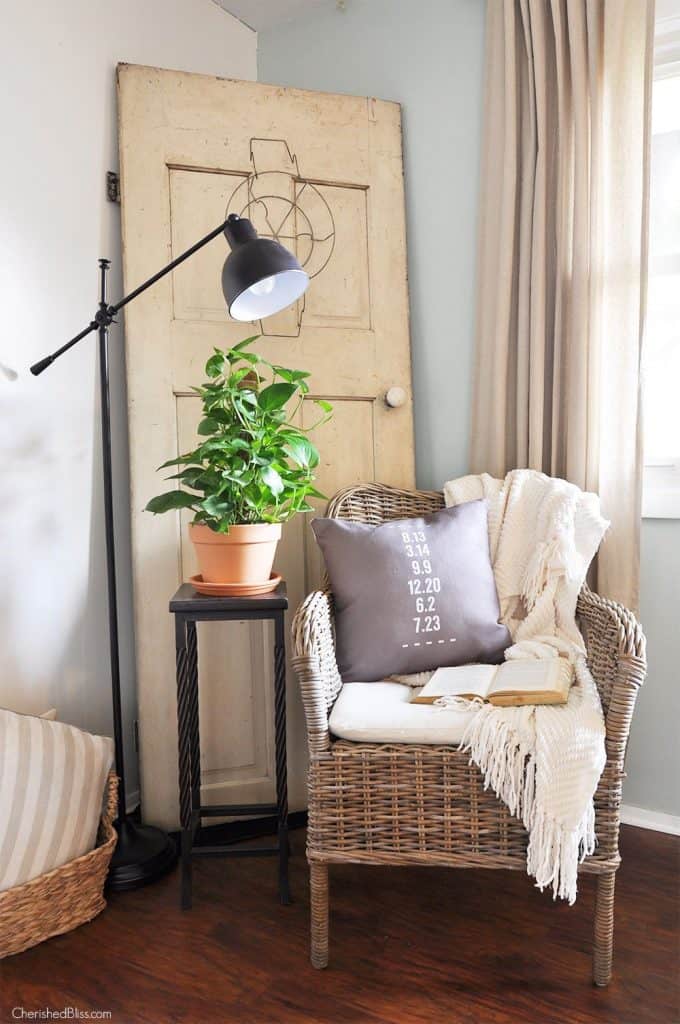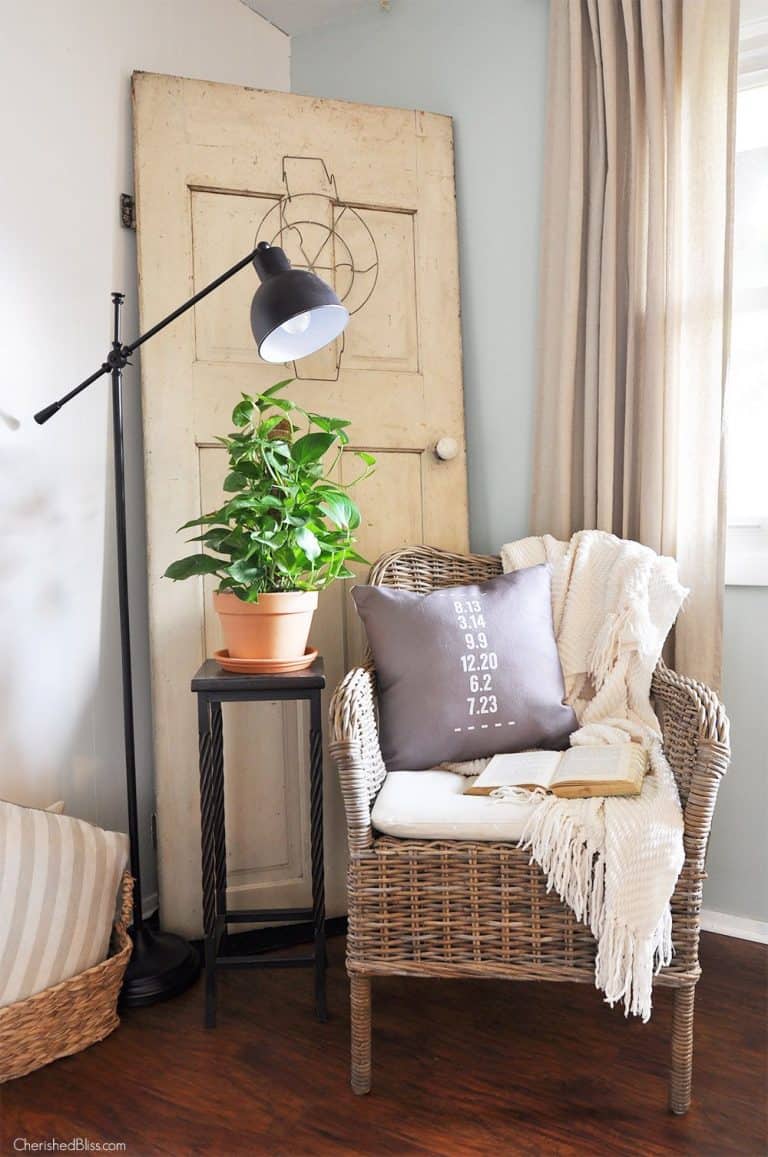 Photo Credit: CherishedBliss.com
40 Pieces Of Farmhouse Decor To Use All Around The House
Adding in little items with an aged look around the house gives country charm to the entire home. From simple candlesticks to a distressed white bench on the front porch, it's easy to incorporate the style in every living area.
Find out what items work best in the living room, kitchen, bathroom, and playroom. For inspirational photos to use pieces of farmhouse decor around the house, take a look at the ideas at homeedit.com.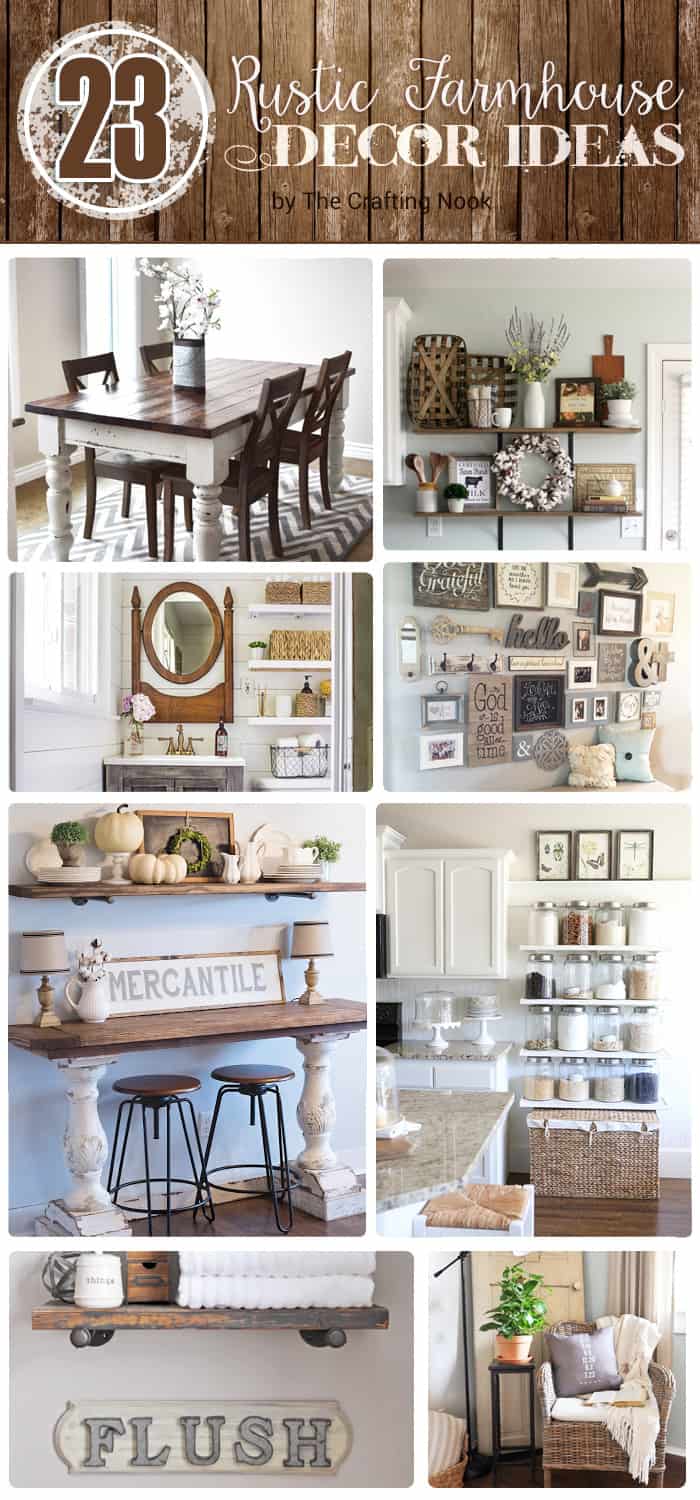 23 Rustic Farmhouse Decor Ideas
A rustic country style has become trendy for good reason. It's a look that makes each room comfortable and cozy. And combining various pieces together gives every room a unique feel.
From adding distressed shelves to antique signs. Getting an old country feel is simple to do. To view some fantastic rustic farmhouse decor ideas, head over to thecraftingnook.com.

38 Farmhouse Kitchen Decor Ideas
The kitchen is the heart of the home. It's where you do all your healthy meal prep. So if you are just getting started with a country farm look, you may want to begin in the kitchen.
Baskets and open shelving is a simple way to incorporate this popular style. You'll find all these amazing kitchen farmhouse decor ideas at homebnc.com.

Easy DIY Farmhouse Decor Ideas for Any Home
It can be tough to come up with creative ways to decorate your home. That's why it's best to put examples of the styles you like into a notebook. This makes it easy to shop for similar items.
For even more inspirational photos, take a look at the stylish farmhouse decor ideas at the36thavenue.com.

DIY Antique Signs to Incorporate a Rustic Look
Making your own distressed painted signs is a budget friendly way to add an old country feel to any area of the home. But you don't have to be a master artist to make them.
You can see all seventeen of these fabulous DIY farmhouse signs at homeisd.com. And each comes with super simple step by step instructions that anyone can follow.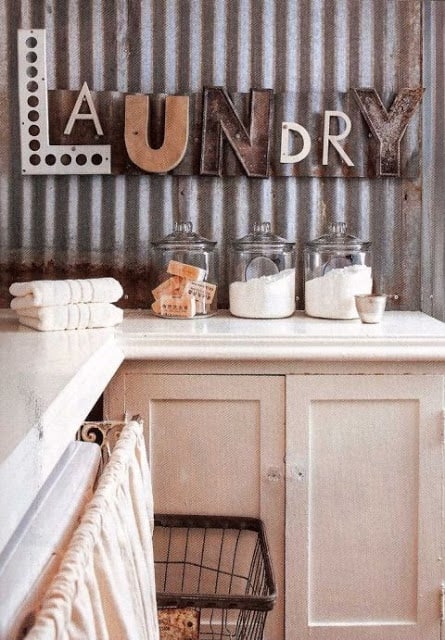 Additional Photos for Inspiration
There are so many simple and inexpensive ways to give your home a rustic country style. And the easiest way to get started is to browse through examples and pick out your favorites.
For some great farmhouse style inspiration, take a look at the photos at Coastal Charm. You'll find some awesome ideas for adding charm throughout your home.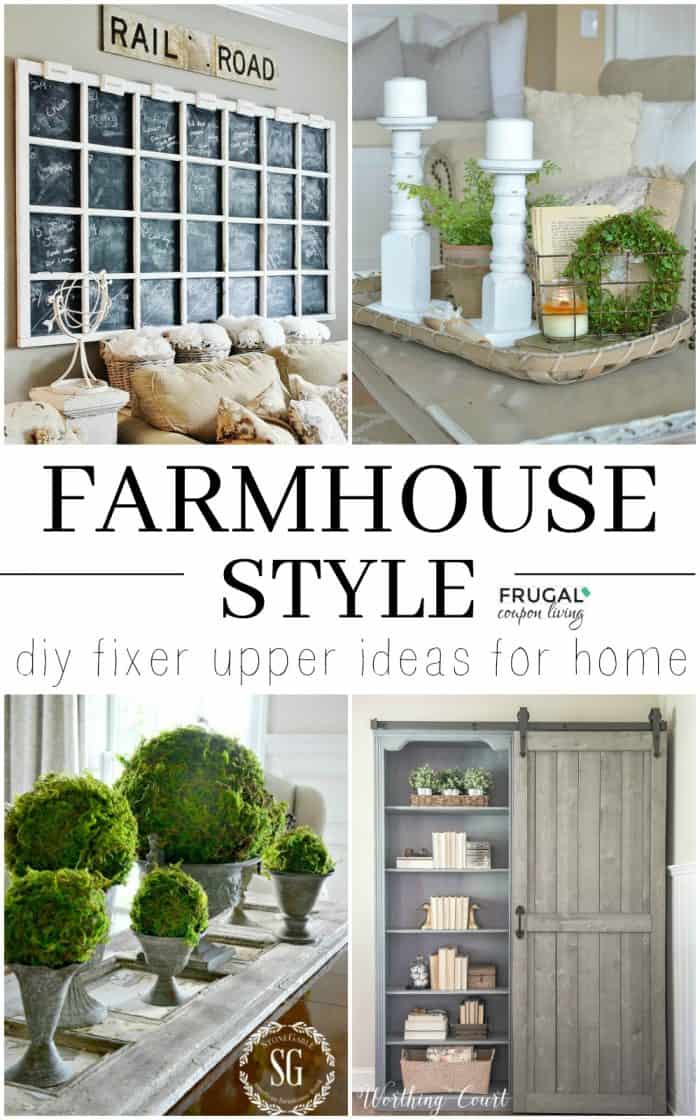 Fixer Upper Ideas
There's no need to spend a lot of money on styling the home with a country decor. You can even mix and match inexpensive second hand chairs at the dining room table.
If you don't mind spending a little time on do it yourself projects, you'll save tons by cleaning up old pieces you find at yard sales and flea markets. The DIY farmhouse style fixer upper ideas at frugalcouponliving.com is a great place to get some inspiration.

Easy Ways To Create The Look Of An Old Farmhouse
It's not difficult to get a simple country look in your own home. But you'll need to get rid of the clutter and use baskets and shelving to organize your things.
Once you toss all the unnecessary items in your home, it's easy to have a clean organized style. Just look at all the awesome farmhouse decoration ideas at forcreativejuice.com with simple storage solutions.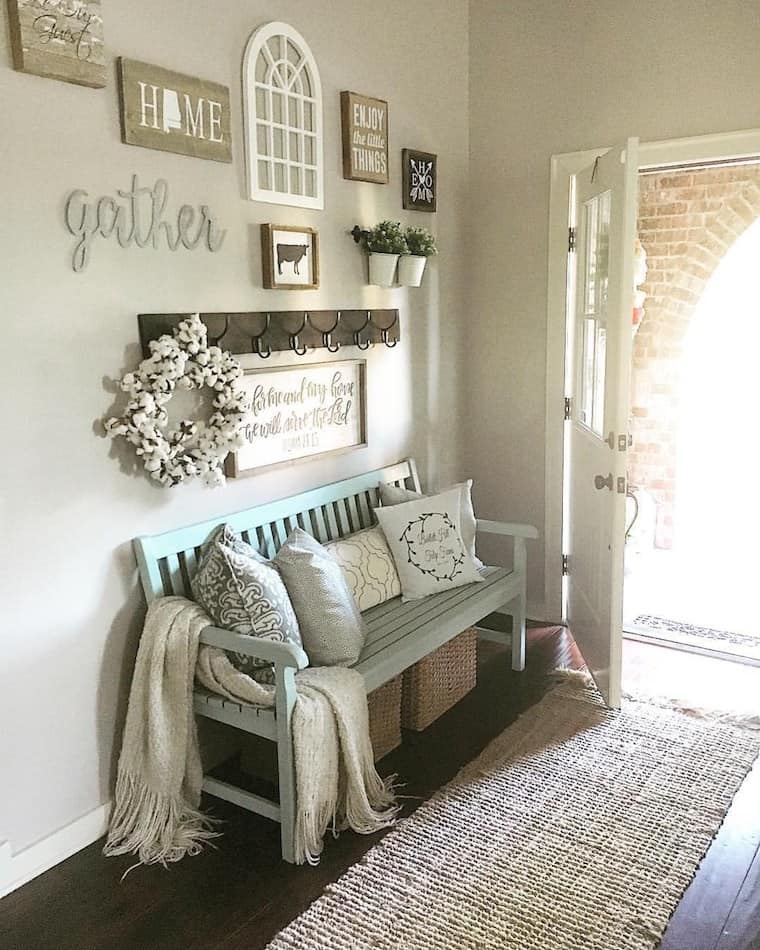 45 Amazing Farmhouse Style Decorating Ideas
For a complete look, don't forget the entryway and hallways. These are places that can get overlooked as you focus on the main rooms of the house. So be sure to grab a few ways to dress up these areas with your new style.
You'll find more simple farmhouse style ideas at onearchitecture.com that can complete the look throughout your home.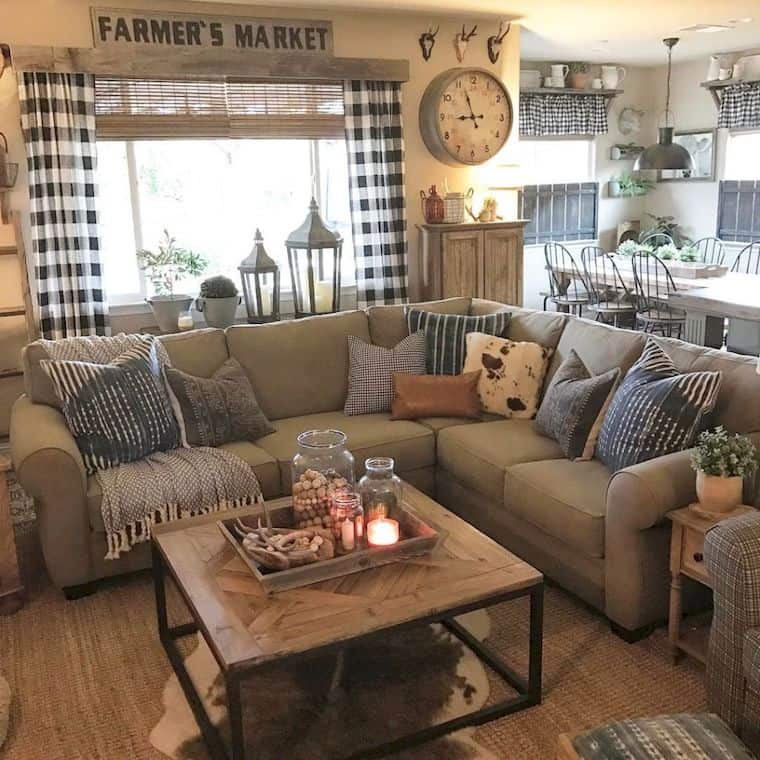 80 Rustic Farmhouse Living Room Decor Ideas
The family or living room should set a comforting mood and nothing is more cozy than a traditional country style. And nothing feels better than relaxing in a cozy spot after a busy day of work.
There's a ton of ideas to create a rustic farmhouse look in the living room at bellezaroom.com.