No time to bake? These low-carb and gluten-free keto no bake cookies with coconut can be cooked in the oven or left unbaked. Made with healthy almond flour and coconut oil.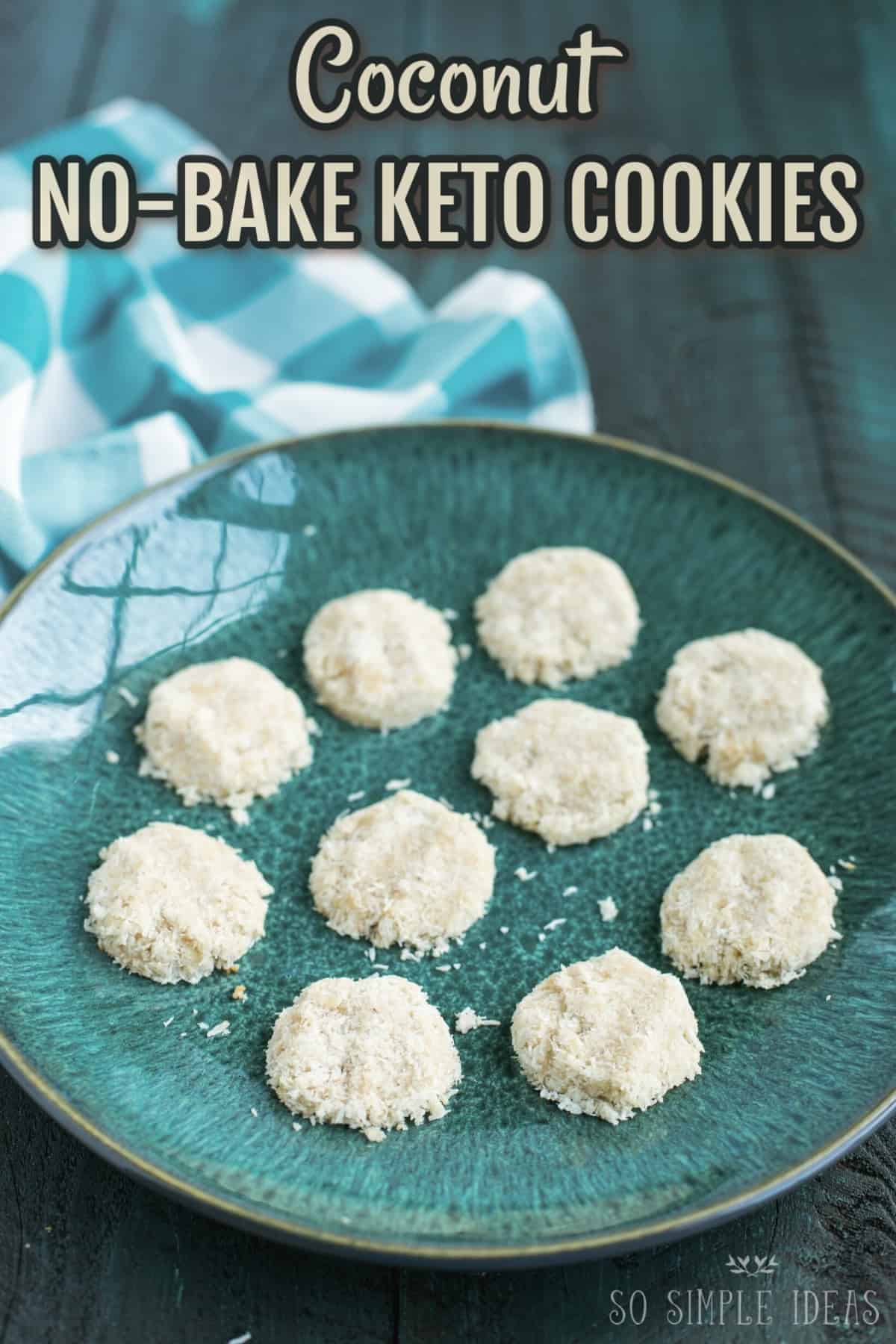 It's always nice to have a quick snack to grab when you feel a little hungry. That's why it's good to have some quick and easy snack recipes on hand.
To satisfy hunger, I keep a variety of cheeses and meats in the refrigerator for quick bites. However, sometimes I crave something a little sweet.
While browsing some coconut recipes, I found a recipe for no bake coconut cookies. The original recipe used real maple syrup which is really high in carbs.
Ingredients For Keto No Bake Cookies
There's only five simple ingredients plus salt needed to make these easy cookies. You likely already have everything in your pantry!
Unsweetened Shredded Coconut
You can use either shredded or flaked dried coconut. It adds flavor and sweetness to the cookies. Plus, it makes a base for the cookies without baking!
Almond Flour
With it's bland flavor, finely ground almonds add more bulk to the batter without changing the taste much. For those with a nut allergy, finely ground sunflower seeds are a great substitute.
Maple Flavored Syrup
Make sure you use a keto-friendly syrup for the cookies! I used Lakanto for mine, but ChocZero makes one that's a lot thicker. You can also try Walden Farms which has zero carbs and zero calories. The syrup adds flavor and the needed liquid.
Fat and Flavor
Coconut oil is used to help bind the cookies and vanilla extract enhances the flavor. You can change this up by using butter for the oil and other flavor extracts in place of the vanilla.
Quick Tips
Use a cookie scoop. To speed things up and ensure the cookies are the same size, I always use a cookie scoop. The cookies also bake more evenly if they are a uniform size.
Add Some Chocolate Chips. If you're looking to add a bit more flavor to these cookies, add in some sweet chips! My favorite keto chocolate chips are ChocZero's baking chips.
How To Make Keto No-Bake Cookies With Coconut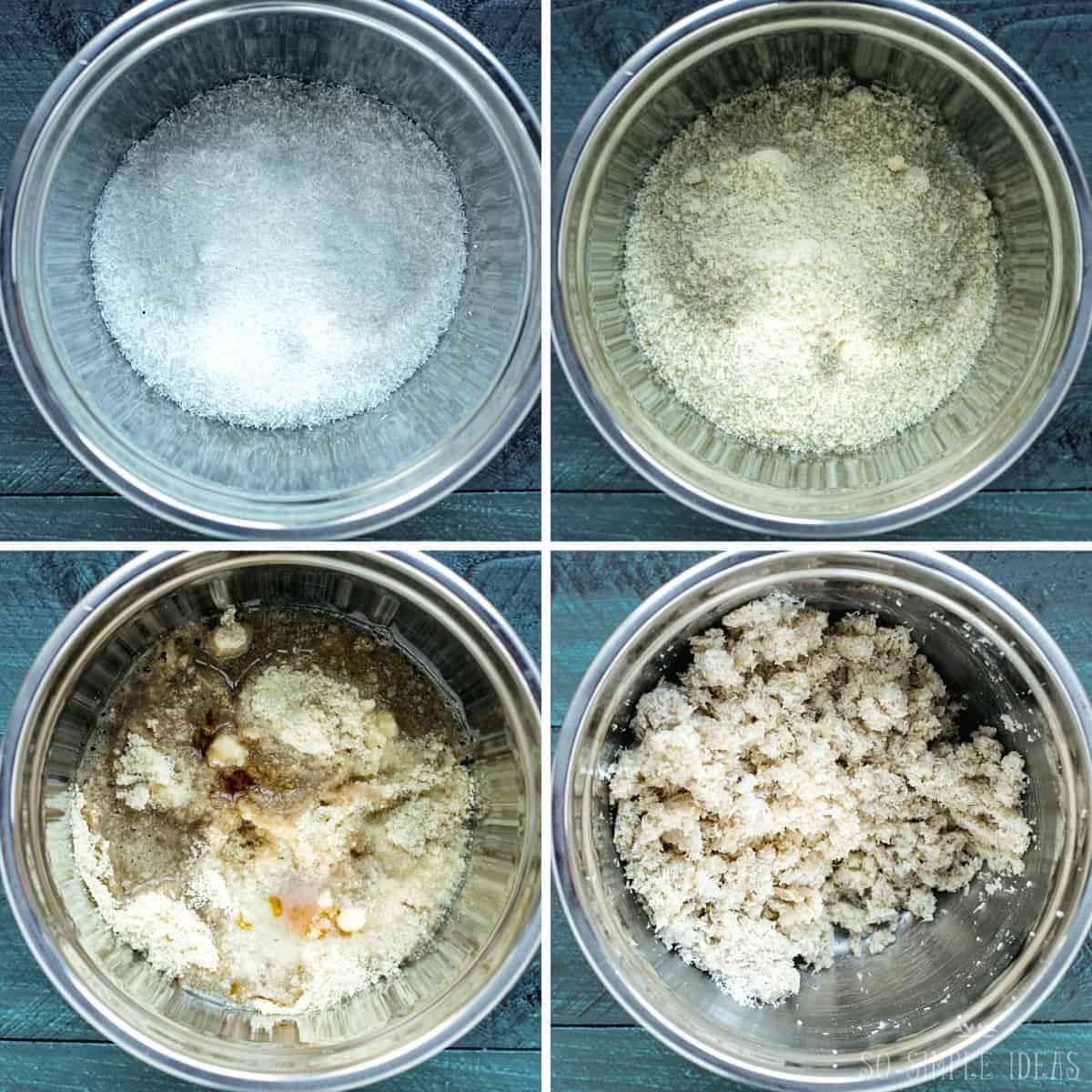 No-Bake Keto Cookies Recipe Variations
I modified the recipe to use Lakanto maple flavored syrup instead. It's a low carb pancake syrup that's sweetened with monk fruit and has only 1g net carb per serving.
The Lakanto syrup is also perfect as a sweetener ingredient. And, you can use it just like real maple syrup without worrying about carbs.
For these cookies, you could use fiber syrup as well. But, the IMO fiber sweetener has been shown to affect blood sugar levels.
That's why I prefer using a naturally sweetened syrup like the Lakanto one in these no bake coconut cookies. And, I like that the syrup isn't overly sweet.
It's also not as thick as many of the other low carb syrup option. Real maple syrup isn't that thick so there's no reason to make low carb alternatives super thick.
The recipe is easily adaptable for AIP paleo too. All you need to do is replace the low carb syrup with an AIP compliant ingredient like honey or maple syrup.
Baking Option
Although these were supposed to be low-carb no bake cookies, I ended up baking them to see how they'd turn out.
Shortly after posting the recipe, I received a comment about baking these no bake coconut cookies. I figured I'd give it a try.
Turns out the cookies are just as good or better after baking in a 400°F oven. If baked, they have a crisp outside and soft inside
You can eat them either way, but I prefer them baked to toast the coconut. I think most of you will agree that they make a pretty good baked cookie.
When baked, the cookies are similar to low-carb coconut macaroons. And, I think they'd be pretty tasty with some keto chocolate drizzled on top.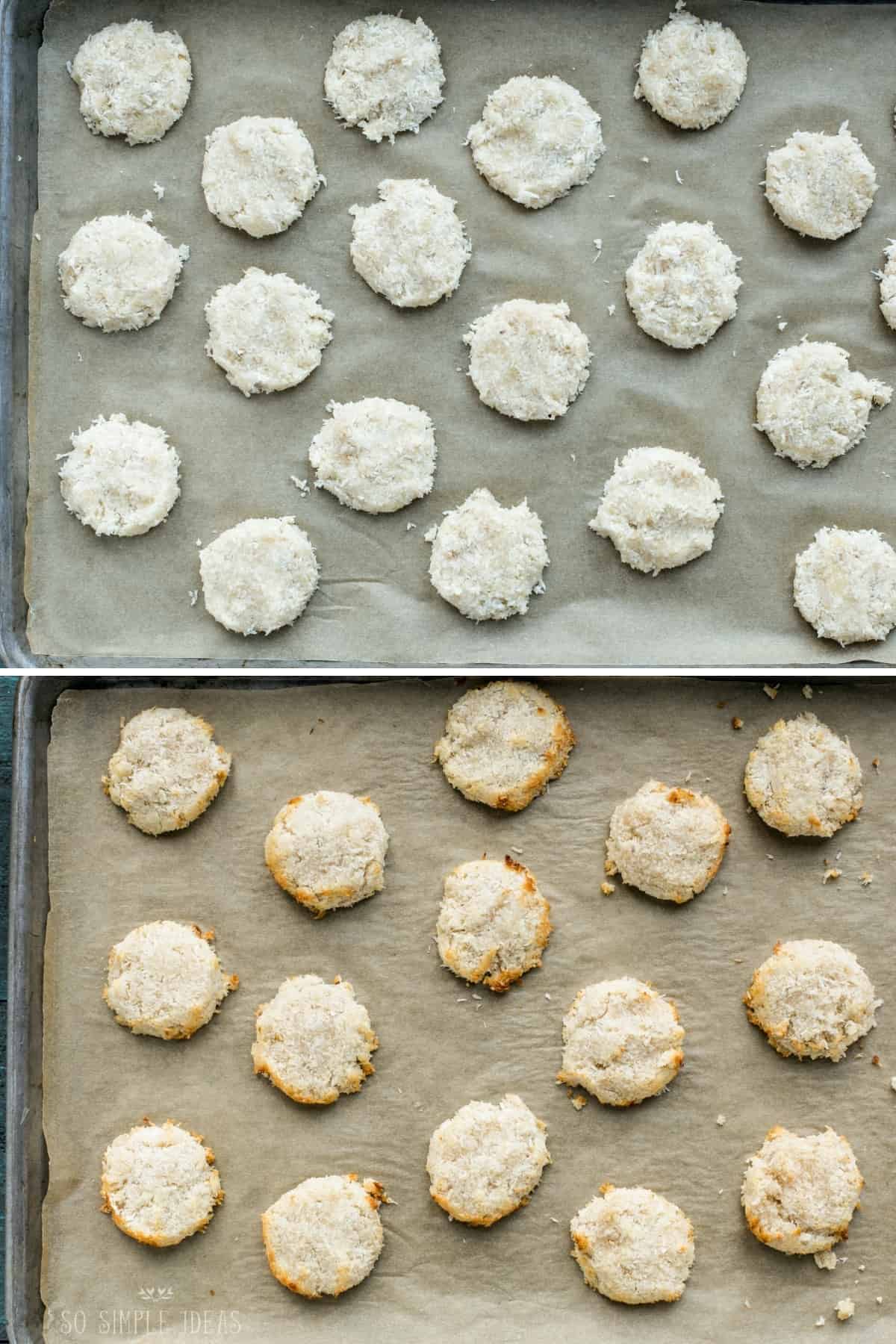 Frequently Asked Questions About Keto No Bake Cookies With Coconut
Before leaving a comment about the recipe, take a look at some of the commonly asked questions. You may find your answer here!
What Are The Best Low Carb Syrups?
Any keto friendly syrup should work. You can also try different flavors to change up the taste.
What Are The Best Low Carb Sweeteners?
The syrup is what sweetens these cookies. Look for a syrup sweetened with monk fruit for the best taste. But fiber based syrups are also an option as the fiber carbs can usually be subtracted in the net carbs.
What's The Best Way To Store Keto No Bake Cookies?
The cookies are fine to leave out at room temperature for a few days. Best they are best kept in the refrigerator where they should keep for at least two weeks. When frozen, they keep for up to 3 months.
Other Recipes To Try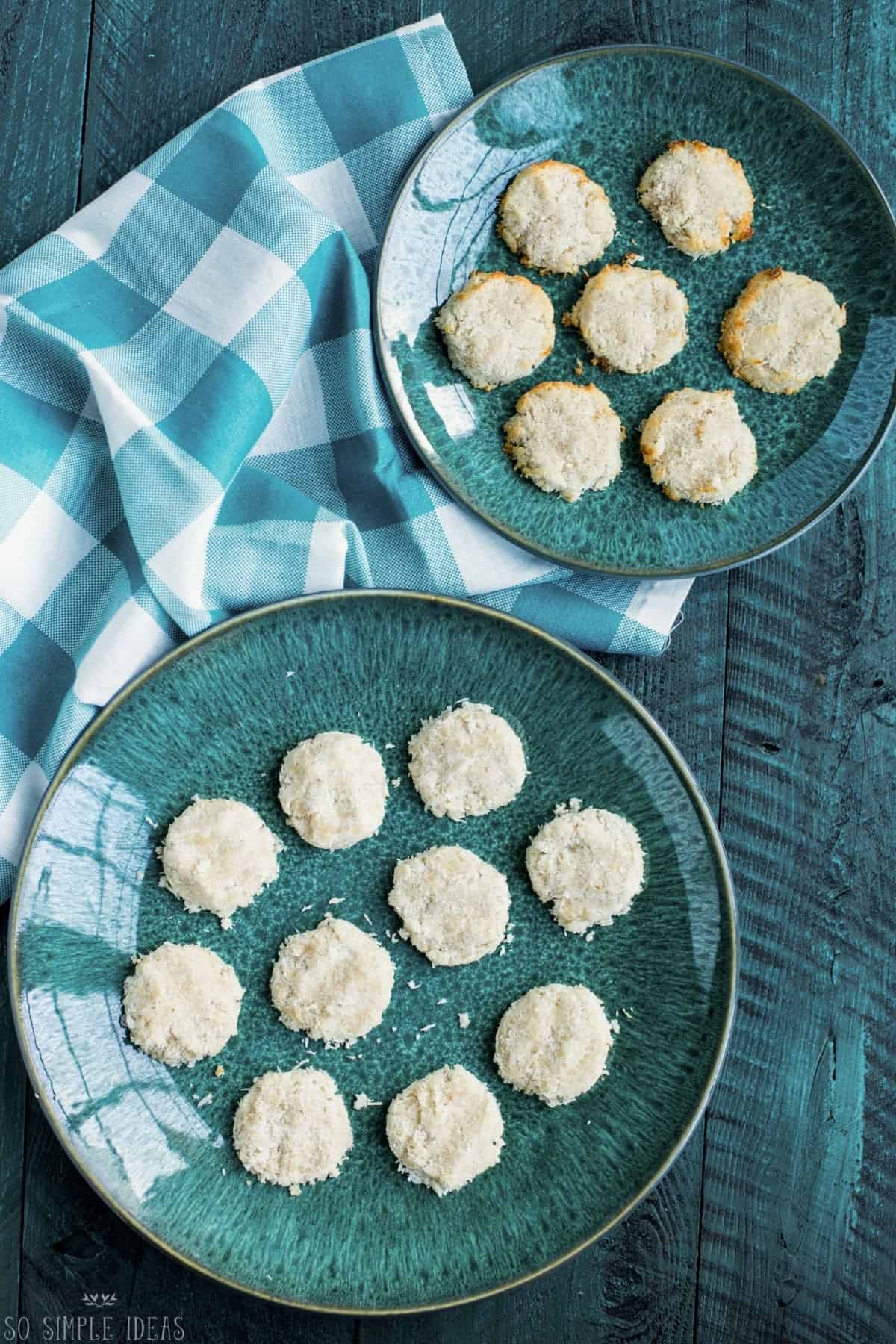 I love that these no bake coconut cookies are egg-free. But, if you want a more traditional keto cookie, you'll want to try 3-ingredient keto peanut butter cookies or gluten-free dairy-free chocolate chip cookies.
If you're looking for another way to use low-carb maple flavored syrup, try making some vegan peanut butter cups. And if you like coconut, you must try this easy keto pina colada recipe.
Coconut No Bake Keto Cookies
No time to bake? These low carb and gluten free maple coconut cookies can be baked or left unbaked. Made with healthy almond flour and coconut oil.
Ingredients
2

cups

unsweetened shredded coconut

1

cup

almond flour

3 ½

tablespoons

coconut oil melted

½

teaspoon

vanilla extract

⅛

teaspoon

salt
Instructions
Stir together all ingredients until well blended.

Drop by tablespoon sized mounds onto parchment paper lined sheets.

Refrigerate until firm.

Store covered in the refrigerator or freezer.
Notes
If you like crisp cookies, they can be put on a cookie sheet and baked in a 400°F oven 5-10 mintues until browned.
Makes about 32 cookies
Nutrition
Serving:

2

cookies

|

Calories:

143

kcal

|

Carbohydrates:

4

g

|

Protein:

2

g

|

Fat:

14

g

|

Saturated Fat:

10

g

|

Sodium:

22

mg

|

Potassium:

63

mg

|

Fiber:

3

g

|

Sugar:

1

g

|

Vitamin C:

1

mg

|

Calcium:

18

mg

|

Iron:

1

mg

By