Let's face it, nobody likes cleaning the bathroom. To make this chore a little more bearable, we've gathered some of the best bathroom cleaning hacks to share. These tips and tricks for sanitizing your bathroom are effortless and painless.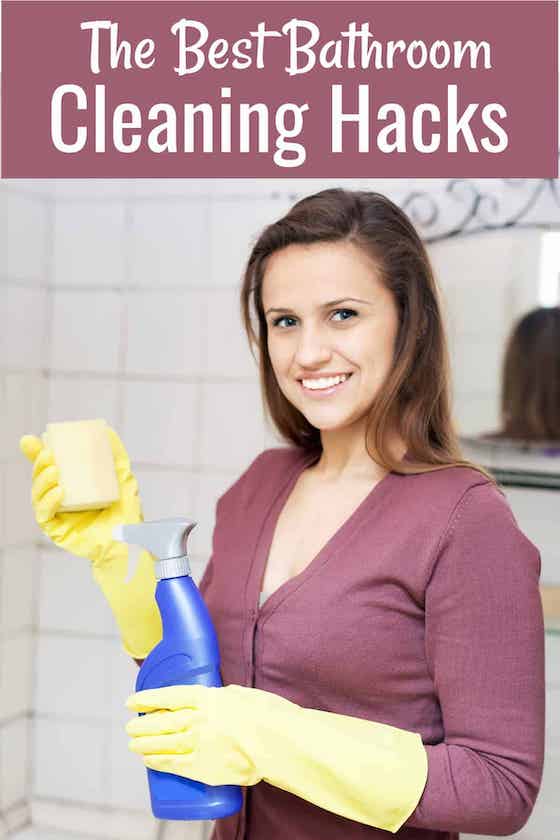 When it comes to house cleaning, the bathroom is the one area of your home that needs it the most. That's because it's one of the most used rooms and tends to get dirty quickly.
But cleaning the shower, tub, sink, and toilet can be simplified with some tips and tricks to make the job less dreadful. Check out some of the best ways to clean this area of your home efficiently.
Bathroom Cleaning Hacks: Step #1: Make Your Own Cleaners
The first step before doing any actual cleaning is to learn how to make your own safe, environmentally-friendly cleaning products.
We recommend using a mix of baking soda and vinegar. You can also blend in your favorite essential oil or oil blend to get a nice scent. You'll find our exact amounts in the printable card at the bottom of this post.
We also love Thieves cleaner. If you're not familiar with it, here's a DIY recipe.
Once you have your all-purpose bathroom cleaner, all you really need to do is spray the entire bathroom area. Make sure you wear flip flops so that you're not tracking dirt from your feet into the room.
Use a microfiber cloth to clean. In under 10 minutes, you can have the whole bathroom spotless.
But if you're looking for more tips and tricks for cleaning your bathrooms, let's take a look at some great advice from other bloggers.
Shower Cleaning Hacks
Nobody wants to shower in a dirty shower. You're in the shower to get clean, not dirtier. Use these tips below to make sure your shower stays clean!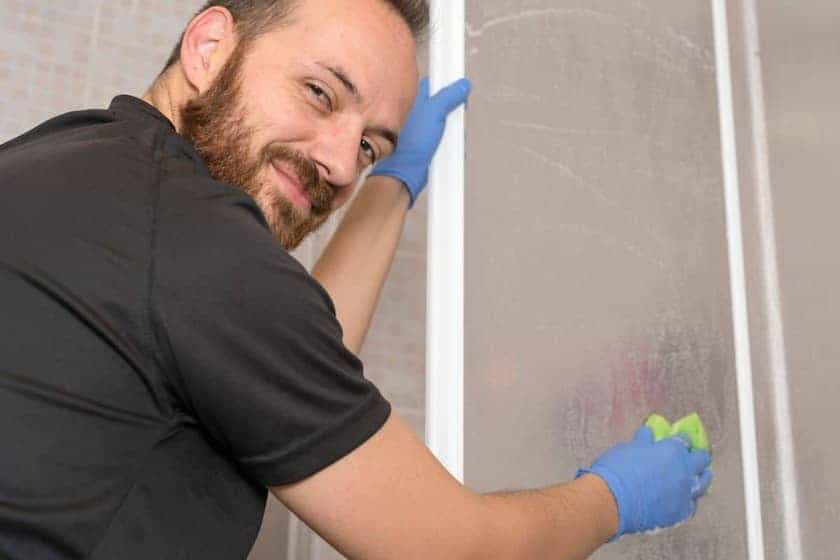 Clearing A Clogged Shower Drain
If you have long hair like me, or if you live with someone who has long hair, chances are your shower drain is going to clog. Thankfully, there are some easy ways to unclog your drain.
When the drain at our house is clogged, the first thing I reach for is the drain snake. Simply stick the snake down the drain and it will capture the hair and other matter that's preventing the water from draining properly.
If the drain snake doesn't do the trick, a solution of baking soda and vinegar with hot water will clear out the rest of whatever is blocking the drain.
Pour about a cup of baking soda down the drain, followed by an equal amount of vinegar. Let the solution bubble and foam for a few minutes, then follow with a kettle full of hot (but not boiling) water. Let the mixture sit for a couple of hours. If the drain still isn't flowing freely, repeat the process.
While you can use these easy hacks to clear the hair out of your drain, the best way to avoid this annoying task is prevention. Use a hair catcher in your drain to prevent it from clogging your drains. Your drain and pipes will thank you!
Removing Soap Scum
For soap scum, one popular hack is to use cooking spray on the shower doors and walls. You let the spray sit for five to 10 minutes. In theory, this will eat away at the bacteria that leads to soap scum as well as lime deposits. Simply rinse the cooking spray away with soapy water DIY cleaner.
Looking for another way to remove stubborn shower scum? Slice one lemon in half and dip it in a bowl of kosher salt, which adds an abrasive scrub to the already-powerful juices. Scrub the glass shower door and leave for a few minutes while the lemon gets to work. Rinse off with water, and say goodbye to scum!
Cleaning A Clogged Shower Head
If it's been ages since you've cleaned your shower head (or if you've never done it), try the following trick….
You'll need vinegar, a plastic bag, and a rubber band. First, you'll need to remove your shower head. Once the head is removed, pour a little vinegar into the plastic bag. Next, gently place the shower head into the bag. You may want to use rubber gloves because the shower head should be completely covered with vinegar. Use the rubber band to tie off the bag and leave the bag in the shower to soak for at least one hour. Wash the shower head with water water before re-installing it.
Bathtub Cleaning Hacks
Taking a bath at night, especially with a relaxing essential oil or blend, is one of the best ways to wind down. But if you never clean your bathtub, you're likely not going to be motivated to take a bath.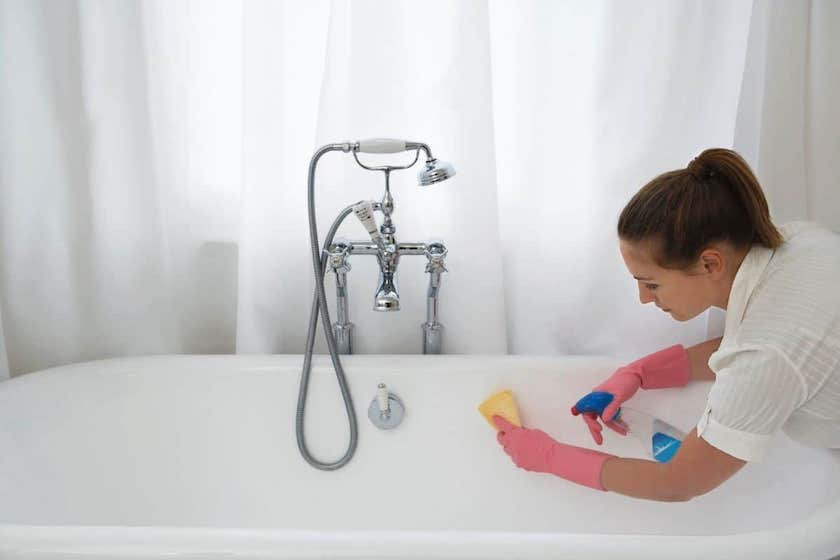 Cleaning the Bathtub With Grapefruit and Salt
One way to clean your bathtub is by using a grapefruit and salt. First, cut the grapefruit in half. Then, sprinkle it with with salt. Next, lightly wet your tub and sprinkle some additional salt on the bottom. You'll use the grapefruit as an actual scrubber. The mixture of the salt and acidity will wipe your bathtub clean.
Speaking of grapefruit, grapefruit essential oil, if you have some, helps dissolve soap scum. You can combine the oil with a little bit of equal parts all-natural dish soap and baking soda. You won't need any more than about a quarter cup of each.
Take this blend and apply it to a damp sponge. Then, apply the sponge all over the tub and let the solution sit for about 10 minutes. After the 10 minutes, what you'll want to do is wet the sponge yet again. Use the green side of the sponge for best results. Wash with warm water.
But remember, water leads to mildew, mold or scum. So make sure you leave the bathtub dry by using a squeegee or a microfiber towel.
Cleaning With Vodka
Vodka is good for more than just drinking! Believe it or not, vodka makes a great mold and mildew fighter. Simply spray it on, leave for 10 minutes, and wipe clean. It works especially well on the caulking around your tub
Cleaning The Tub With A Magic Eraser
When in doubt, use a magic eraser! Magic erasers work best if your tub isn't too dirty. You'll have to use a bit of elbow grease, but the magic eraser works great on drain rings, tub rings, and much more!
Toilet Cleaning Hacks
The toilet is something that we all use everyday. The toilet is something that should be cleaned regularly. Our favorite trick to keep our porcelain throne clean is using a homemade cleaner made with baking soda and vinegar. You'll find our recipe in the card at the end of this post.
Below are some of our favorite toilet cleaning tips. Use these simple tricks to make the job of cleaning your bowl super easy. Having a clean toilet will go a long way in making the bathroom sparkle.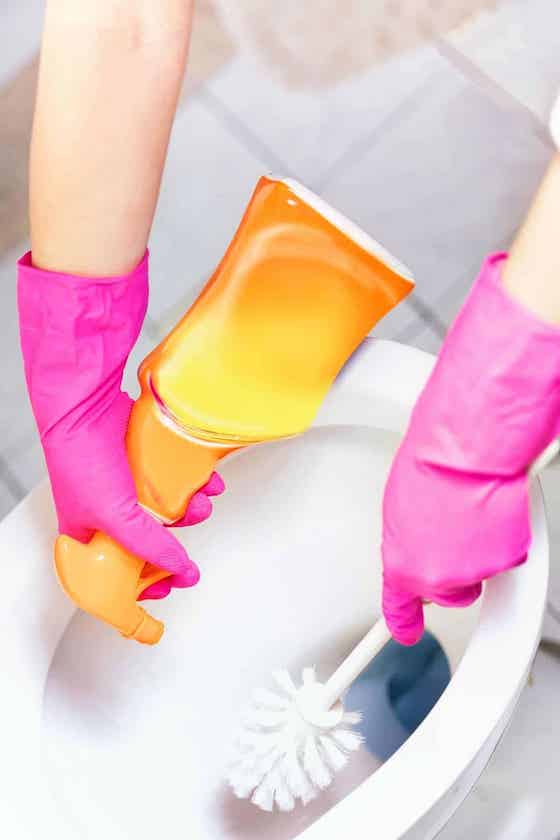 Coca-Cola
Not only is Coca-Cola a tasty beverage, but it also makes for a great toilet cleaner. The carbonation and acids in the soda can dissolve rings, buildup, and stains in your toilet bowl.
Pour a can of cola around the rim of your toilet so that it soaks the whole bowl. Let it sit for a few hours to work its magic, then use a soft toilet brush to scrub away the stains!
Make sure you never use a brush made of plastic or nylon as they can scratch the enamel making it harder to clean the bowl. Another tip is to close the lid on the brush and let it drip dry before putting away.
White Vinegar House Cleaning Hacks
White vinegar is one of my go-to products to use for cleaning. It's a great alternative to using bleach, which has harsh fumes.
To eliminate stains, soak a paper towel with vinegar and place it on the stained area, then allow the vinegar-soaked towel to remain there overnight. In the morning, remove the towel and give the area a quick scrub.
The best way to use vinegar in the toilet bowl is to remove the water first. To do this, scoop all the water out with a disposable cup and then soak up the remaining water with an old towel.
Hydrogen Peroxide
Like white vinegar, hydrogen peroxide is a safe and effective alternative to bleach. It's is something most of us already have in the bathroom. It is great for cleaning cuts and toilets.
Pour about half a cup of hydrogen peroxide around your toilet bowl and let it sit for 40 minutes. Flush the toilet to rinse.
Takeaways For Bathroom Cleaning Hacks
Cleaning the bathroom doesn't have to be a difficult, all day affair. Use the simple hacks in this post to keep your whole bathroom clean!
Other Topics You May Like
Want a few more hacks to use around the home? Check out some of our other posts.
Homemade Bathroom Cleaners
Try these homemade non-toxic cleaners to clean and freshen up your bathroom. They are the perfect bathroom cleaning hack for the sink and toilet.
Equipment
sponge or cloth

toilet brush
Ingredients
Sink Cleaner:

½

cup

baking soda

six drops of your favorite essential oil or oil blend

¼

cup

vinegar

Toilet Cleaner:

¼

cup

baking soda

¼

cup

white vinegar
Instructions
Sink Cleaner

Rinse sink well with hot water

Sprinkle combination into sink

Pour vinegar over top (you'll notice a fizzy reaction)

Scrub with a damp sponge or cloth after fizzing stops

Rinse one more time with hot water

Toilet Cleaner

Pour both the baking soda and vinegar into the toilet.

Let the baking soda and vinegar sit for 10-15 minutes. Once the 10-15 minutes is up, scrub with your toilet brush.

Flush the toilet to rinse.
Notes
Be sure to use a non-abrasive sponge and toilet brush. Go for a soft toilet brush and avoid nylon or plastic which can scrape the enamel off.
For more tips and tricks, read the entire post above this card.