Dollar Tree is a great place to start when looking to organize your pantry shelves. The store offers a variety of organizing storage solutions, such as boxes, bins, and racks. You can also find items specifically for organizing food, such as spice jars and food storage containers. Just take a look at these simple Dollar Tree pantry organization ideas!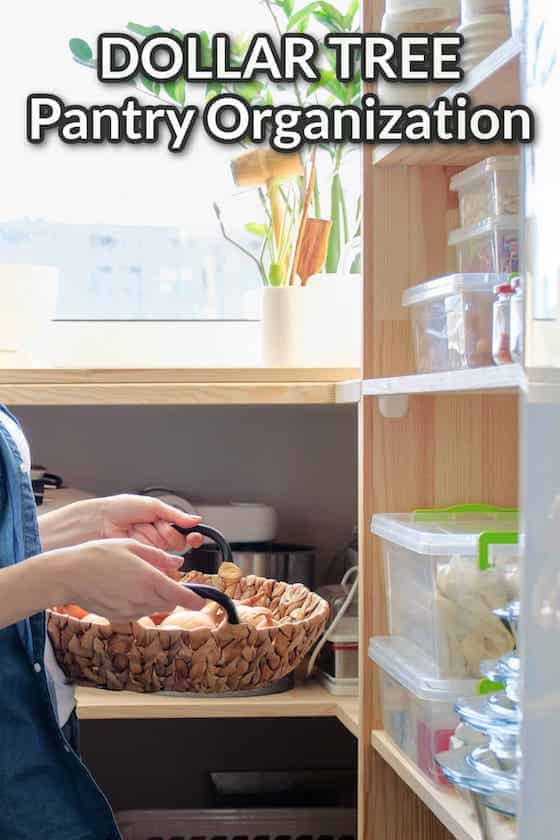 Do you find yourself tossing food around your pantry in search of that one ingredient you need for that recipe? Dollar Tree offers a variety of organizational solutions to help make your pantry more manageable. From baskets to storage containers, there's something for everyone at the affordable store. Check out some of their best options below!
Your local Dollar Tree can help organize your pantry by providing baskets and plastic containers. These options are affordable and practical, perfect for anyone who struggles with keeping their food sorted and organized.
Pantry organization tips
Pantry organization may seem overwhelming, but it doesn't have to be! By following these five steps you'll find yourself with an efficient and tidy pantry that will save both time AND money.
Start with sorting items and put them into categories with separate sections. Divide your pantry into zones to keep your food organized and reduce meal preparation time. This will help you quickly find what you need and minimize shopping trips.
Store rarely-used items on top shelves so they are accessed only when needed, instead of being buried under everything else! These items may include lightweight kitchen appliances, paper goods, disposable utensils, or even party decorations.
The middle shelves in your pantry are a great place to start when organizing the contents of your kitchen. These areas will offer you quick access and visibility so that it's easy for everyday use items or those things we want near our noses at all times (like snacks), as well as foods such as canned goods, healthy meals, and snacks, can live here!
Stow your heavier items on the lower or bottom shelves, so they don't clutter up spaces around kitchen appliances or less frequently used/seasonal food items that need a permanent home.
Make use of storage containers that double as organizers to make the most out of your storage space. They can be used for anything from storing food items in an organized manner or allocating different items depending on what you need them for.
Tools from Dollar Tree for organizing your pantry
The first thing worth doing when organizing any area inside your home — whether it's kitchen cabinets, bathroom medicine cabinets, or even wardrobes — would be selecting which type(s) of organizational solution will work best with what.
Dollar Tree is a great place to find inexpensive pantry organization ideas that are perfect for your home. From small shelves and storage solutions in the form of baskets, bins or cabinets; all the way up through walk-in pantries — there's something here for your needs!
Shelving and Storage Solutions
Good storage containers are important for keeping your food fresh. The best way to ensure that you have enough space in them is by picking a large, stackable container that fits neatly within its own designated area.
Dollar Tree is a haven for pantry organization enthusiasts with a lot of budget organizers! You may feel overwhelmed with a lot of choices but you can start with storage baskets with handles, budget-friendly food storage containers, plastic containers and canisters, or glass spice jars.
Here's a Dollar Tree pantry organization idea using an assortment of baskets.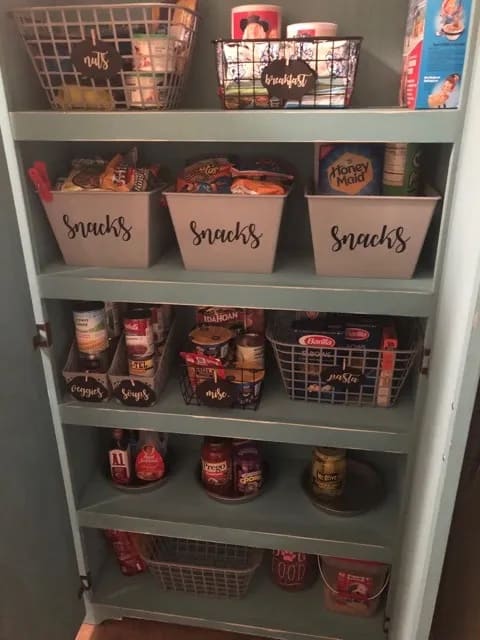 Labeling and Categorization
Keep your pantry neat and tidy by using white baskets with labels to organize the food into categories. Labels on each section make it easy for you, with everything clearly laid out where they belong! Here are Dollar Tree pantry organization ideas that are a must-try:
For a neat and well-organized pantry, try these chic white oval rattan baskets made of sturdy plastic or these white-coated rectangle wire organizers that are convenient and durable. If you are looking for items with handles, these plastic solid bins and square plastic slotted storage baskets are a great choice, too!
Just add labels so you know what's inside. Labeling materials like chalkboard stickers are perfect for all your DIY labeling projects.
Check out this amazing white baskets with labels pantry with a lazy susan in corners to inspire you!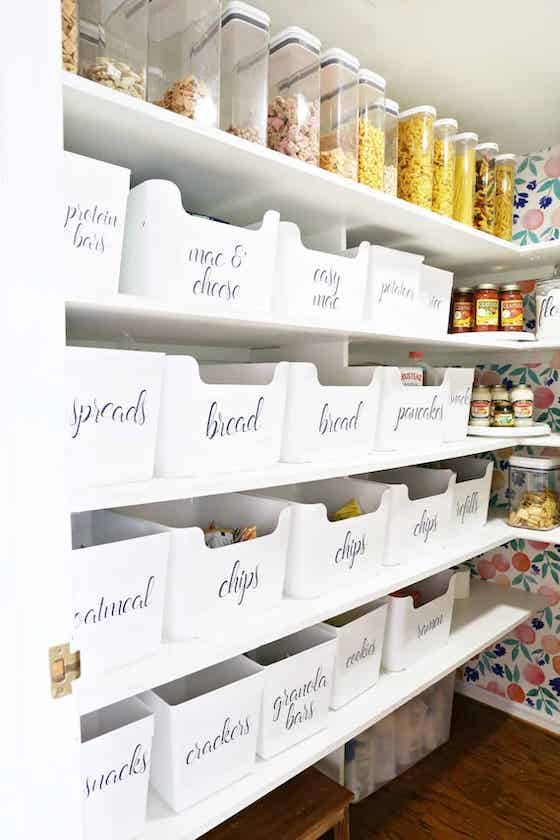 Food Containers and Utensils
With a wide selection of creative designs that will suit any personality or style preference, Dollar Tree is the place to go for all your food storage and budget organizer needs. From air tight containers and glass jars to plastic bins – you'll never have trouble finding what's right!
Store your dry goods and baking staples in airtight food containers to keep them fresh. Pasta, rice, flour, sugar, oats, and lentils are all easily stored this way!
You can store your snacks in transparent containers for an easy-to-see, clean pantry. Place kid-friendly items on lower shelves so that little hands can reach them without too much difficulty.
Look at this pretty pantry featuring different food items in separate storage that you can use as your Dollar Tree pantry organization ideas for your project!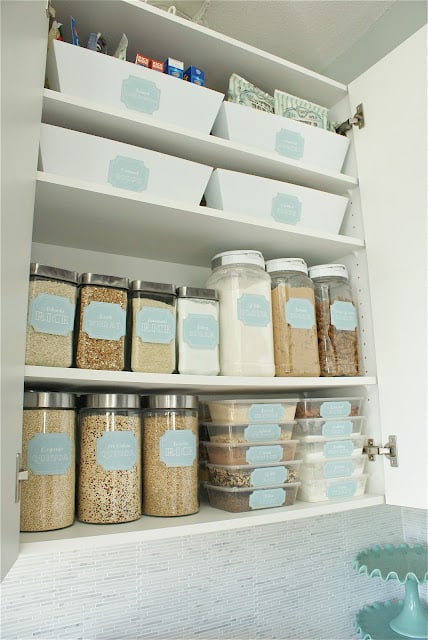 Stocking your pantry
A well-stocked pantry can make cooking and meal planning a breeze. Here are the staples you should always have on hand.
Cereal
To ensure that you don't end up with stale cereal, make sure to choose multigrain varieties and organize them individually.
Dried fruits
Dried fruits, such as apricots and raisins, provide you with a significant amount of nutrients and calories like potassium and dietary fiber. They are great to have on hand for healthy snacking!
Canned meats
Canned meats provide an essential source of protein for those who need it. The cans last at least two years in the pantry, so you don't have to worry about freshness or spoilage!
Canned vegetables
When you need something quick and easy, canned varieties are your best bet for meal perfection with essential nutrients like protein or fiber.
Dry pasta and pasta sauces
When you're looking for something quick and easy, pasta is the perfect solution. It's also one of those foods that can easily last in your pantry without going bad.
Nuts and trail mixes
Get your energy levels up with these high-energy foods; they're great for snacking especially during a hurricane or other emergency.
Rice and grains
Not just side dishes, they're main courses too! They are such a fundamental part of so many cultures and diets around the world.
Sweet treats
Cookies, candies and chocolates are the ultimate sanity-saving treats. They're like your favorite medicine cabinet items that can prompt you to take a break from life for just one moment.
Condiments
A must-have for any kitchen. From mayonnaise to mustard, ketchup or soy sauce – they should be all on your list!
Spices
Aside from salt and black pepper, have indispensable seasonings for savory cooking or sweets.
Baking essentials
You should always have essential baking ingredients like sugar, flour, and baking soda on hand. That way, you'll have what you need to bake up sweet treats and savory baked goods right in the comfort of home.
Organizing your canned goods
While having a well-stocked pantry is important, it's also necessary to have a system for organizing and storing canned food. This will make it easier to grab what you need without having to search through stacks of cans. Here are tips for Dollar Tree pantry organization ideas featuring canned goods.
Keep your canned goods on the middle shelves and stacked in neat rows so they are easy to grab without having to search through a pile of containers.
With canned goods, it is often difficult to know what you have until the end of a shelf. To prevent this, you can use classic tiered-shelf organizers that look like a set of stairs.
These nifty stackable wire baskets are another budget organizer for canned goods! They're the perfect size, and they fit right into any existing cupboards or pantry.
Organizing your baking supplies
Do you have all the ingredients necessary to bake a cake, cookies, or pie? If not, it's time to start organizing your baking supplies. Here are some tips on how to do just that:
Dedicate one area in the pantry just for baking supplies. Sort items into categories: flour, sugar, mixes. Label each container.
Put like things together. Grouping the basic ingredients, less frequently used kitchen appliances and utensils such as pans or cookie cutters will make it easier for you to find what you need when cooking!
Prioritize frequently used items. The key to a successful home is being able to use what you have and make the most out of it. This also means keeping your space organized so that everything has easy access.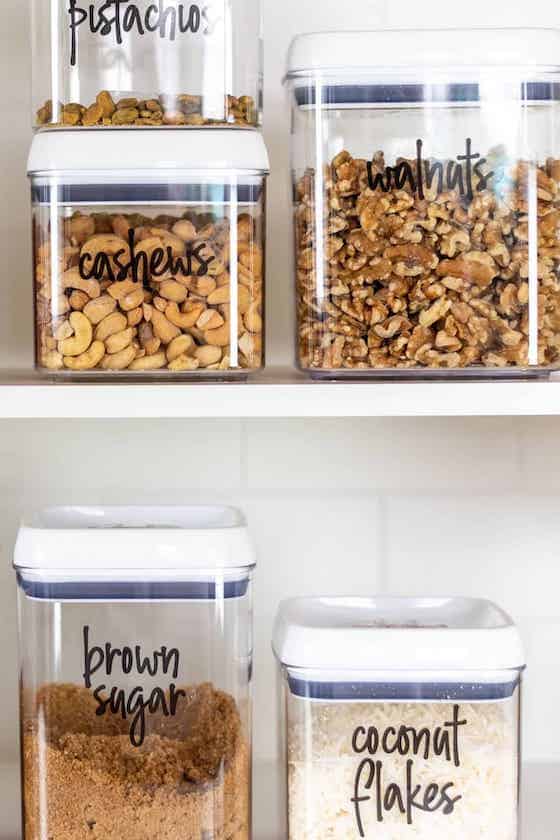 Keeping the pantry organized
You'll find that it's easier to maintain your organized Dollar Tree pantry if everything has a place. A neat and tidy pantry will give you a far better idea of what you have on hand when everything is clearly visible and in its place.
Make sure you check expiration dates and get rid of anything that's past its prime. You can keep track by writing it down in a list or using an app for inventory management!
FAQs
If you don't see your question answered below, don't be afraid to let us know in the comments!
How do I organize my Dollar Tree pantry items?
The key to a successful pantry is organization. By dividing your food into categories and designating an area for each, you can quickly find what ingredients are needed without having to search through every nook in sight! First, identify which recipes suit the lifestyle of those who will use them, then divide up the pantry area based on applicable needs. Finally, label everything so it's easy to find by category or item when needed.
How can I organize my pantry for cheap?
Pantry organization does not have to be expensive! There's more than one way to make the most of your kitchen pantry space. You can add a few basic accessories such as Lazy Susans, can stack organizers or under-the shelf baskets, and repurpose any container like boxes.
How do I organize my pantry with a dollar store container?
First, check your pantry space to know what storage solutions you need. List down all the items you usually store in the kitchen and pantry. Search for ideas on how to store items like "pasta container." When you have an inspiration that you think fits both your needs and space, surf over to the Dollar Tree store to shop!
How do I organize my Dollar Tree kitchen?
The Dollar Tree is a great place to find all of those little things you need for your kitchen. They have baskets in various sizes and colors, perfect organization tools! You can use baskets, jars, and food containers to organize your pantry. Baskets work well too for the fridge, recycling station, utensils, and other non-food items. Most importantly, do not forget to group items together and label them accordingly.
Other Articles You May Be Interested In
If you are also into creating better homes, I'm sure you'll love these blog posts as well.