Your baby's room should be a space that you and your newborn can both enjoy. If you're looking for tips on how to organize a nursery, you've come to the right place. Read on for tips to create a room your baby will love.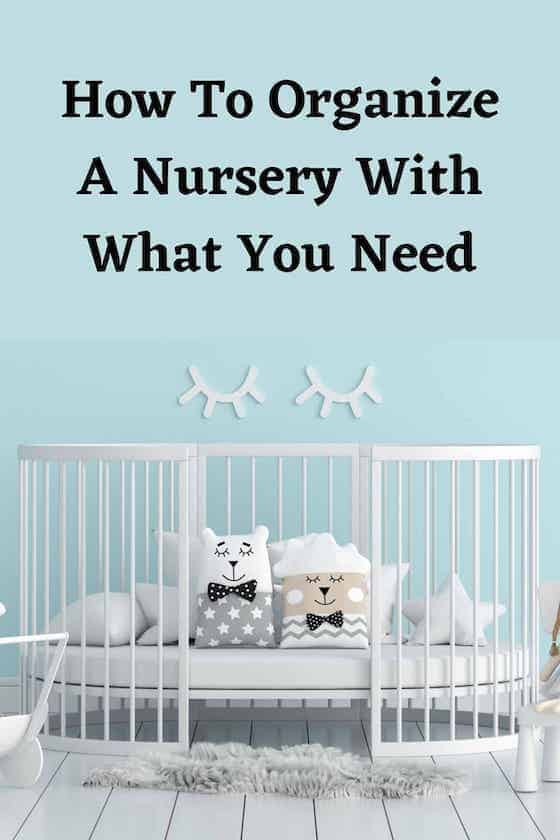 The nursery is a one of the most important rooms in the house. It's where you will spend the majority of your time with your child during their first few years and it is an investment that will last for generations to come. Take steps now to make sure that your nursery exceeds expectations and is organized for optimum use.
Where to start
First, plan the sleeping area. Consider location in the room, size, ventilation, and safety for the baby's nursery. A crib is a great place for your little one to sleep during the day, but if this isn't practical then put them in a bassinet or cradle next to you.
Where to store things
In a nursery, space is always at a premium. It can be difficult to decide where to store everything from clothes and diapers to toys and books.
One option is to use a dresser as your storage container for your baby's needs. Dresser drawers will give you plenty of storage for clothes, diapers, wipes, and other necessities.
But what do you do with all the things that don't fit in the nursery dresser? Some storage solutions are using a rolling storage bin, using baskets with lids, or a rolling drawer. The container store has a lot of different storage options that will fit anyone's needs!
Frequently asked questions
Before getting to the details of how to organize a nursery, let's go over some common questions people ask before starting.
What's the best way to organize a nursery in a small space?
One way to organize a nursery in a small space is to use furniture that has multiple purposes. For example, you can use a crib as a dresser and changing table. You can also use a toddler bed as a desk or chair.
How should a nursery dresser be organized?
A nursery dresser should be organized with the baby's clothes on top, followed by diapers, then bedding. It is important to have a system that makes it easy to find what you are looking for without having to search through everything.
How can a small closet be organized?
The best way to organize a small nursery closet is to use the space as efficiently as possible. The first step would be to remove any items that are not necessary for the baby's needs and put them somewhere else. Next, take inventory of what you have left and find a way to store it all. If you're lucky, you'll have enough space for everything, but if not, try using boxes or baskets to help contain smaller items like clothes and diapers.
How to organize a nursery
Nursery organization can be difficult to do when you have so many "must haves" that you're trying to find the perfect spot for. That's why it's important to know what your priorities are, make a list of your needs, and then prioritize what's most important to you.
Keeping a nursery clean and organized can also be hard. With so many clothes, diapers, and wipes at your disposal, it's easy to get overwhelmed. But don't worry, you'll find a lot of tips below to get you started.
Nursery Dresser Organization
The first step to organize your nursery is to find a dresser that will fit in the space you have available.
You will need to purchase drawer organizers for the drawers of the dresser. Label each drawer of the baby's dresser with what it will be used for, such as socks, underwear, night clothes, and swaddle blankets.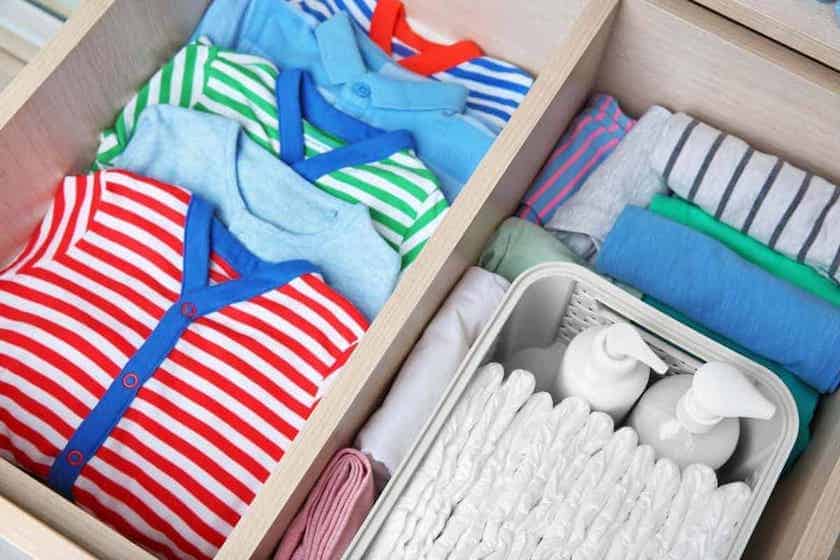 I also recommend getting drawer dividers. Baby clothes are small, so drawer dividers help keep the drawers nice and tidy! Having an organized dresser is key to an organized nursery. Making sure all the drawers are organized will make your mom life much easier. You want to be able to find what you're looking for when you need it!
If you have extra storage space, you can purchase stacking baskets to store clothes and toys on top of the dresser.
Changing table organization
One of the hardest things to keep up with is a changing table. Since you'll always have dirty diapers or dirty clothes laying on it, it's important to know how to organize the diaper changing station properly. Here are some helpful tips on how to set up a nursery changing station in the baby's nursery.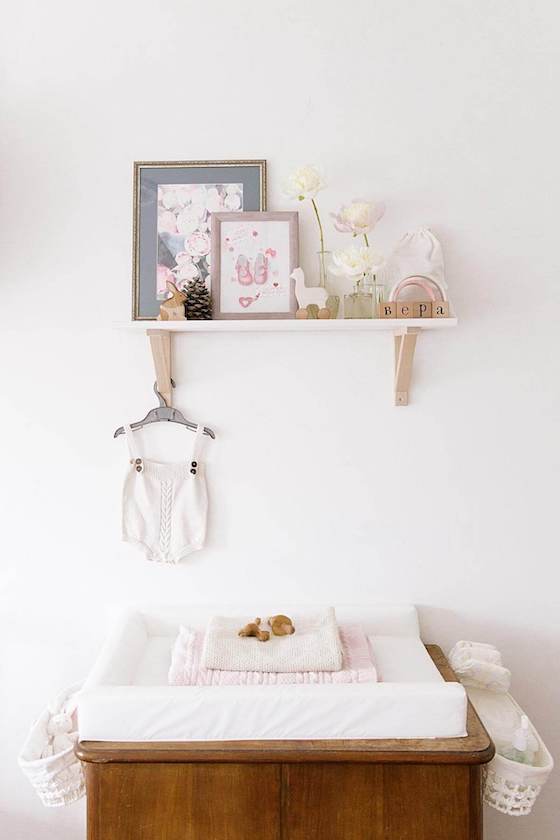 1. The storage container
The storage container should be able to hold all the essentials. It should be able to hold things like cleaning products, diaper cream, a wipe warmer, and toys. It should be small and portable, with an easy to open lid.
2. The changing table
If you want to get the most use out of the changing table, keep it in the most visible spot in your baby's nursery and make sure you keep it clean.
3. The changing pad
If you don't have one yet, try getting a changing mat. It helps keep your baby's clothes clean and dry during diaper changes.
4. The changing table cover
Most changing table covers are made of plastic or vinyl. They can be stored in a closet or a drawers. Be sure to have multiple because diaper changes can be messy.
5. A Diaper Pail
With my youngest, we used a Diaper Genie to dispose of the diapers. The Diaper Genie helped keep the dirty diaper smells at bay. This is something I'd recommend you put on your baby registry!
Nursery Closet organization
The benefits of a well-organized nursery room closet are numerous. First, it is easy to find what you need. Second, The room is always neat and tidy, and you won't have to spend your time rummaging through items and searching for what you need. You can simply find what you need by opening your closet.
But closet space can be a challenge. If you don't have extra space in the room, it's important to think about how you are going to organize the extra items in the closet.
It may be helpful to take inventory of your articles and divide them into categories such as clothes, toys, and bedding. This will help you determine what type of storage containers would work best for those items and avoid losing any important pieces like socks or diapers.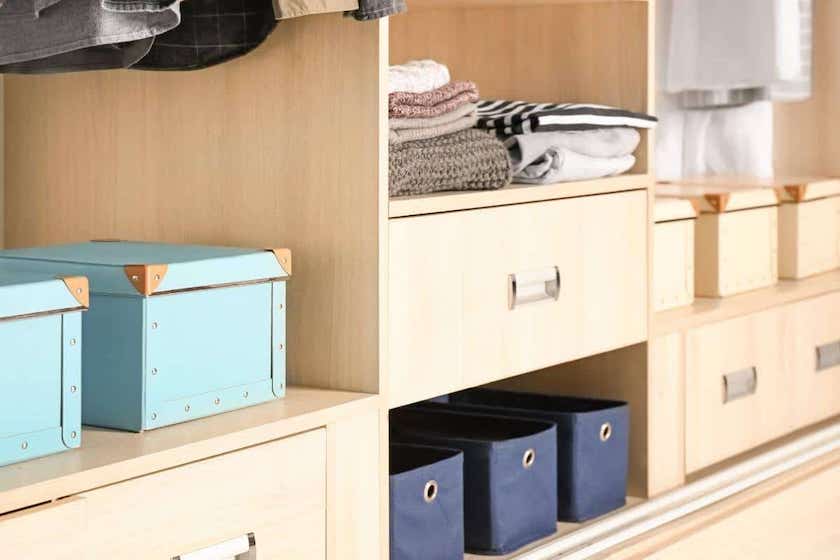 1. Clothes
Ideally, clothes should be organized by type. This way, it will be easier to find the item you need without having to search through all the clothes in the closet.
For example, hang smaller baby clothes on one side of the closet and larger ones on the other side. You can also organize by color or season so that you know what is available for each season.
2. Hangers
You will need to have a way to organize your clothes. Small children's hangers are just the right size for baby clothes. Consider the thickness of the hangers as you can fit more on the rod if they are thinner. You can also install a second rod lower in the closet to hold more hangers.
3. Shelves
You can add more shelves to your closet to help you store more items. They sell collapsable ones that hang from the rod that are simple to install. Just make sure any new shelves you install are safe and secure.
You can also use wooden boxes to add shelf type storage to your closet. These boxes can can also be used as storage containers.
4. Hooks
You can add hooks to the closet so you can hang items. You can use an old curtain rod to hang large hooks or hangers on.
5. Storage containers
You can organize your closet with storage containers. You can use baskets, drawers, and boxes to organize small items.
6. The items
You need to think on how to store your items. If you have a lot of baby clothes, you will need to buy large clothes hangers with plastic handles, and iron-on labels. If you have a lot of baby toys, you can buy a toy box.
Toy box for organizing a nursery
Your baby's toys should be stored in a safe, clean, and easily accessible location. If you don't have a lot of storage space, you can use an open shelf or drawer. If you have a shelf that is too high or have a lot of baby toys, you can buy a toy box.
You need to think about the type of toy box you want to buy. When you are buying a toy box, think about how big it needs to be.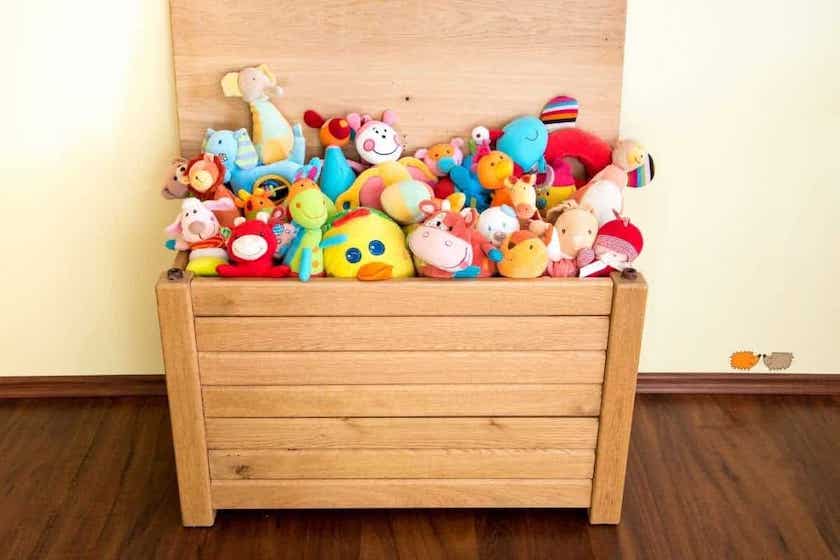 When you are buying the toy box, you need to think about how you are going to organize it. You should be able to see the items and find them easily. You need to think about what you are going to put in the box.
The final word
In conclusion, it is important to take the time to think about these 3 key points when organizing a nursery – safety, style, and personality. The time spent in thought will make the process less daunting and allow you to find what is perfect for your baby's nursery.
Be sure to consider safety factors, such as the height of nursery furniture that children are able to reach. Ensure that your baby's crib can be strapped down to prevent accidents from happening.
Keep in mind the style of the room. Remember to keep it easy on yourself with a color scheme that is gender-neutral. To help you stay organized, label all the storage bins, toys, and clothes that you buy.
Start organizing your nursery with the nursery organization tips in this post! Let us know if you have any other organization ideas in the comments below!
Related articles
Now that you know how to organize a nursery, you may want check out other ways to get your house in order. Check out some of these other ideas.