Looking for a sweet low-carb treat to enjoy this summer? Give this easy keto peach ice cream recipe with no eggs a try! It's flavored with concentrated herbal tea. Enjoy the fresh juicy taste of peaches in this yummy cool sugar-free treat.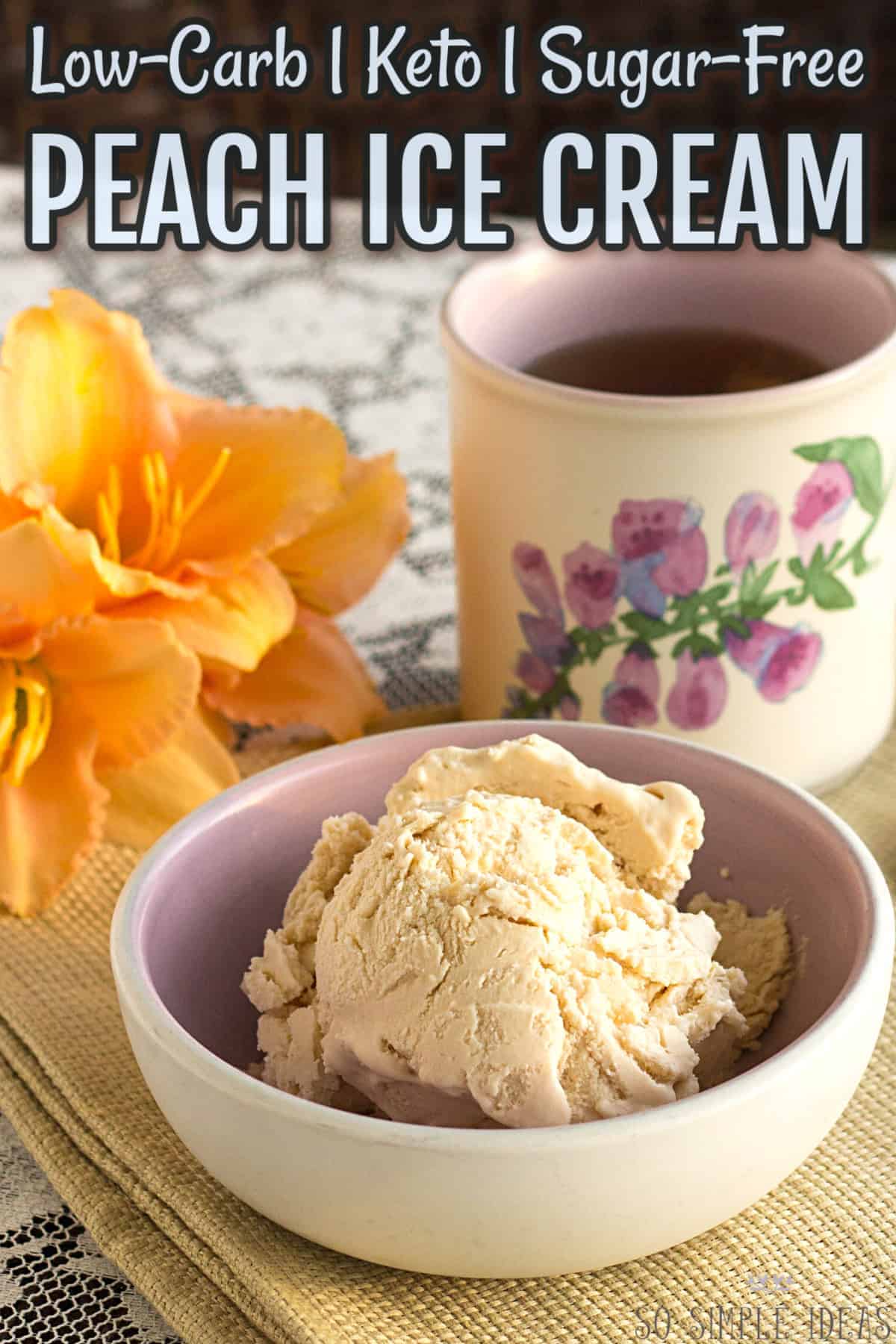 There's nothing better than a sweet frozen dessert. I just can't get enough of this frozen treat. And, it's so easy to make.
You will love this no egg peach ice cream recipe. It is bursting with summertime peach flavor but without unwanted carbs!
Ingredients Needed For Peach Ice Cream Recipe With No Eggs
You only need a few ingredients to make this yummy keto ice cream! All of the exact ingredient amounts are in the printable recipe card at the bottom of the post.
Herbal Peach Tea Bags
There are endless flavors of ice that can be made with tea. The great thing about brewing tea is that the carbs are usually less than 1g carb per serving.
For this recipe, I use Celestial Seasonings Country Peach Passion herbal tea. This delicious low carb peach tea gives this ice cream all that juicy peach flavor with none of the carbs!
Feel free to use any flavored tea you like in this recipe. I miss fresh peaches so this flavor was a nice way to satisfy my peach craving without adding carbs.
Sweetener
In this recipe I used BochaSweet Sugar Replacement. This sweetener is zero calorie, zero glycemic sweetener that bakes, cooks, and tastes just like sugar. It is the perfect way to sweeten up this peach ice cream!
Heavy Cream
Fat is an essential component of ice cream. The heavy cream is virtually all fat and no carbs. The fat in the heavy cream provides a creamy texture and it makes ice cream firmer.
Unsweetened Almond Milk
To lessen the calories per scoop, unsweetened almond milk is added. You can use all cream if you want a higher fat frozen treat.
Cream Cheese
Adding a little bit of softened cream cheese to the warm base seems to give creamier ice cream.
Xanthan Gum
Xanthan gum makes a great ice cream stabilizer. It's a powdered food thickener. Additionally, it is an emulsifier. This means it binds ingredients together and prevents them from separating.
Please note: Check out the recipe card at the bottom for a full list of ingredients used to make this low carb recipe.
How To Make Keto Peach Ice Cream With No Eggs
Most sugar free ice cream sold in store has more carbs than I prefer or nasty ingredients. The only way to be certain of what you are eating is if you make it yourself.
The process is so easy and a lot more economical than buying it pre-made. Plus, by using herbal tea for flavoring, you can easily make any flavor you like!
Steep The Tea
To make the concentrated peach tea, simply place six tea bags in a half cup of water and let it steep for five minutes. Then squeeze the tea from the bags and discard.
Cook The Cream Base
No egg ice cream base doesn't need to be cooked, but it does result in a better texture. Whisk together the tea, sweetener, cream, almond milk in a medium saucepan, bring to a boil, then lower heat and simmer for four minutes.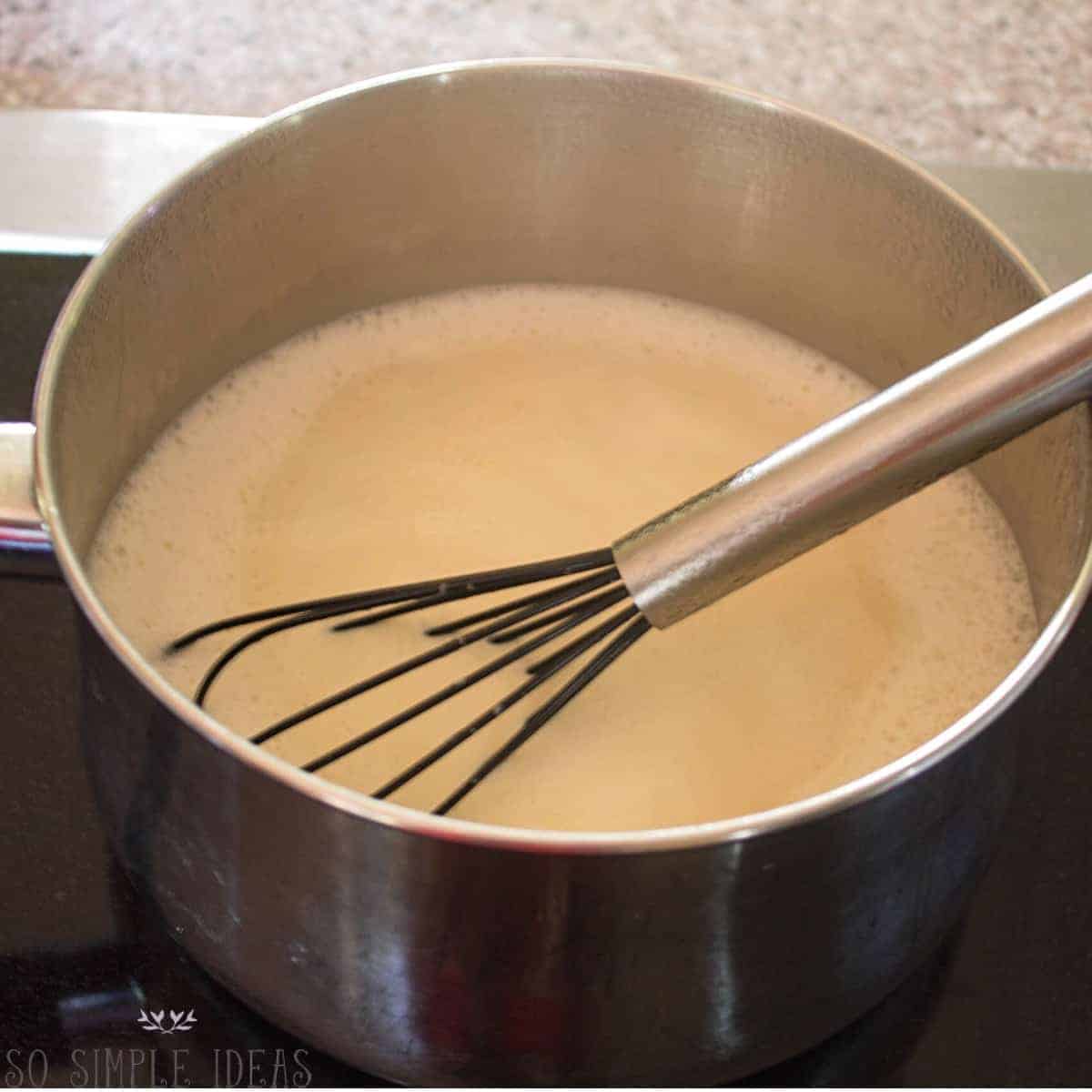 Add Remaining Ingredients And Chill
After removing from the heat, stir in the cream cheese xanthan gum, and sea salt. Then, place the mixture over an ice water bath for about 20 to 30 minutes until it's cool.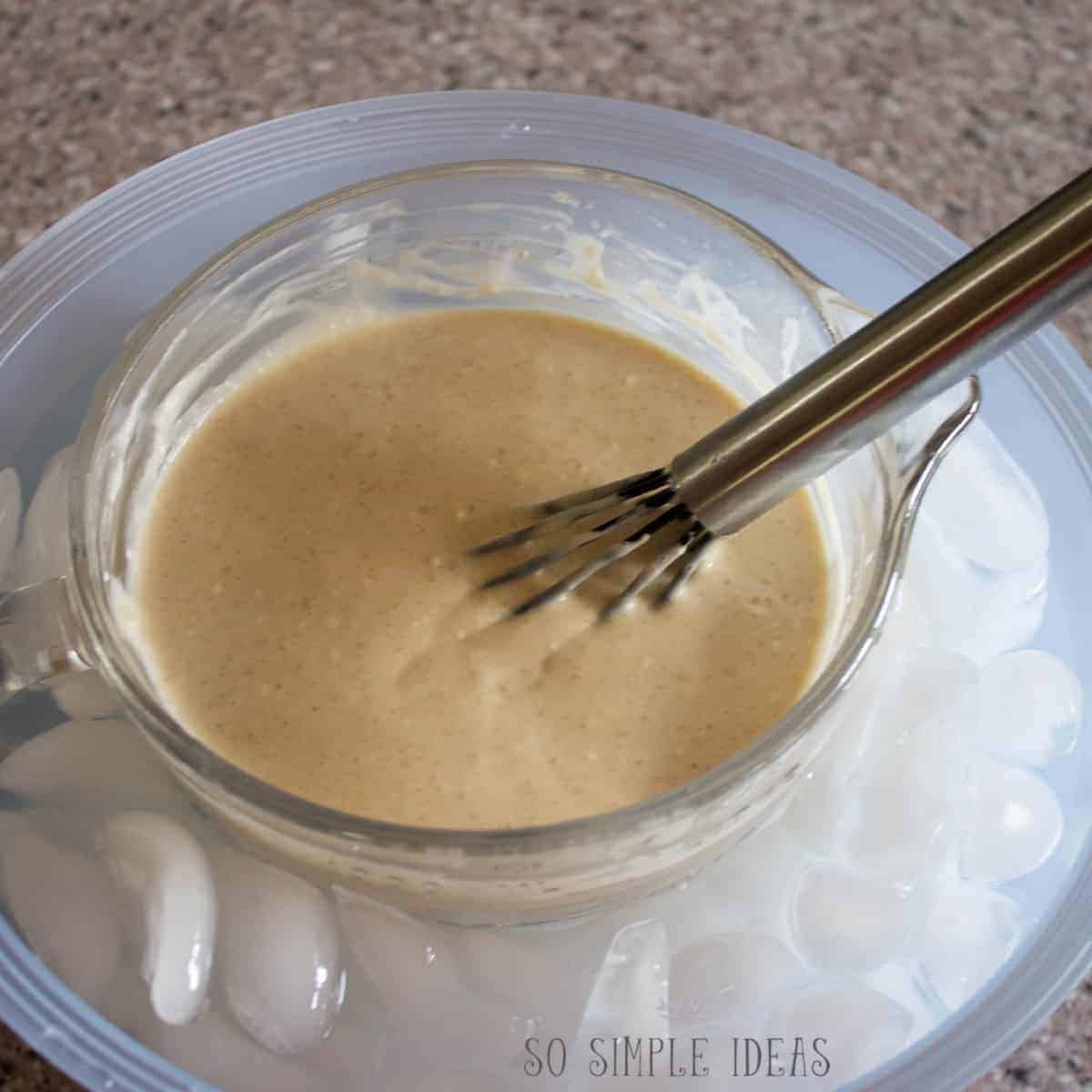 Churn The Mixture
Transfer to an ice cream maker and churn according to the manufacturer's directions. It will be a soft serve consistency when done.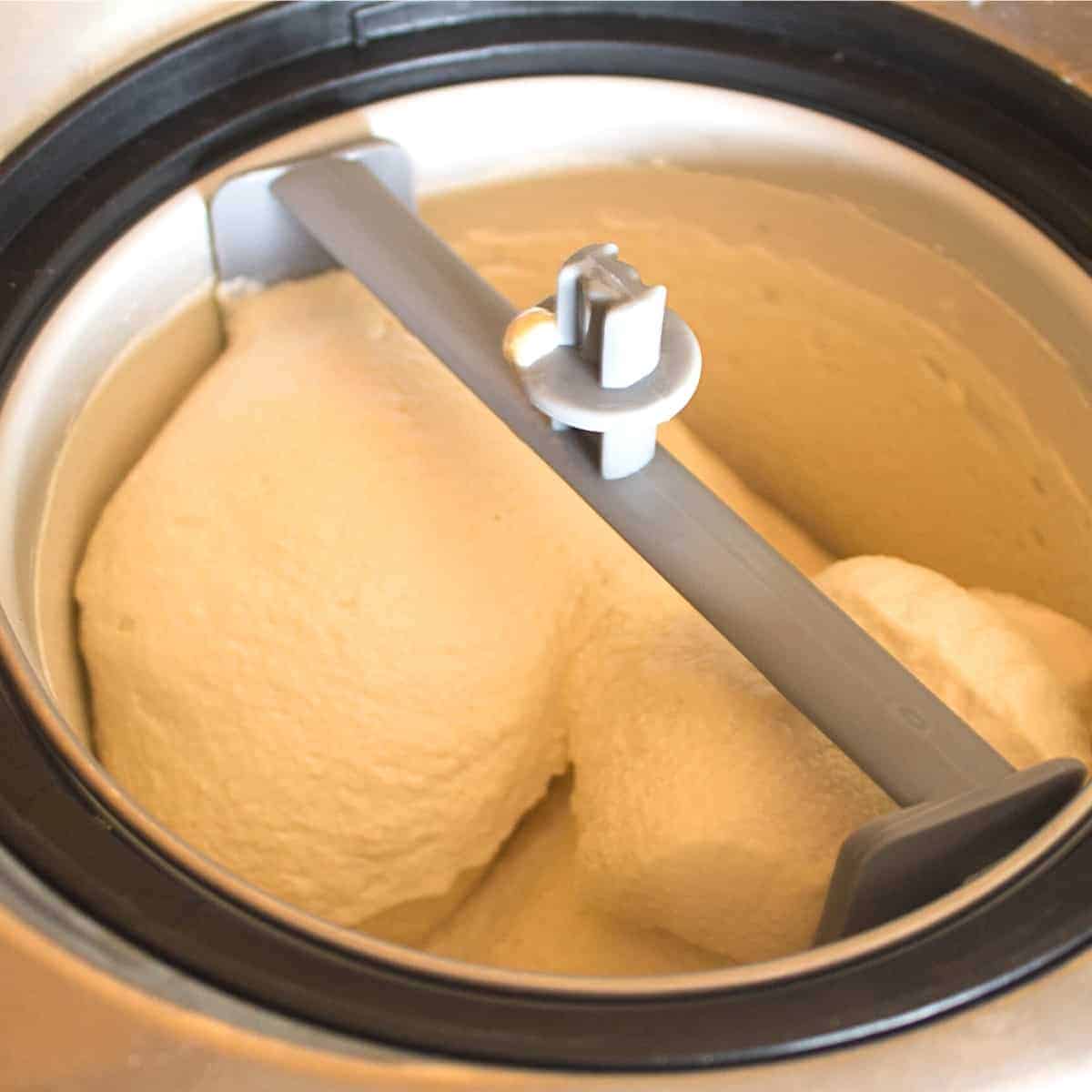 Enjoy Or Freeze For Later
You can definitely serve the ice cream right away. But if you want it scoopable, you'll need to freeze it for a few hours. When completely frozen, you may need to thaw it a bit to make it scoopable as sugar-free ice cream does tend to freeze harder than that made with real sugar.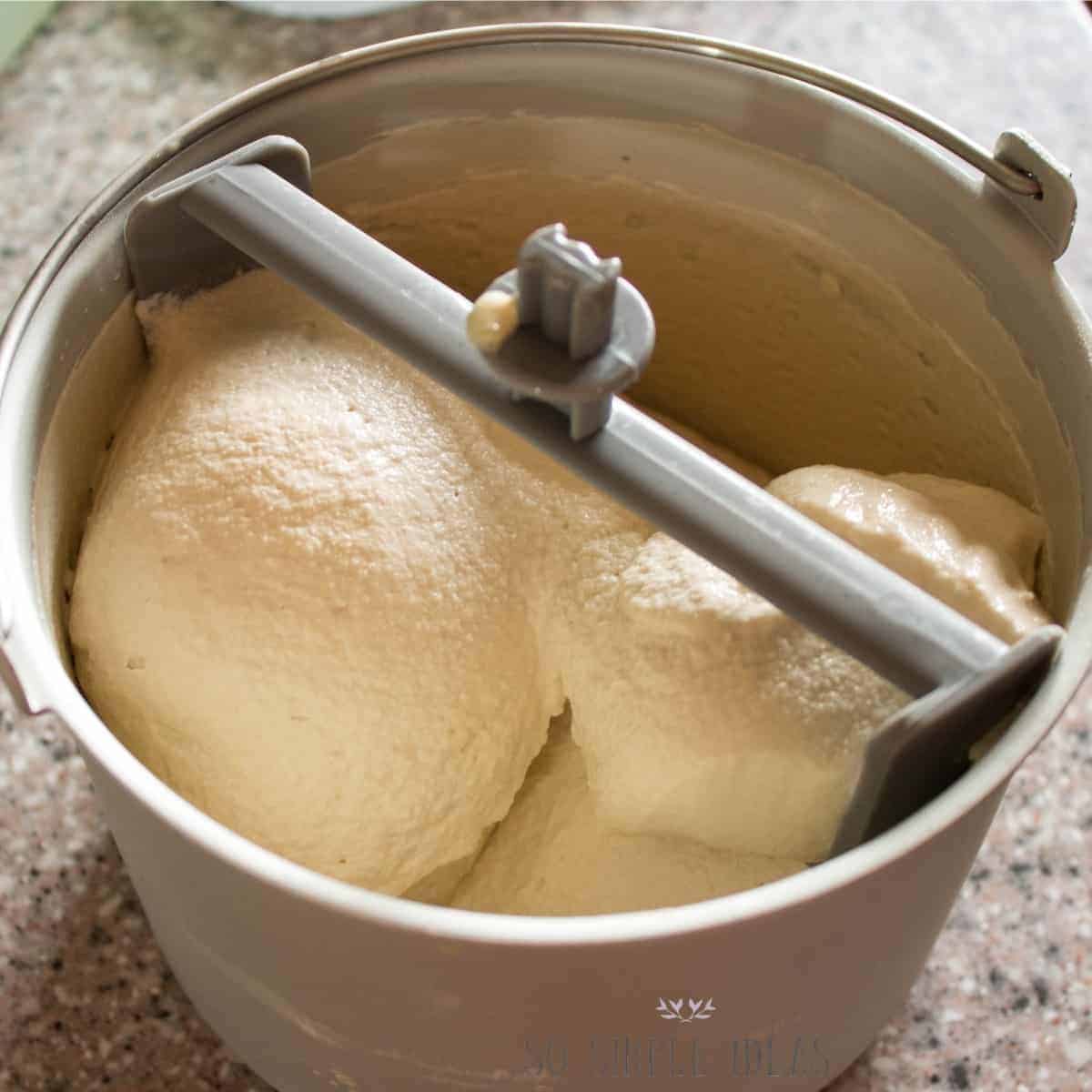 Frequently Asked Questions About Peach Ice Cream With No Eggs
When it comes to making ice cream without eggs, these are the most asked questions. If you're question is not answered here, be sure to leave it in the comment section below the post.
Do you need an ice cream maker?
Although you don't need an ice cream maker to make ice cream at home, I invested in a Cuisinart ICE-100 machine because it doesn't require freezing the canister. I make a lot of homemade low-carb ice cream so the cost of the machine has paid for itself. Comparable sugar free ice creams sold at natural food stores can be $6 or more for a pint.
To make the recipe without an ice cream maker, simply whip the chilled cream mixture with an electric mixer to incorporate as much air as possible. Then transfer to a freezer-safe container and freeze until firm.
Can peaches be added to the ice cream?
You can certainly add in some chopped peaches if you prefer. Just be sure to peel the peaches first then dice them into small pieces. Quickly blanching in boiling water will make the peaches much easier to peel.
I also recommend mixing in some sweetener and allow the mixture to sit for an hour or two before stirring into the cream mixture.
What is the best egg substitute for ice cream?
Cream cheese is added to the ice cream base because it's a great alternative to egg. It not only thickens the base, but it adds a creamy texture too.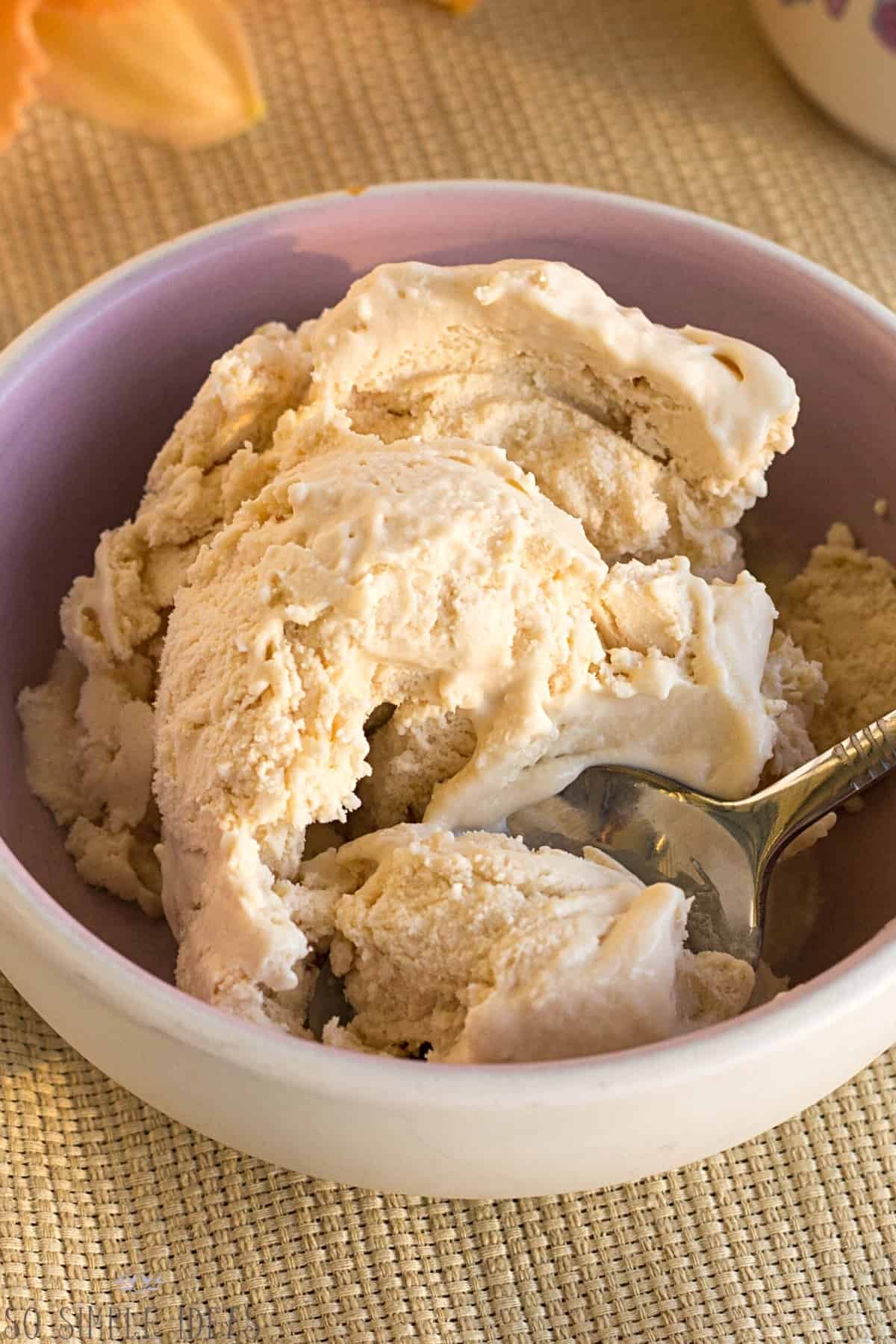 Other Homemade Keto Treats
Want a few more easy recipes for sweet low-carb snacks and desserts? Be sure to check out some of these favorites:
Keto Peach Ice Cream (No Egg)
A low carb no egg peach ice cream recipe flavored with concentrated herbal tea. Enjoy the fresh juicy taste of peaches in a yummy cool sugar free treat.
Ingredients
½

cup

boiling water

6

herbal peach tea bags

¾

cup

BochaSweet

2

cups

heavy cream

¾

cup

unsweetened almond milk

1 ½

ounces

cream cheese

softened

¼

teaspoon

xanthan gum

optional

⅛

teaspoon

sea salt
Instructions
Place tea bags and boiling water in a cup.

Let steep for 5 minutes.

Brew tea in boiling water. Squeeze tea from bags and discard.

In medium saucepan, combine tea, sweetener, cream, and milk. Bring to boil, then reduce heat to simmer and cook for four minutes.

Stir in cream cheese, xanthan gum and sea salt.

Chill over ice water bath for about 20-30 minutes until cooled.

Pour into ice cream machine canister and process according to manufacturer's directions.

Best served shortly after frozen. Leftovers can be stored in freezer, but will need to be thawed slightly before serving.
Notes
To make without an ice cream maker, whip the mixture with an electric mixer to incorporate as much air as possible. Then freeze until scoopable or at a soft serve consistency.
Nutrition
Serving:
0.5
cup
|
Calories:
227
kcal
|
Carbohydrates:
2
g
|
Protein:
2
g
|
Fat:
24
g
|
Saturated Fat:
15
g
|
Cholesterol:
87
mg
|
Sodium:
110
mg
|
Potassium:
53
mg
|
Fiber:
1
g
|
Sugar:
1
g
|
Vitamin A:
946
IU
|
Vitamin C:
1
mg
|
Calcium:
72
mg
|
Iron:
1
mg