When you have sweet cravings on a keto diet, reach for one of these peanut butter fat bombs for a satisfying snack or dessert. The silky smooth texture of these bites melt in your mouth like fudge.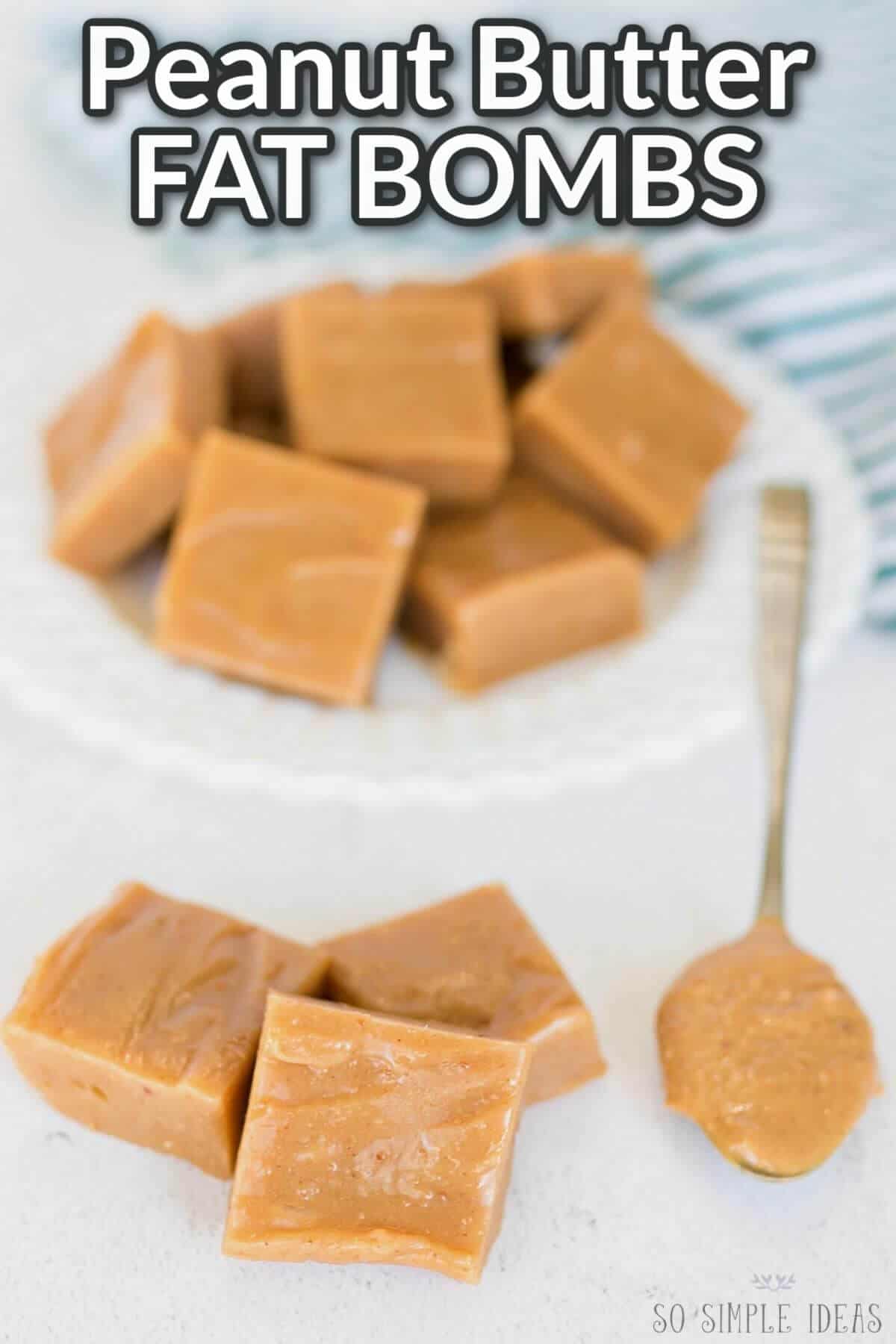 When moving to a ketogenic diet, the sugar cravings can get really strong. Thankfully, there are a lot of sugar free treats you can make to satisfy your sweet tooth.
Keto fat bombs are a perfect snack for those just getting started on the low carb lifestyle. That's because they are a delicious high fat treats with minimal net carbs so they don't impact blood sugar.
If you need to get some extra fat or just crave something sweet, make a big batch of these simple peanut butter fat bombs. They taste good and don't take much time to prepare.
Ingredients
There's a lot of flexibility when it comes to the ingredients so you can easily substitute something you have on hand if needed. You only need a handful of low carb staples to make the recipe.
Peanut butter
You obviously need peanut butter to get the flavor needed. But other seed or nut butters work well too. If you have a peanut allergy, try using almond butter instead. Or make it with sunflower seed butter if you want them nut and peanut free.
Be sure to use a natural peanut butter with no sugar added. A creamy peanut butter is best to get a smooth texture.
Keto Sweetener
I like to blend my own individual sweeteners, but you can use a pre-made blend instead. The most common blends use erythritol but I find allulose gives a better texture as erythritol can crystallize and give a grainy texture. There are allulose blends available that combine the sweetener with either stevia or monkfruit or both.
Collagen
A bland unsweetened powder is needed to firm up the fat bombs. I used collagen but you can use another unflavored protein powder instead. Heavy cream powder or coconut cream powder are great alternatives too.
Butter
Using real butter gives a nice buttery flavor. But if you want to make these dairy free, you can substitute in coconut oil. They even make a butter flavored coconut oil.
Almond milk
If you want a firmer peanut butter fat bombs, you can use less almond milk. It's used to give a smoother texture. You can use coconut milk or heavy cream instead.
Note: You'll find the full list of ingredients with the amounts used in the printable recipe card further down.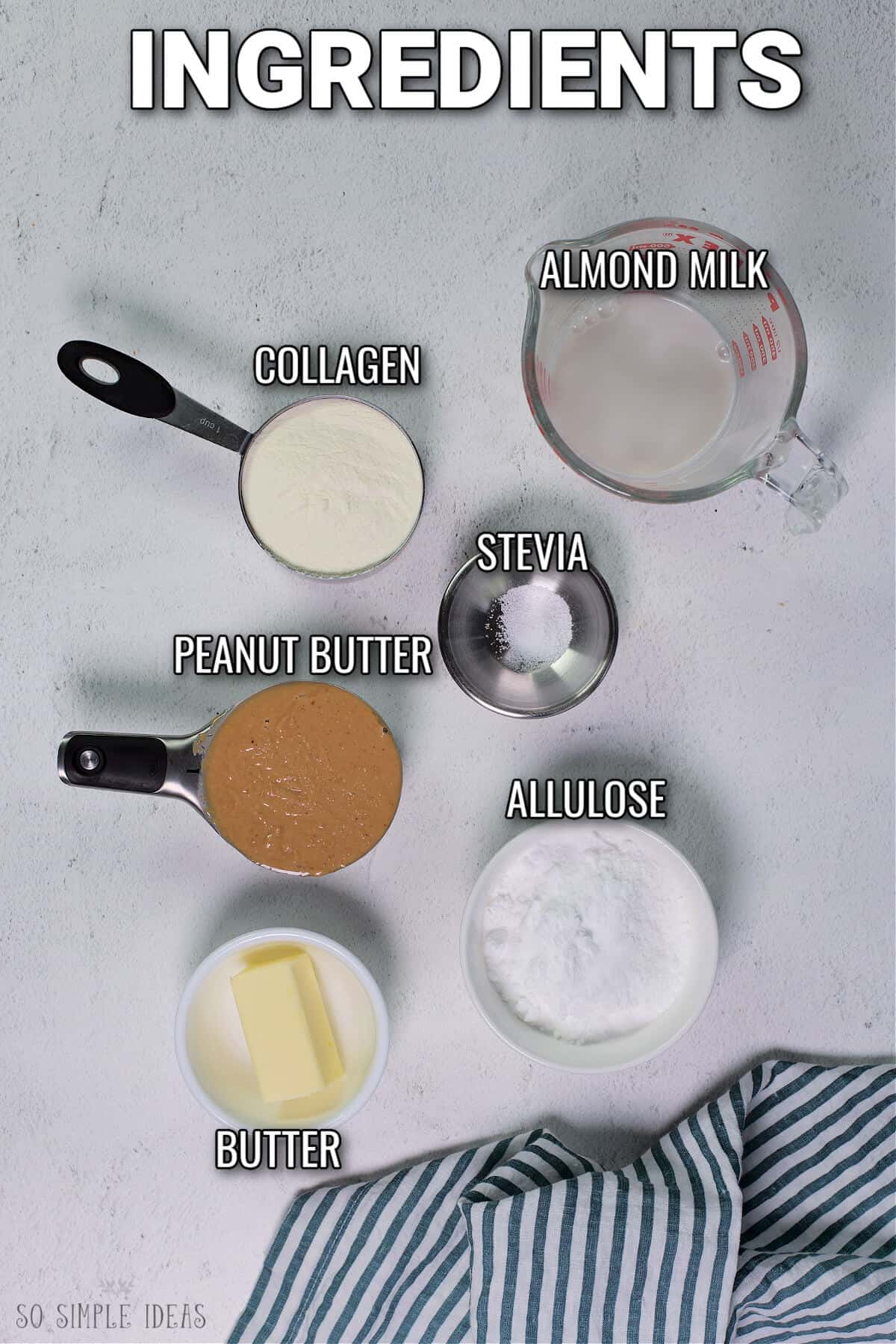 Instructions
Once you have all your ingredients together, you just need to combine them over medium heat so they are well combined.
It should only take a few minutes for the butter and peanut butter to melt down. That's when the mixture should begin to come together.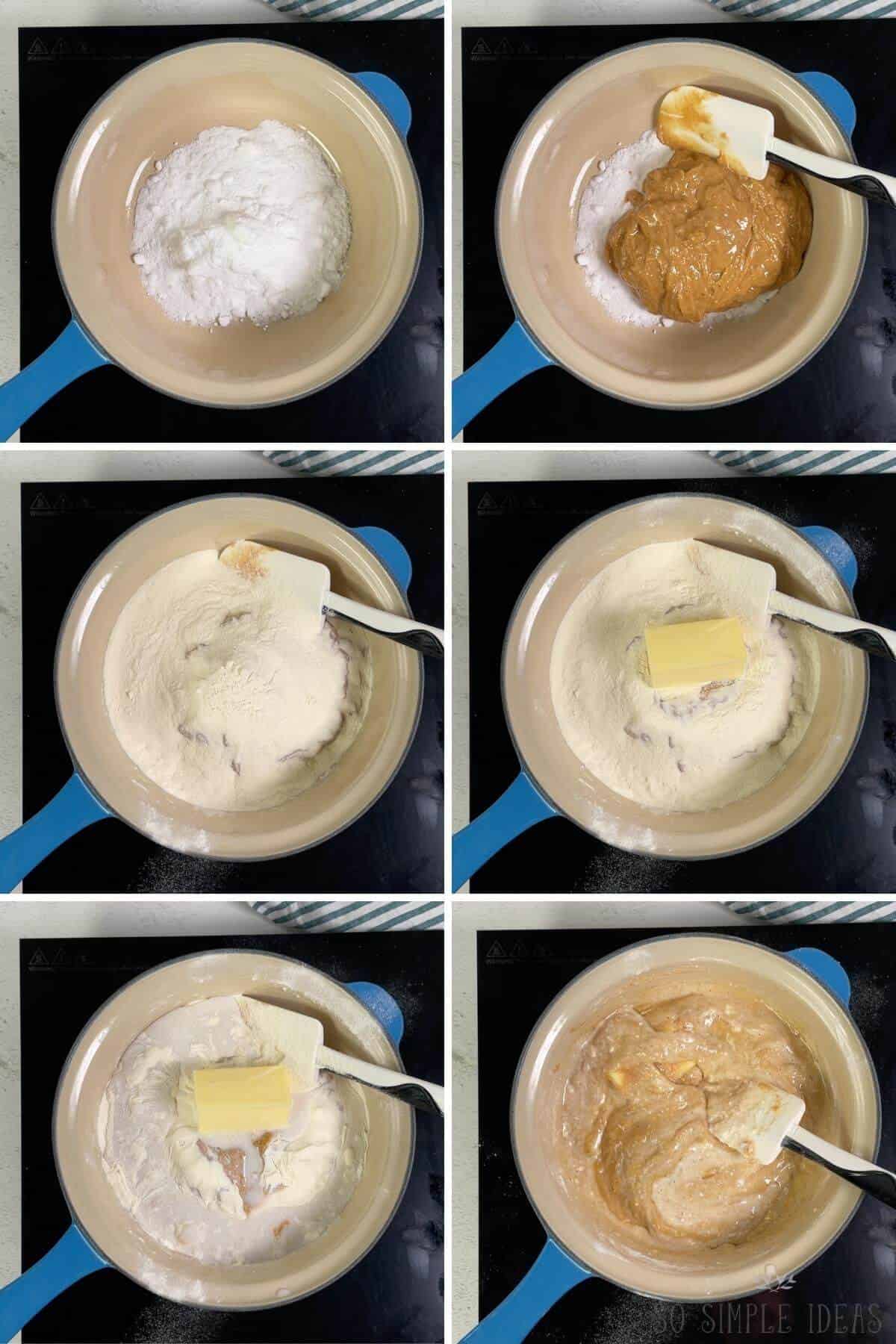 Continue stirring over medium heat. The cooking is done when mixture darkens up and becomes shiny. At this time you'll want to remove it from the heat. Then you can stir in the optional vanilla extract which will enhance the flavor and add sweetness without any additional sweetener.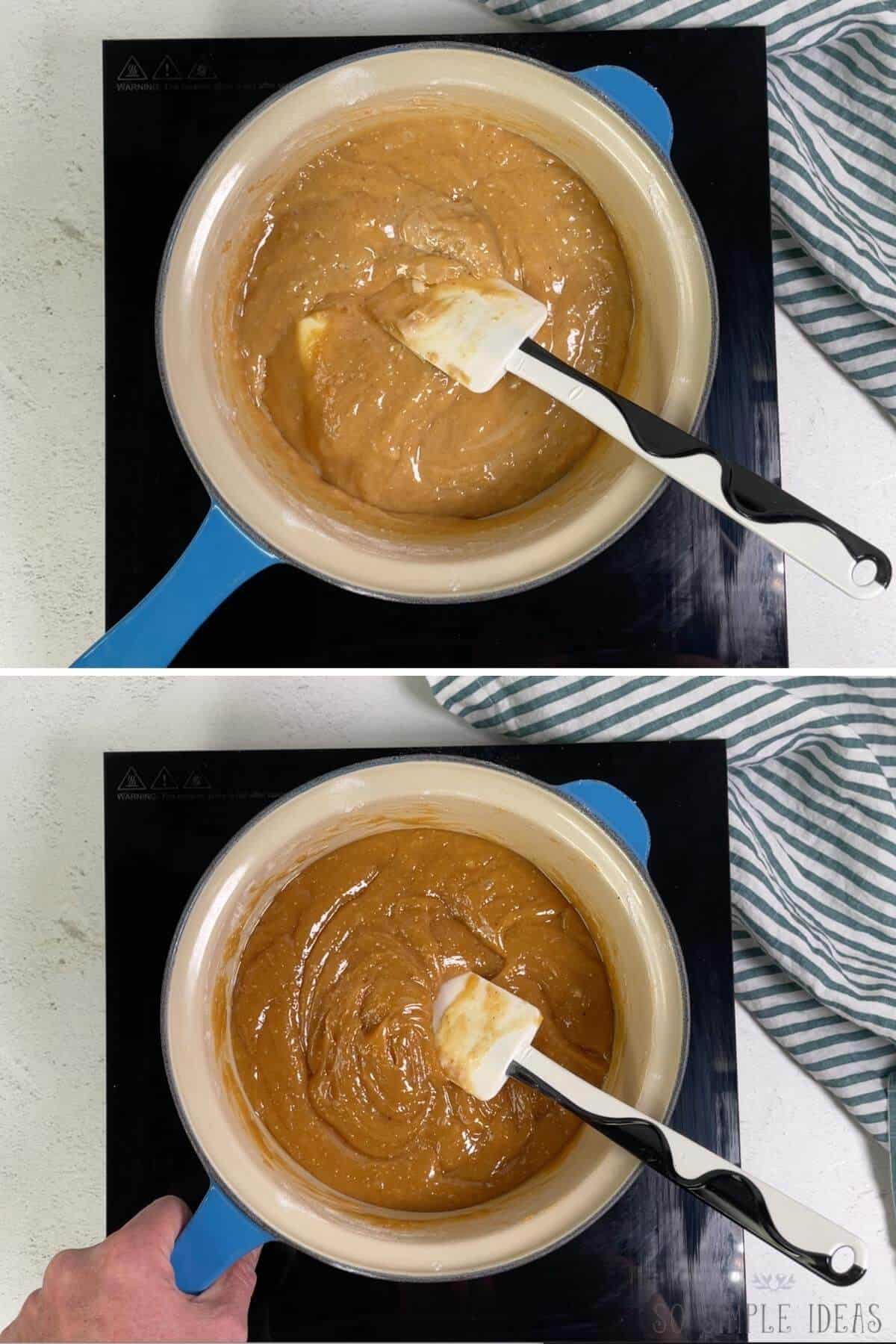 The mixture will start to harden as it cools so spread it into a parchment paper lined pan right away using a rubber spatula. Allow it to cool slightly at room temperature and then place it in the refrigerator to cool completely.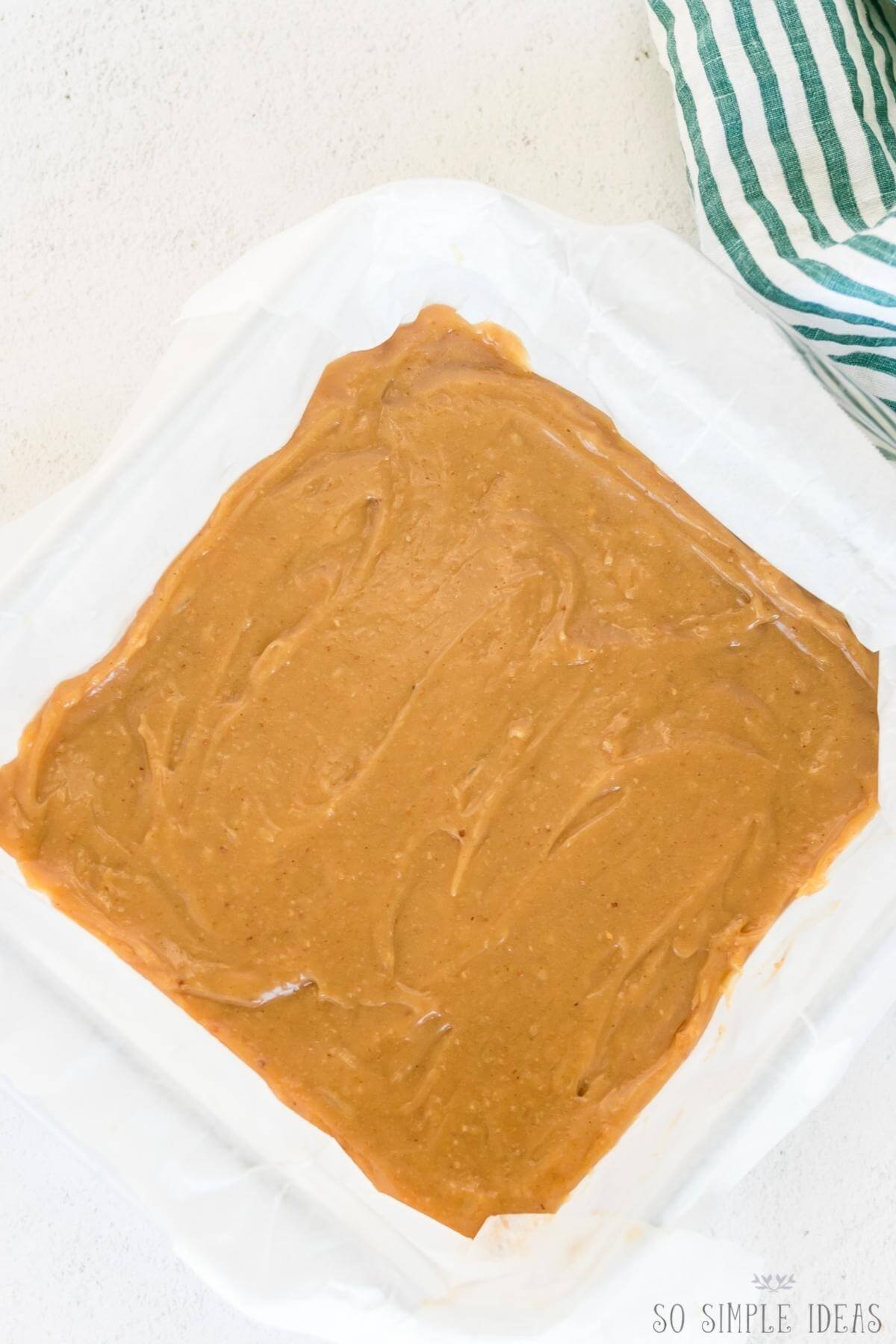 Once the peanut butter mixture has set and the peanut butter fat bombs are firm, you can lift them out of the pan on the parchment paper and cut into squares. They will get soft at room temperature so keep them stored in an airtight container in the refrigerator or freezer.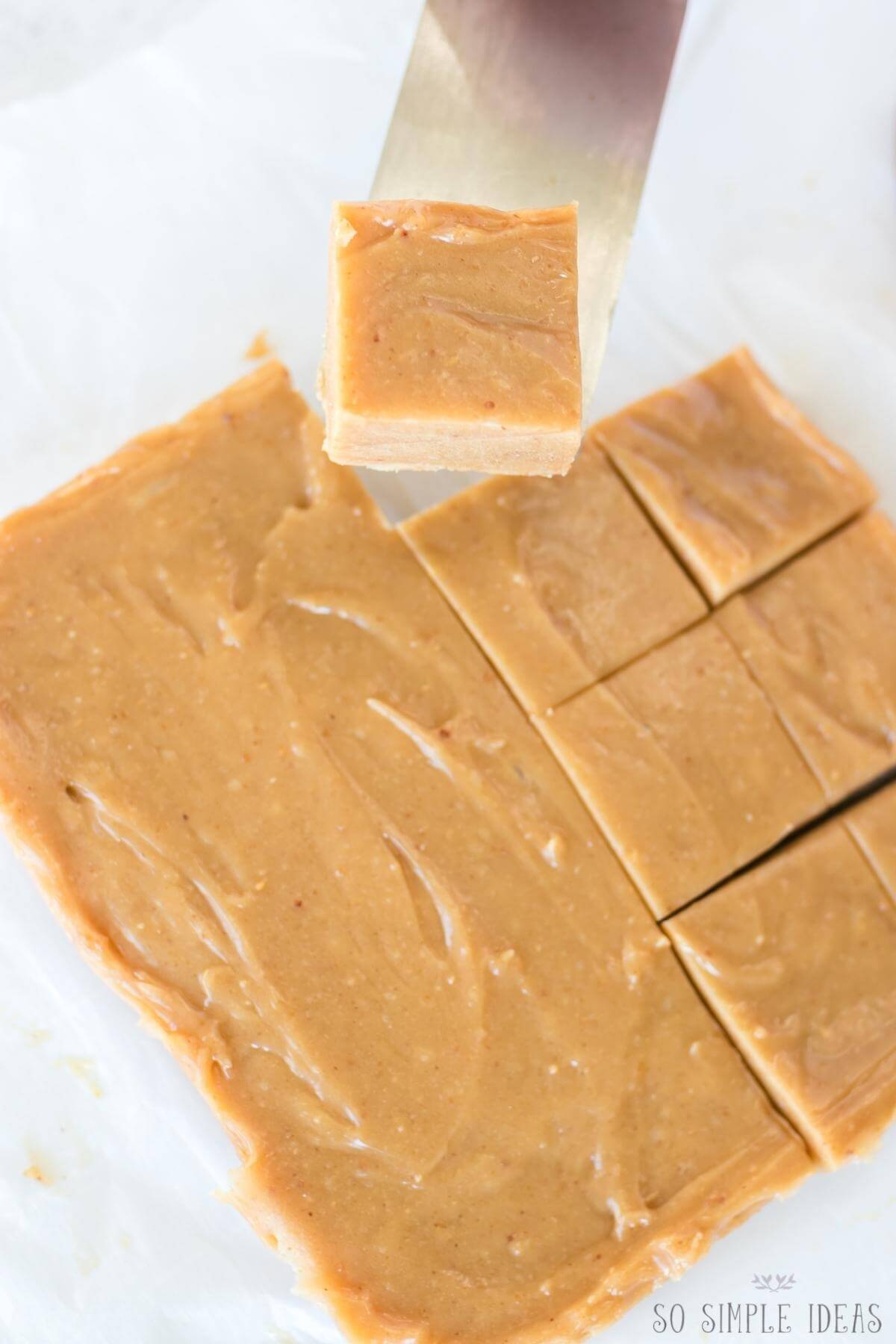 Quick tips
Use your preferred sweetener. The recipe needs about 1 cup of sugar substitute but you can adjust the sweetness to taste. If you need help adjusting different sweeteners, use an online sweetener conversion calculator.
Make it nut or peanut free. The creamy peanut butter can easily be swapped with nut butters or seed butters. Try different flavors like hazelnut butter or SunButter.
Change the powder up. Collagen and other protein powders can be pricey. You could try using an unsweetened peanut powder, heavy cream powder, or coconut milk powder.
Add chocolate. You can roll the cooled mixture into balls, freeze to harden, and then dip in chocolate. Or try adding chocolate over the peanut butter layer by spreading melted chocolate chips on top. It will taste just like a Reeses Peanut Butter Cup!
Serving suggestions
Once cut into slices, these sweet bites are eaten like fudge. Just watch your serving size as they are very calorie dense.
The peanut butter fat bomb squares can get sticky when left out at room temperature. If you want to serve them to others, you can can them into smaller pieces and serve with toothpicks to pick them up. Another idea is to freeze them to dunk into a chocolate fondue.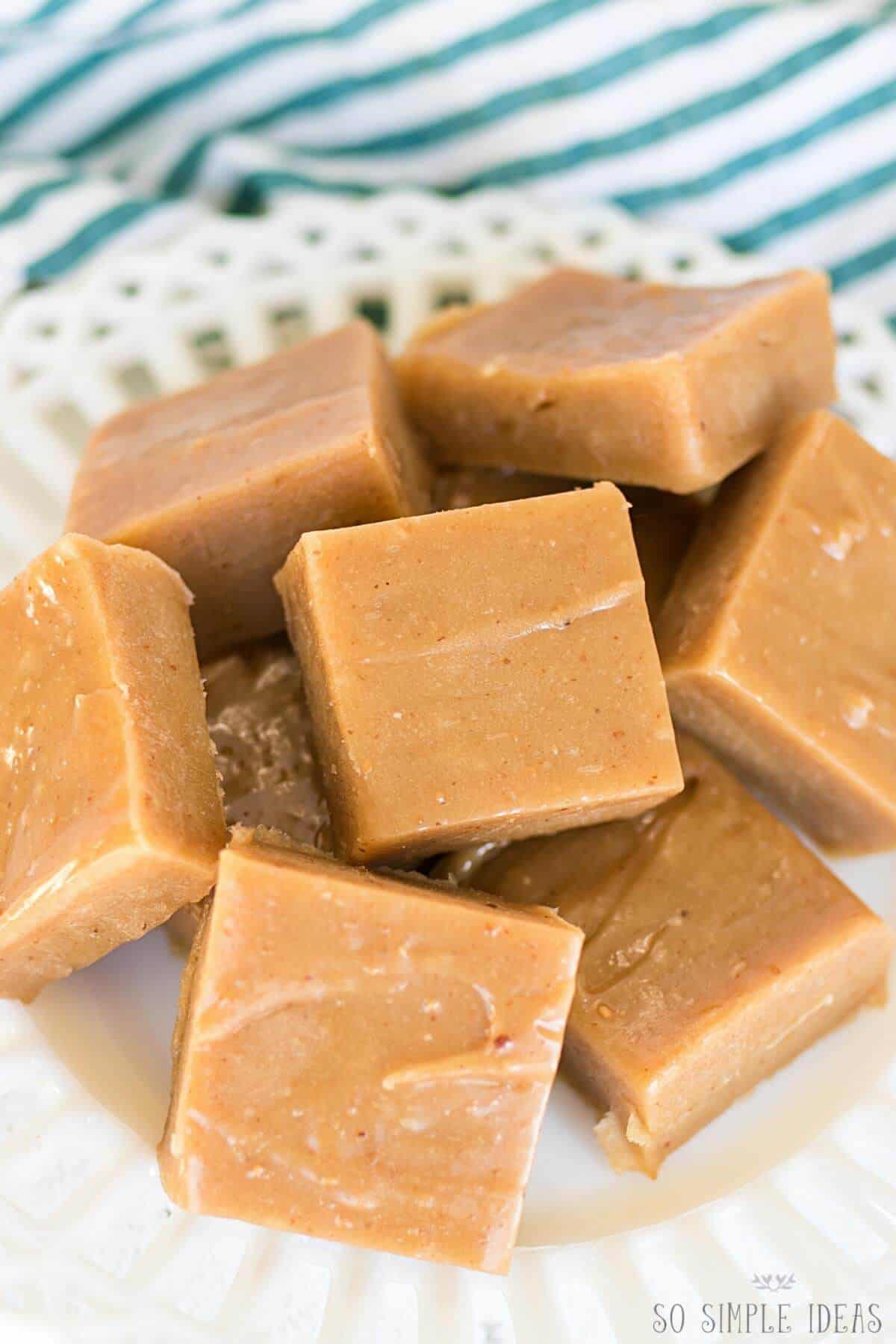 FAQs
Before getting to the recipe, I wanted to address some of the questions people often have about fat bombs.
How many fat bombs can you have on keto?
Just like everything else, you don't want to overdo it. Although you could have up to three a day, it's best to stick to just one or two.
Do fat bombs really work?
Fat bombs were created to help people meet the optimum amount of fat on a ketogenic diet. Since they are loaded with healthy fat, eating just a couple a day along with low-carb meals should help meet the daily fat intake.
Is peanut butter good fat for keto?
Although peanuts are legumes, they are more like nuts and are low in carbs. The fat in peanut butter comes from monounstaturated and polyunsaturated acids which are considered good fats.
How many fat bombs is a serving?
The amount made in the recipe is for 16 servings assuming that it's cut into 16 equal size squares. The nutritional data is based on a one square serving which contains just 3g total carbs.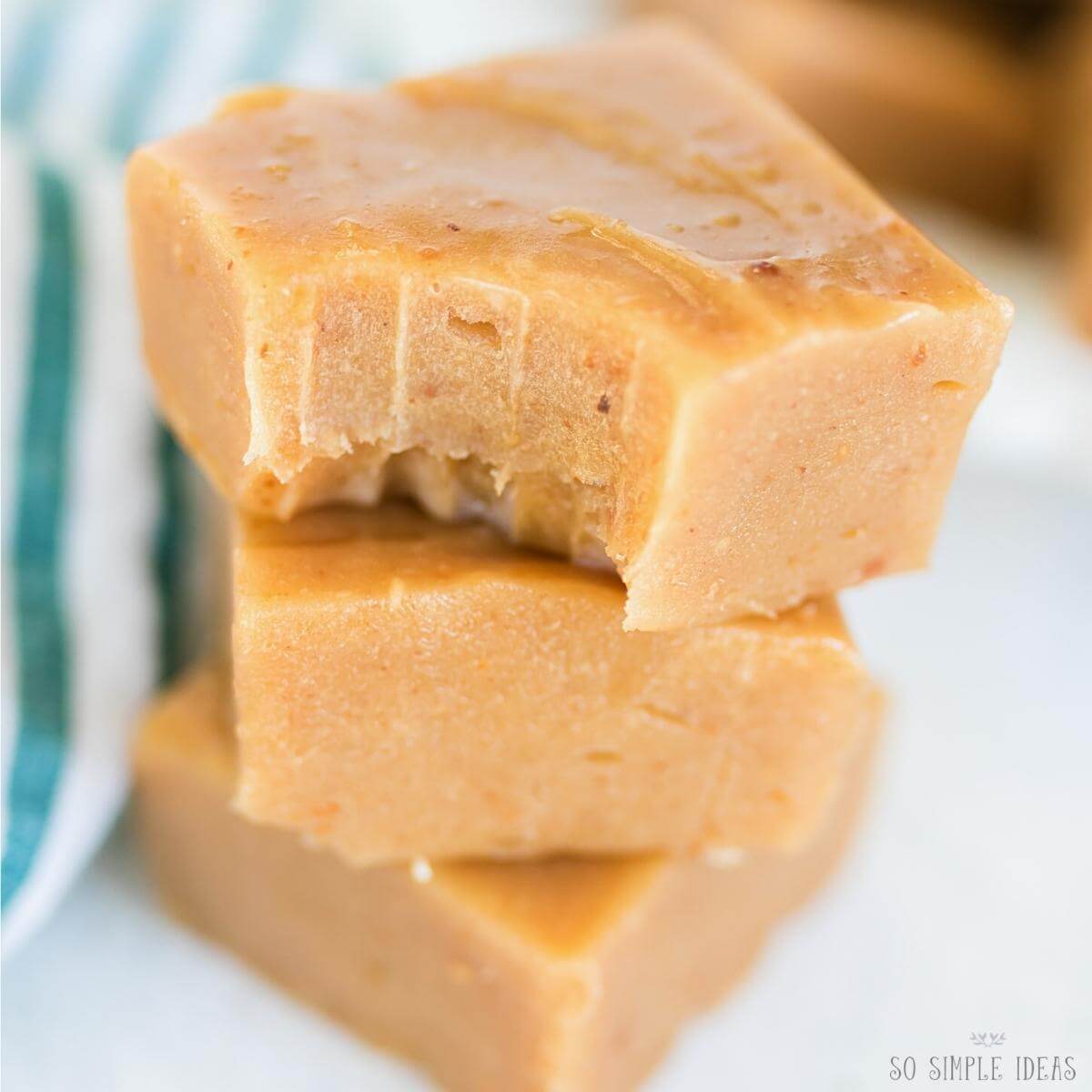 Related recipes
If you're looking for more easy recipes to satisfy your sweet tooth on keto, be sure to check out a few of our other low-carb treats.
Keto Peanut Butter Fat Bombs Fudge
A creamy peanut butter fudge made with peanut butter, protein powder, dry milk, butter and almond milk. Sweetened with a mix of low carb sweeteners.
Ingredients
⅔

cups

allulose

¼

teaspoon

stevia concentrated powder

1

cup

natural peanut butter no sugar added

1 ½

cup

collagen

or heavy cream powder

¼

cup

butter

½

cup

unsweetened almond milk

or vanilla unsweetened almond milk

1

teaspoon

vanilla extract

optional
Instructions
Stir together allulose, stevia, peanut butter, collagen (or cream powder), butter, and almond milk in medium saucepan over medium heat. Continue to cook and stir until the butter has melted. Remove from heat and stir in vanilla extract if using.

Quickly transfer to a wax paper lined 8×8 dish. The fudge will begin to harden quickly. When cooled completely, cut into slices. Keep refrigerated in airtight container.
Nutrition
Calories:
179
kcal
|
Carbohydrates:
3
g
|
Protein:
24
g
|
Fat:
8
g
|
Saturated Fat:
2
g
|
Polyunsaturated Fat:
2
g
|
Monounsaturated Fat:
4
g
|
Cholesterol:
1
mg
|
Sodium:
155
mg
|
Potassium:
110
mg
|
Fiber:
1
g
|
Sugar:
2
g
|
Vitamin A:
6
IU
|
Calcium:
21
mg
|
Iron:
1
mg