One of the comfort foods missing in a low carb diet is potatoes. But it's not difficult to use a keto potato substitute instead in many popular recipes. So you can still enjoy your favorite dishes by using an alternative ingredient.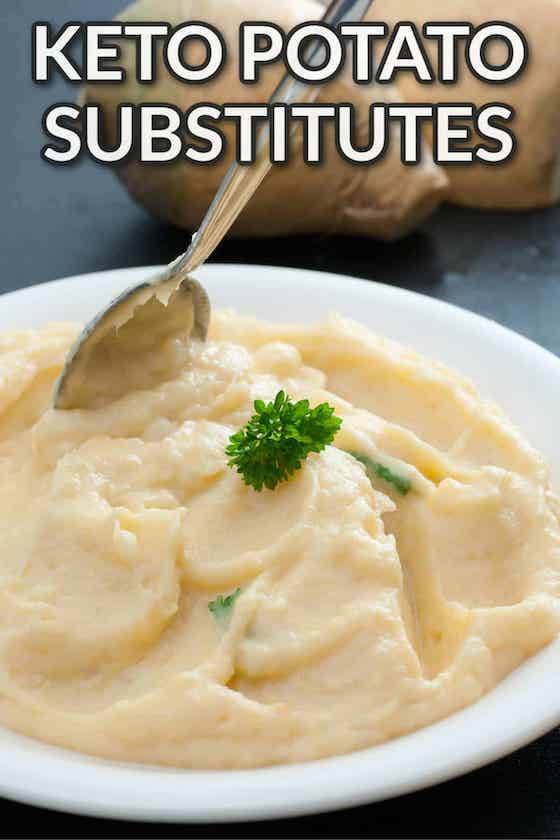 A keto diet is a low-carbohydrate diet that is popular for weight loss. It can help you lose weight because it causes your body to burn more fat. However, a the eating plan can be difficult to follow because it eliminates many foods that are high in carbohydrates.
So what do you do when you're craving mashed potatoes or a potato salad?
Keto Potato Substitutes
There are many substitutes that can be used in recipes in place of potatoes. These alternatives include cauliflower, radish, and zucchini. Cauliflower is a popular substitute because it has a similar texture to potatoes and can be mashed or used in dishes like shepherd's pie.
There are other delicious, healthy alternatives to potatoes that are low in carbs. Here are a few of our favorites:
Turnips
An excellent keto-friendly alternative to potatoes are turnips. They are a great option because they have a mild flavor and a similar texture that goes well with many different dishes.
You can roast them, boil them, make mashed turnips, and bake them into keto fries. They are perfect to use in a low-carb turkey soup too!
If you're looking for a lower-carb option to white potatoes, turnips are an excellent choice. They have about 8 grams of net carbs per cup with 2 grams of fiber.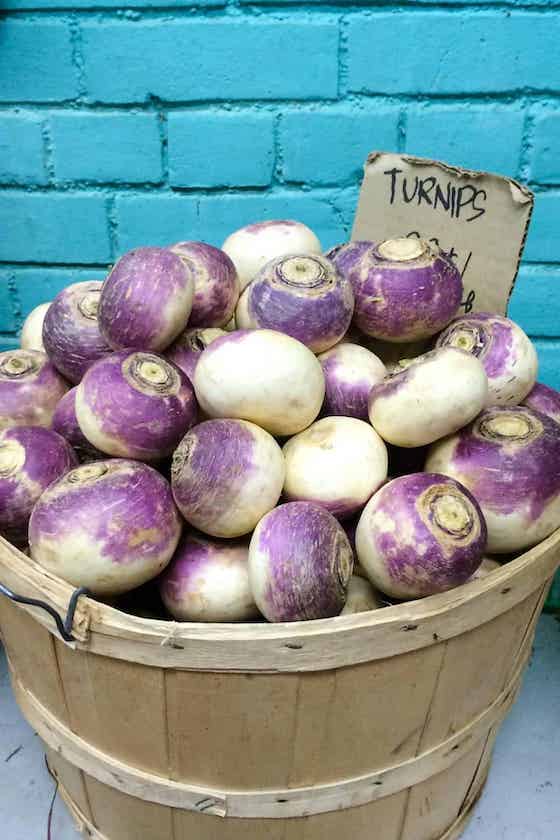 Celeriac
Celery root, or celeriac, is a fantastic keto potato substitute! When cooked, it has a similar texture and flavor to potatoes. However, celeriac is much lower in carbs and calories. It can be used in any recipe that calls for potatoes, and is a great way to add some extra fiber and nutrients to your diet.
Try roasted celeriac or boiled and mashed celery root. The keto-friendly root vegetable makes a great addition to any meal. One cup of cooked celeriac has about 9 grams of carbs with 2 grams of fiber.
Rutabaga
A rutabaga is a type of root vegetable that is often used as a low carb potato substitute. They are low in carbs and calories; and they are a good source of fiber, vitamin C, and potassium.
Just like potatoes, they can be boiled, mashed, or roasted. After cooking, they taste very similar to potatoes. They are a great choice to use in low-carb "potato" gratin.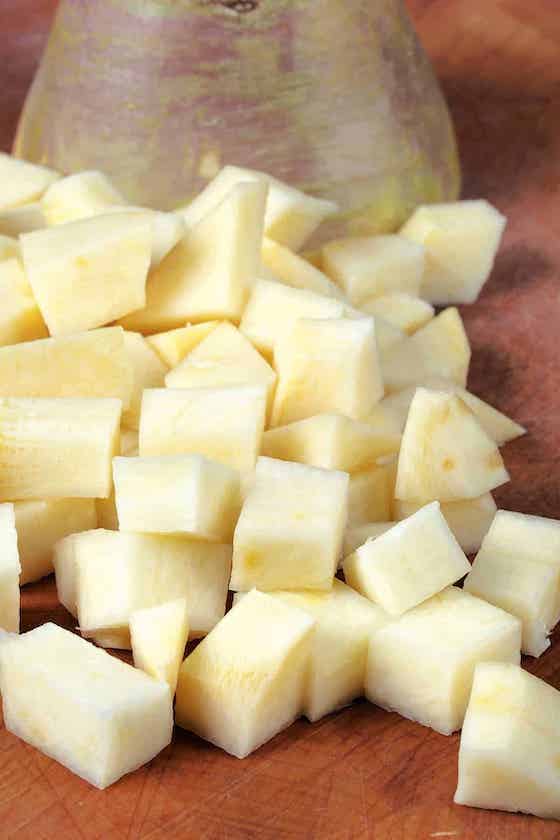 Cauliflower
Cauliflower has been the most popular substitute to use for keto mashed "potatoes". Mashed cauliflower has a similar texture and flavor to traditional mashed potatoes, and it's really low in carbs. Mash steamed cauliflower into a potato-like consistency or use it in place of potatoes in recipes.
This versatile vegetable can be mashed, roasted, or even used as a pizza crust. It has a mild flavor that goes well with many different ingredients. One cup of raw cauliflower has about 5 grams of carbs with 3 grams of fiber.
Radishes
If you are looking for a low-carb, keto-friendly substitute for potatoes, look no further than radishes. Roasted radishes are an excellent crispy, potato-like side dish. You can also fry them into radish chips which have a similar taste and texture to potato chips.
One cup of radishes has about 4 grams of carbs with 2 grams of fiber.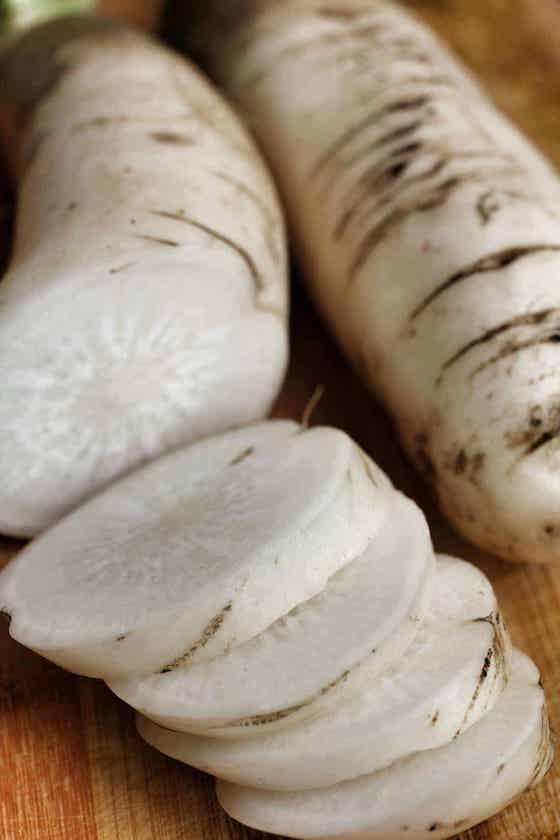 Jicama
If you're on the keto diet, you know that potatoes are a no-go. Luckily, alternatives like jicama make a great keto potato substitute. Jicama is a root vegetable with a crisp starchy texture and bland flavor. This makes it perfect for all your favorite potato dishes.
One cup of jicama contains about 11 grams of carb with 6 grams of fiber. So the next time you're in need of a keto-friendly potato substitute, reach for some jicama! Our favorite recipe is seasoned jicama fries.
Zucchini
Another great option for keto potatoes is zucchini. Just grate it and add some butter, salt, and pepper for a delicious side dish. Zucchini au gratin as also a great alternative to cheesy potatoes.
Zucchini is a versatile vegetable that can be used in place of potatoes in many recipes. One cup of sliced zucchini has about 4 grams of carbs with 1 gram of fiber. It can be roasted, mashed, or grilled just like potatoes. In fact, many people prefer the taste and texture of zucchini over potatoes.
You can also use this summer squash in soups and stews. It can be puréed or chopped into small pieces and added to the soup or stew just before serving. Zucchini is a healthy, low-carb alternative to potatoes, and it's a great way to add more vegetables to your diet.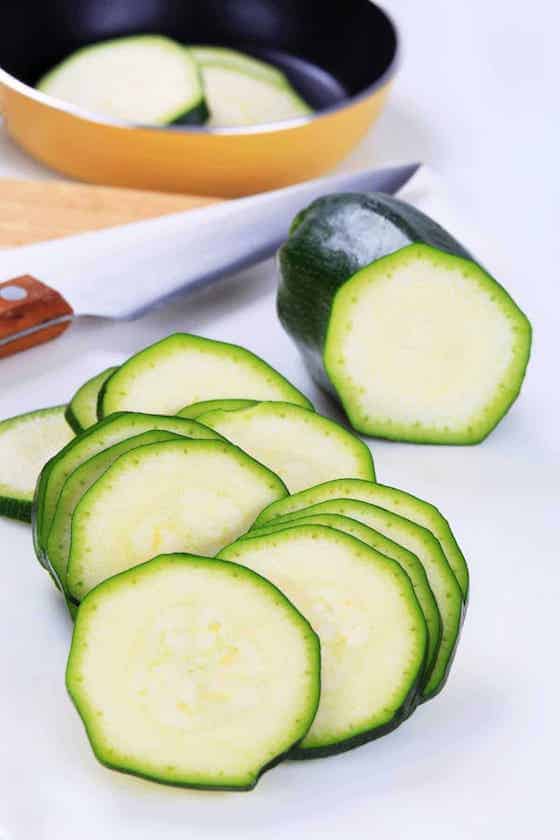 Reasons to use low-carb potato substitutes
There are many reasons why people might want to find a low carb keto potato substitute. Some might be following a ketogenic diet and need to limit their carbohydrate intake, while others may simply be looking for ways to reduce the amount of starch in their diet. Whatever the reason, there are a number of different substitutes available.
FAQs
Now that you know what low-carb alternatives there are to potatoes on a keto diet, I wanted to go over some common questions.
What can I replace potatoes with in Keto?
There are many keto-friendly replacements for potatoes. Some good substitutes include cauliflower, zucchini, and mushrooms. You can also use almond flour or coconut flour to make keto-friendly potato dishes.
Are sweet potatoes keto friendly?
A one-cup serving of cooked sweet potato has about 26 grams of carbohydrates. Therefore, they aren't keto-friendly because they can knock a person out of ketosis.
What vegetable is closest to a potato?
There are a few vegetables that are close to potatoes in terms of taste and texture that are low in carbs. These include radish, turnip, and rutabaga.
Related
After moving to a lower carb eating plan, there's no need to go without your favorite comfort foods. There's also plenty of low carb rice substitutes. Here's a few more keto-friendly recipes you may want to try.