If you want to lose weight or stay lean, try a low-carb rice substitute. Starches quickly convert into sugar and can cause rapid weight gain. That's why these keto friendly alternatives are much better for your diet.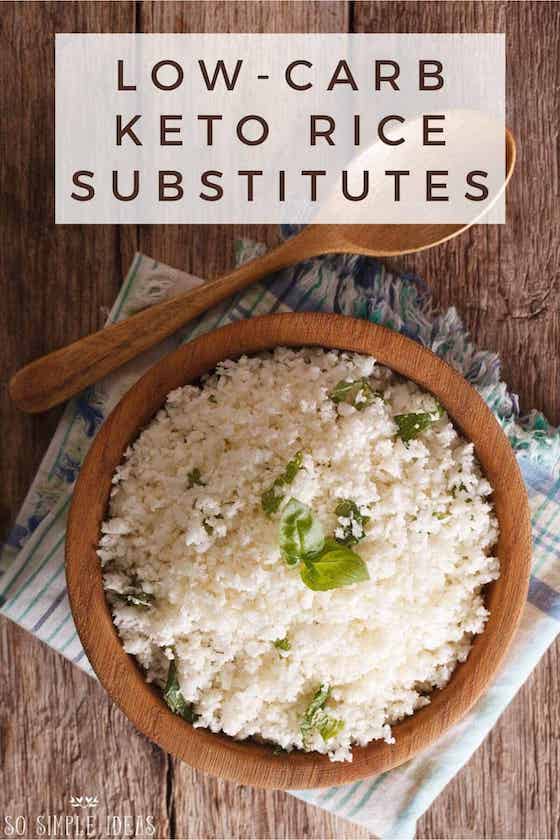 One cup of regular white rice contains 45 grams of carbohydrates. That wouldn't be so bad if there were also lots of fiber to reduce total net carbs.
However, a serving contains less than one gram of fiber.
Maybe we could make an excuse for it if it were nutrient-dense. But there's not much nutrition in the grain. There's about five percent of the daily value of vitamin B6 and about the same amount of magnesium.
What does 45 grams of net carbs mean for your health? Actually, if you're like the average person, you'll probably eat more than one serving. It's more like 75 to 90 grams of net carbs.
This overload of starchy carbs quickly converts into sugar. You can slow the conversion into sugar somewhat by eating fat with the meal.
However, you're not going to prevent the spiking blood sugar when you eat a big serving of starch. That's why it's better to start cooking with a keto diet alternative.
Reasons To Use A Low-Carb Rice Substitute
Metabolic disorders such as obesity and diabetes are in large part due to the over eating sugars and foods high in starch that convert into sugars. So reducing sugar is one of the best weight loss hacks.
Excess sugar in the body can make you gain weight and lead to diabetes. They can also contribute to other health issues because too much sugar causes inflammation in the body.
For this reason, it's important to do healthy meal prep using low-sugar Paleo or keto recipes. These healthier lifestyle eating regimens have become increasingly popular. And both discourage eating high carbohydrate foods like white rice.
Many Asian inspired dishes like Filipino chicken adobo and turkey curry are traditionally served with rice so it's great to have a low-carb alternatives.
Popular Rice Substitutes for Keto
Low-carb vegetables that are finely chopped or grated make great substitutes for rice. The most common vegetables used are cauliflower, broccoli, cabbage, and zucchini.
1. Cauliflower Rice
Most grocery stores sell fresh or frozen riced cauliflower. But you can also follow basic steps on how to make cauliflower rice from an inexpensive head of cauliflower.
All you do is grate the cauliflower or pulse floret pieces in a food processor. Then place in a covered microwaveable dish and cook on high for five minutes. You can also saute it in a skillet with a little oil until tender.
A one cup serving of cauliflower rice has about 5 grams total carbs with 2 grams fiber. Therefore, it's a great keto choice at 3 grams net. It's great in recipe like keto cauliflower chorizo hash too!
2. Broccoli Rice
Another popular low-carb rice substitute is broccoli rice. It's a great alternative if you don't like cauliflower or want an alternative to it.
It's green color makes it look much different than rice. And it has a stronger taste than cauliflower. But it's a nutritious substitute that's easy to make and convenient to buy.
Because of the popularity of low-carb diets, most supermarkets carry both fresh and frozen broccoli rice. But you can make your own. The process to cut and cook broccoli rice is the same as cauliflower rice.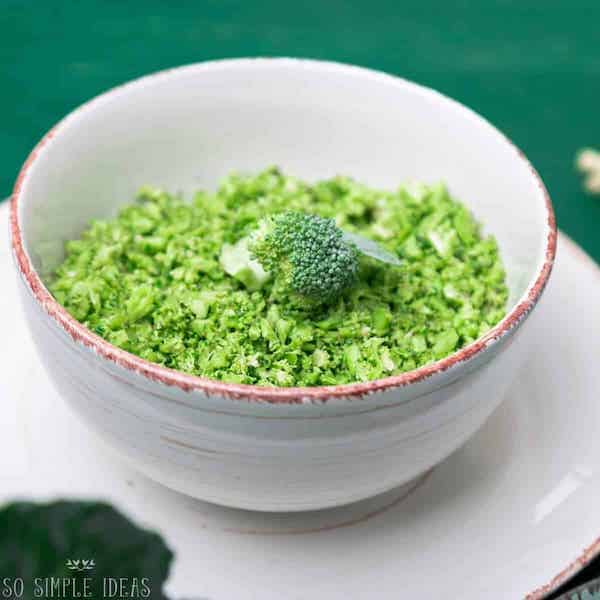 3. Cabbage Rice
If you've never tried cabbage rice, you're in for a treat! It has a mild flavor that goes well with just about any dish.
There are actual rice dishes with added cabbage that are called cabbage rice but those are high carb recipes to stay away from. Instead, you want to use finely chopped or grated cabbage which is very low in carbohydrates.
To cook the riced cabbage, just stir fry it in some oil until it's nice and tender. You'll want to season it with at least a little salt and pepper.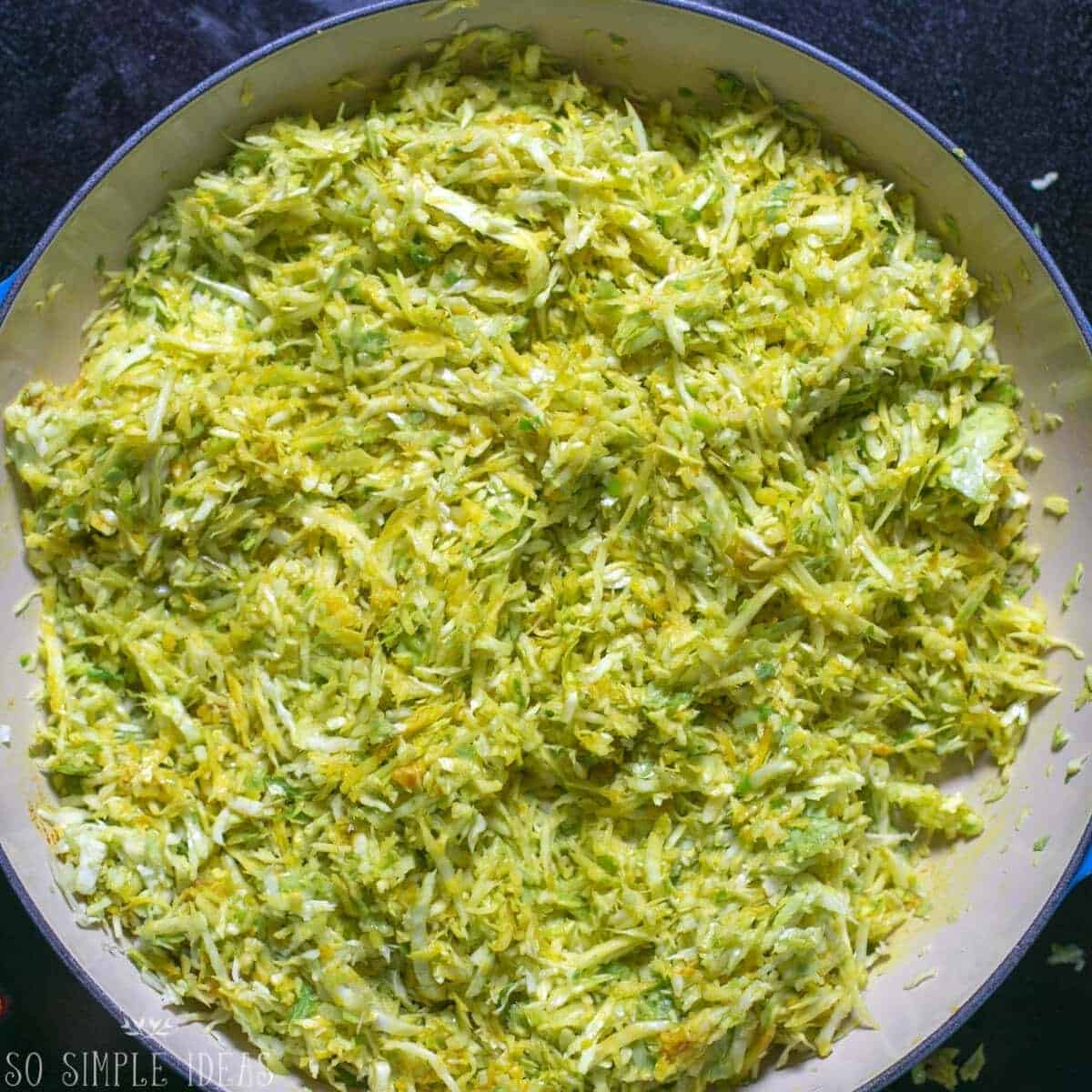 4. Zucchini Noodles
Zucchini takes on the playful nickname of zoodles when it gets cut into long thin strands. If you're interested in learning how to make zoodles, the easiest way to do it is by using a zucchini noodle spiralizer. You can then cut the noodles into zucchini rice.
Using A Spiralizer
A spiralizer has two ends. One end, the side that the zucchini noodles comes out, resembles how sausage is made. It kind of looks like a cross between a mini guillotine and a cheese grater.
On the other end is small wheel with tiny plastic spikes that holds the vegetable in place. You rotate the lever and the veggie magically transforms into noodle strands.
It's best to cut off the ends of the zucchini to have a flat surface before spiralizing. If you want smooth noodles, you can first peel the skin. However, the skin contains much of the fiber.
How To Cook Zoodles
Before cooking zoodles, you'll want to absorb as much water out as you can. The best way to do this is to let them sit between paper towels in the refrigerator overnight or for a day.
Once the excess moisture has been removed from the zucchini, you just sauté it in a skillet with a little oil. If you prefer, you can cut the noodles into smaller rice sized pieces first.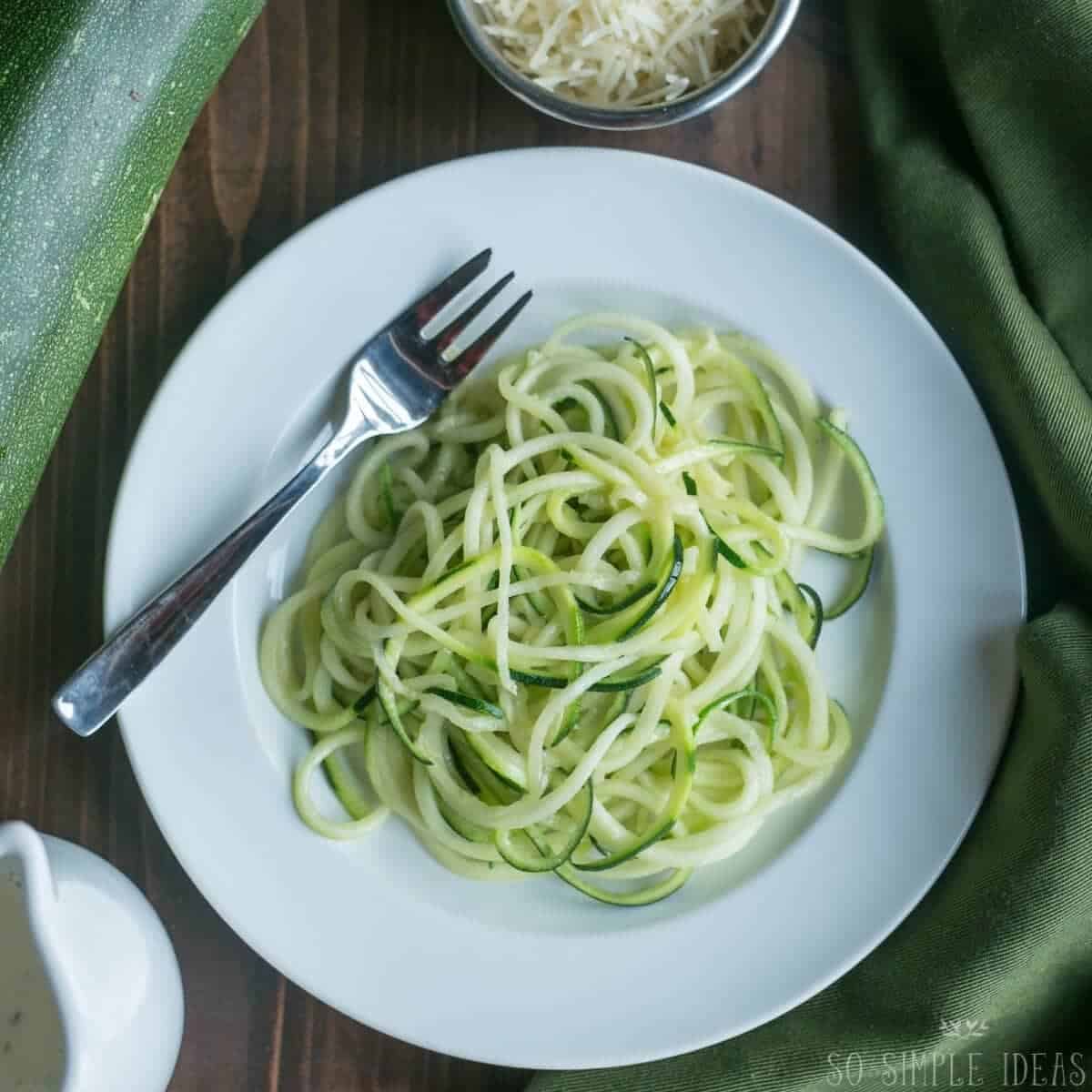 5. Shirataki Noodles
If you've never heard of shirataki noodles, all they are is a tiny amount of vegetable fiber and about 98 percent water. They come from Japan and make a great low-carb rice substitute because they have zero net carbs.
They are made from the root of a wild yam-like plant that grows in Southeast Asia. This plant is the konjac herb which is also known as glucomannon.
Konjac root noodles are basically just fiber and water. The fiber lightly expands the stomach when it's digested which helps you feel full.
Preparing Shiratake Noodles Correctly
For the best taste, you have to prepare the noodles correctly. Otherwise, they can have a fishy smell and slimy texture.
They come packaged in a liquid that you'll want to drain out. Then the shiratake should be rinsed well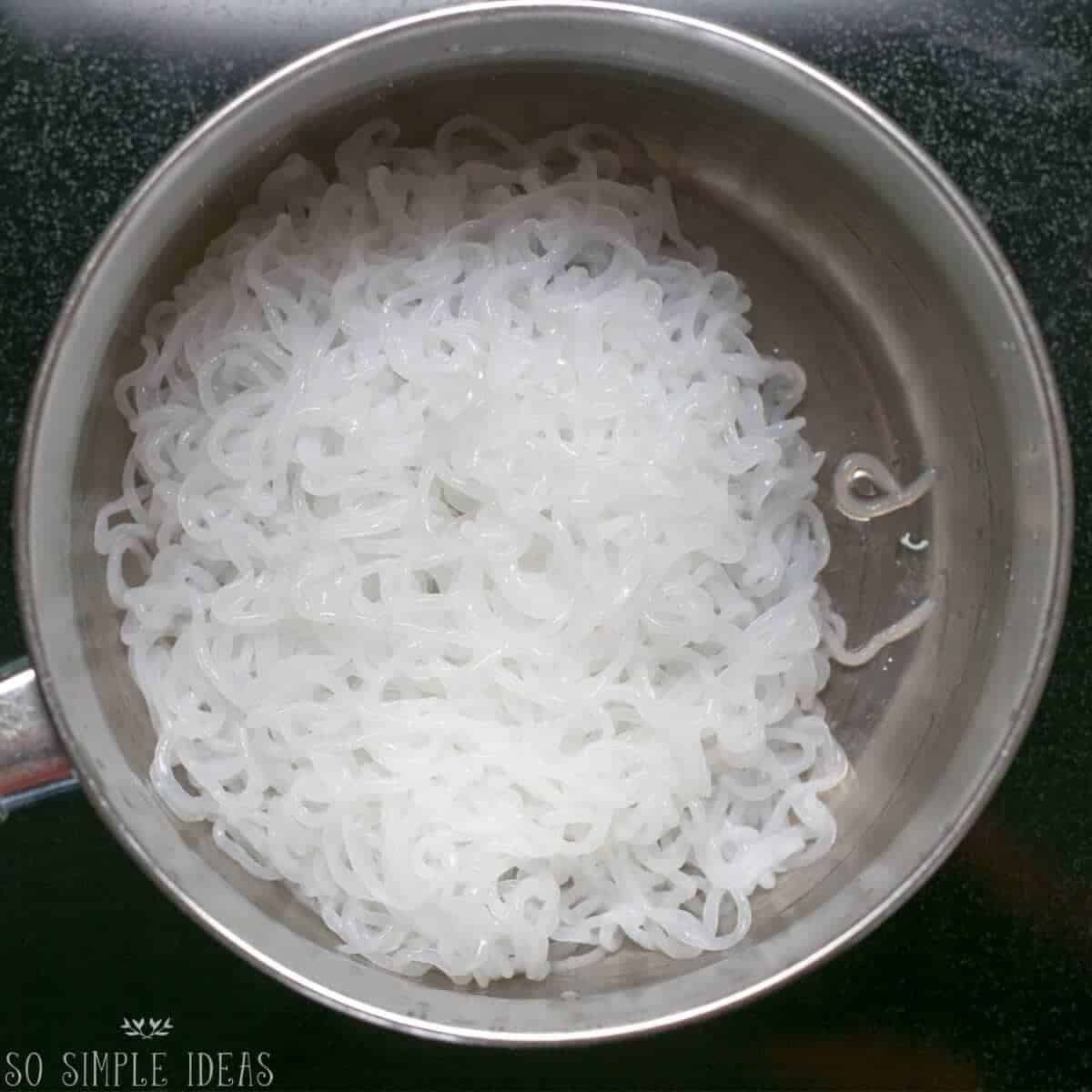 To cook these low-starch noodles, lightly boil them for a few minutes. Then, after draining, you want to dry roast them. That means simmer them in a dry frying pan with no oil.
After a minute or two, the noodles will start squeaking. That's when you know they are ready.
Shiratake Rice
Shirataki can also be made into rice. One of the leading brands of shirataki rice, also known as konjac rice, is Miracle Rice.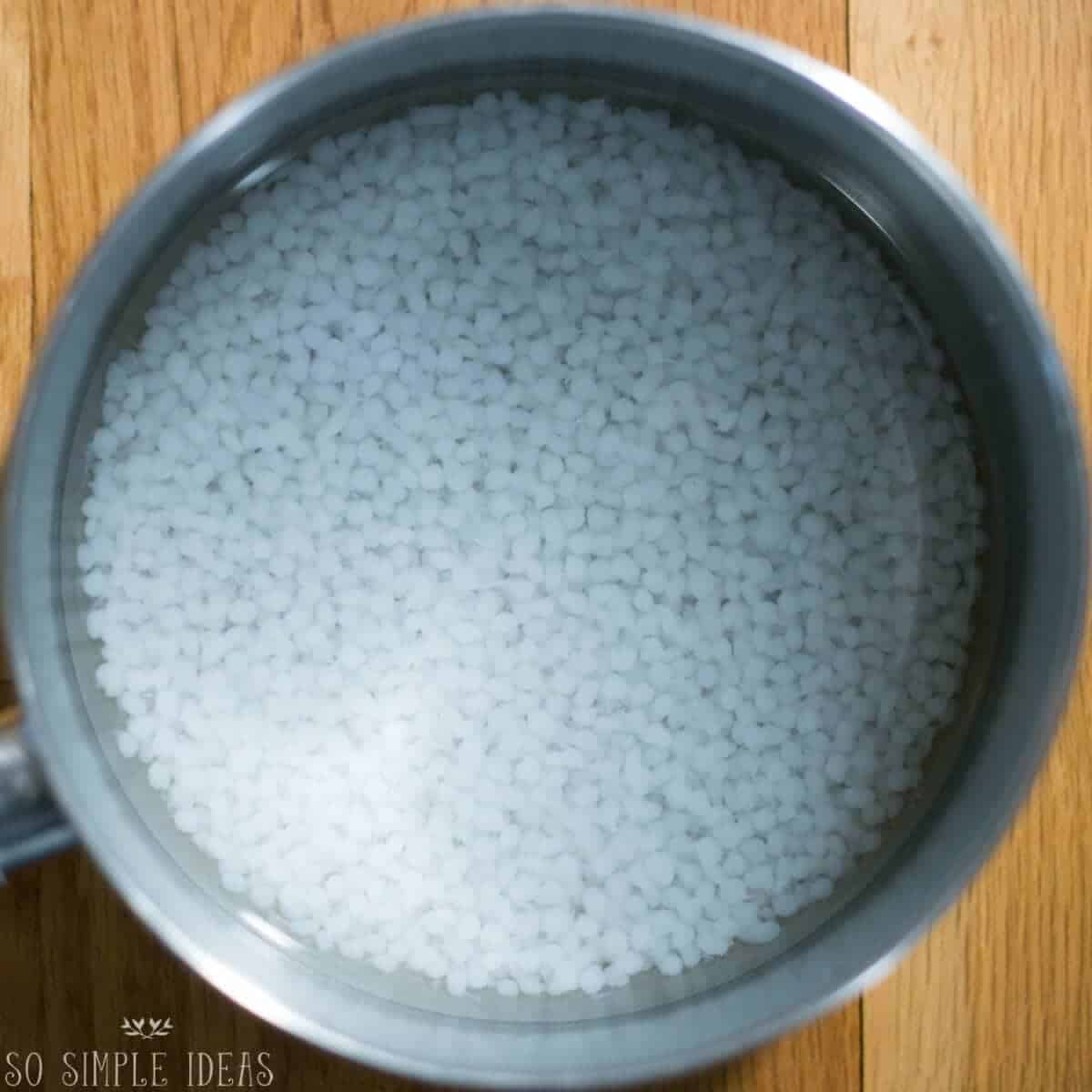 Although you enjoy shiratake rice plain as a side dish, there are amazing low-carb recipes you'll want to try it in. Here's a few of our family favorites from Low Carb Yum:
Frequently Asked Questions
Rice is a common food for many people so you may be wondering why it's avoided by those watching carbs. Let's take a look as some of the most asked questions regarding rice and carbohydrates.
What is the lowest carb rice substitute?
The absolute lowest amount of net carbs of any rice alternative is shirataki. But shirataki is not a nutrient-dense food, as it's almost entirely all fiber and water. So enjoy it with nutrient dense vegetables.
Can I eat rice on a low-carb diet?
Because of the starch content, there are way too many carbs in rice for it to be acceptable for a low-carb eating plan. Stick to keto friendly alternatives like cauliflower rice instead.
Is brown rice OK on a low-carb diet?
While brown rice is slightly more nutritious, it contains approximately the same amount of carbohydrates per serving. So it's a no-go if you're watching carbs.
Does basmati rice have less carbs?
Basmati has more calories, carbs, and fiber than regular rice. That makes it worse for anyone watching their weight.
Other Low-Carb Rice Alternatives
Cauliflower is probably the most popular rice alternative for a ketogenic diet. But there are some lesser known options that you may want to try.
6. Rutabaga
The rutabaga is a cross between a turnip and a cabbage. It's a root vegetable similar to turnips but have a sweeter taste.
A cup of raw cubed rutabaga has 12 grams carbs with a little over 3 grams fibers. So the net carbs are a little less than 9 grams.
Once you've peeled the rutabaga and cut off the ends, you'll need to spiralize first. Then just place the noodle-like strands in a food processor and pulse until the pieces are the size of rice.
To cook rutabaga rice, you'll simmer it with water over medium heat until the liquid is absorbs. For a medium rutabaga, you'll need about one cup water but use less water for firmer rice.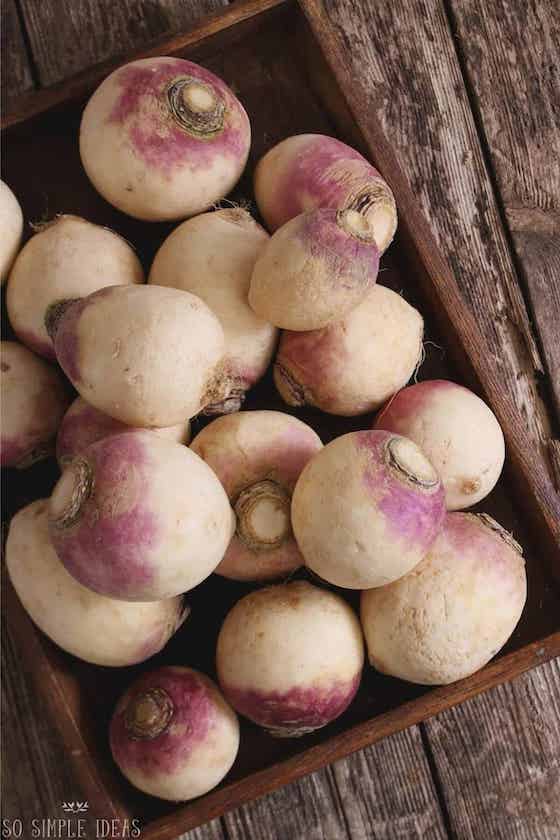 7. Turnip Rice
With just 8 grams total carbs in a cup of cubed turnips, it's a better choice for keto than rutabaga. Plus, if you consider that it also has a little more than 2 grams of fiber, it comes down to less than 6 grams net.
Preparing turnip rice is similar to rutabaga. You'll peel and trim the ends first. Then chop it into small pieces with a food processor.
The best way to cook riced turnips is simmer in a small amount of liquid over medium high-heat. For a fried rice substitute, try using soy sauce or tamari.
8. Jicama Rice
Also known as a Mexican turnip or yam bean, jicama is often used an an apple or potato substitute. The inside is white with a texture similar to apples but without the sweet taste.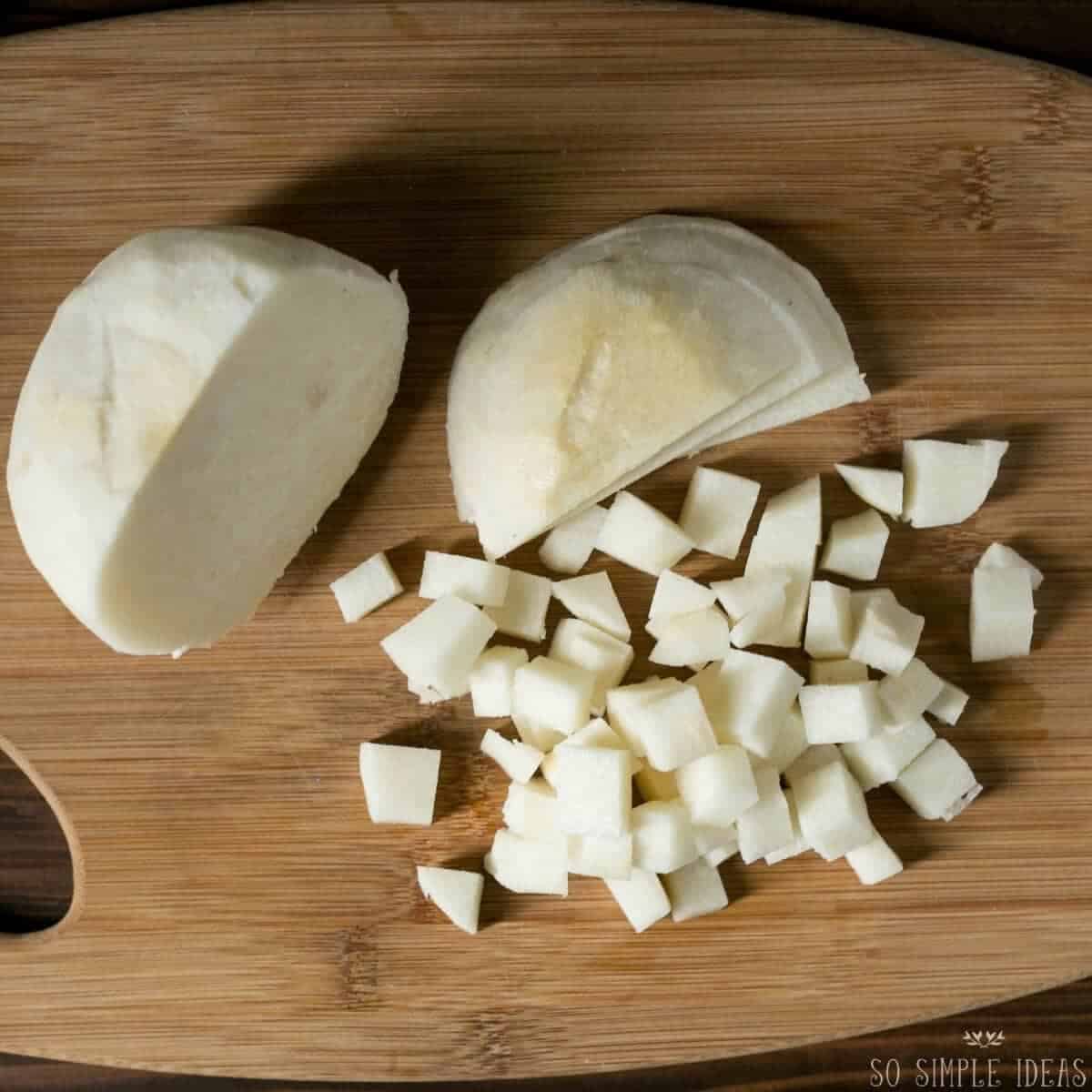 A cup of chopped jicama has 11 total carbs with 6 grams fiber. Because of the high fiber, net carbs come down to just 5 grams per cup. That makes it a great choice for ketogenic diets.
To make jicama rice, just cut or process it into small pieces then fry it in oil over medium heat. You don't want to stir the jicama too much as it cooks so that it can soften and carmelize. Total cooking time is about 8 to 10 minutes.
9. Spaghetti Squash
With just 7 grams of carbs and almost 2 grams fiber per cup, spaghetti squash is a popular vegetable for low-carb dishes.
After cooking spaghetti squash, the inside flesh comes out in long thin strands. These noodle like pieces are a great alternative to rice!
To make a great side dish, just stir-fry the strands in a skillet with a little oil. It tastes great seasoned with some soy sauce, ginger, and garlic.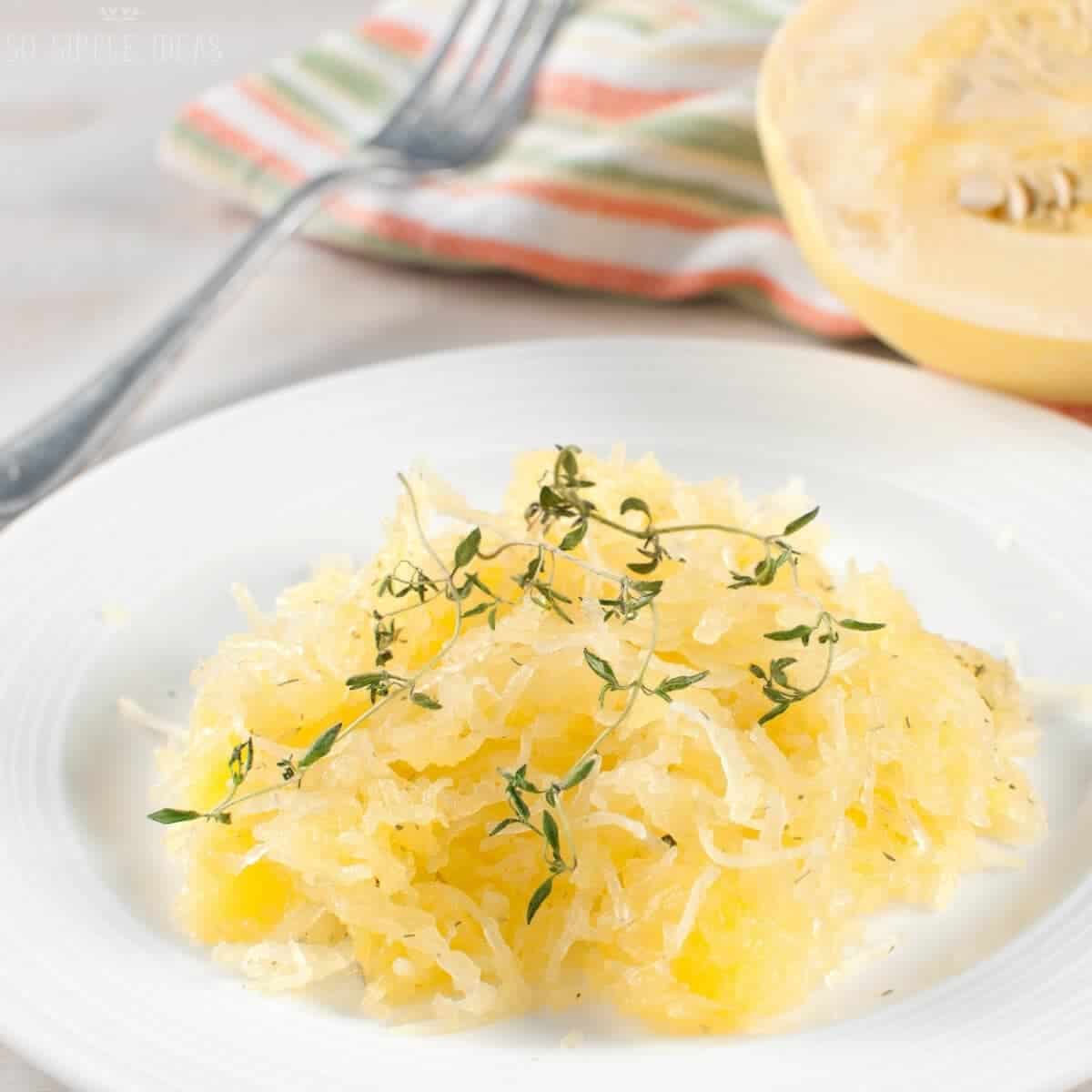 Recipes To Try
Need a little inspiration to cook some of these low-carb rice substitutes? We've got you covered! Take a look below for some of our favorite keto cauliflower rice recipes.
First published on August 28, 2018. Updated on March 3, 2021, with new photos and more relevant information.