Cornstarch is typically used as a thickener for soups, sauces, and stews. And what goes better with low-carb vegetables than a delicious sauce? If you're trying to eat low-carb, you know that flour and cornstarch are both big no-nos. Not to worry — there are plenty of keto substitutes for cornstarch out there!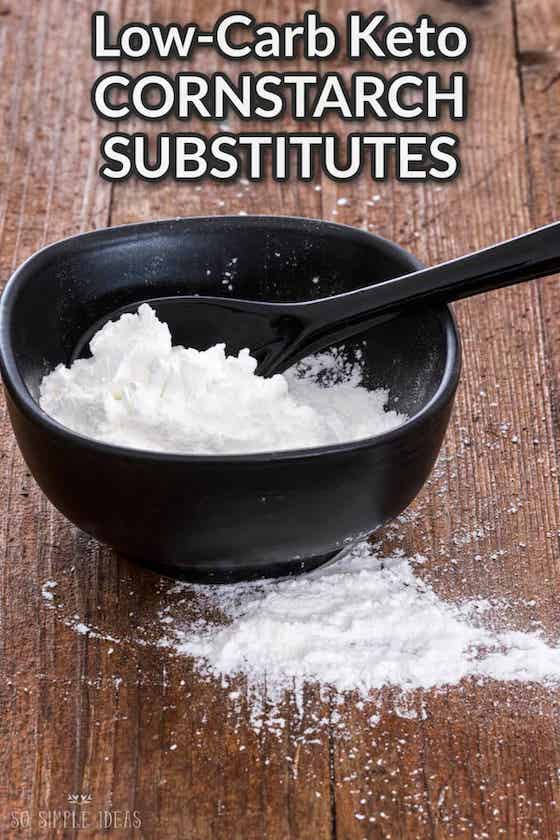 Most traditional recipes that call for a thickening agent rely on flour or cornstarch, which makes sense — a little bit of these ingredients tend to go a long way! But, if you're on a keto or low-carb diet, you're only allotted so many carbs per day. And who wants to waste their precious carbs on cornstarch?
You don't have to give up your favorite creamy dishes just because you're eating keto. All it takes is a little bit of creativity in the kitchen to turn almost any recipe keto-friendly. Simply swap out the carb-heavy ingredients for something else.
Today we're focusing on cornstarch substitutes, as it's commonly seen in recipes and is also easy to replace. If you find a recipe that calls for cornstarch, don't get discouraged! Below you'll find out favorite keto cornstarch substitutes.
What is Cornstarch and Why is it Used?
Cornstarch is a fine, white powder that is used in cooking and baking. It's used for a variety of reasons, most often as a thickening agent. Soup, sauce, stew, custard, and gravy recipes often call for cornstarch. It's sometimes used in cheeses and yogurt to thicken them as well.
It's called cornstarch because it is made out of corn kernels. It's also sometimes called cornflour, although it can't be used as a substitute for all-purpose flour in most cases. In fact, it's often preferred over flour when it comes to thickening as it is transparent rather than opaque when added to liquid.
It has next to no flavor. Not only is it used as a thickening agent in sauces, but it is also sometimes used to top baked goods. When you place it on top of tarts or pies before baking them, the layer of cornstarch thickens as it mixes with the fruit juices. It keeps desserts from turning runny or watery.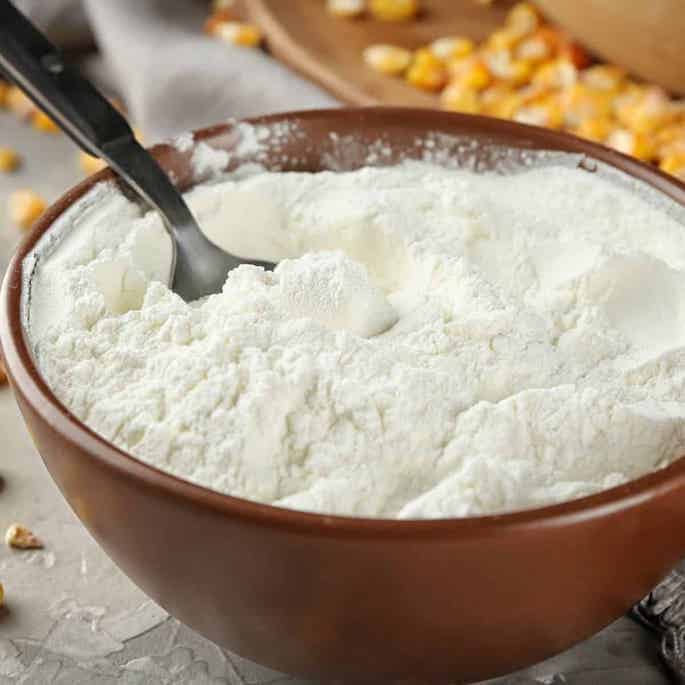 Why is Cornstarch Not Compatible With a Low-Carb Diet?
If you're following a low-carbohydrate diet, cornstarch is not an ideal food to eat. Cornstarch is high in carbs and can spike your blood sugar levels. This means that if you're following a low-carbohydrate diet, you'll want to avoid foods that are high in carbs like cornstarch.
When you follow the keto diet, you're typically allowed between 20-50 grams of carbohydrates a day. Cornstarch, surprisingly, contains 25 grams of carbs in a one-ounce serving! To help put that into perspective, here are the macronutrients of cornstarch:
106 calories
25.6 grams of carbohydrates
25.3 grams of net carbohydrates
Less than 1 gram of fiber
Less than 1 gram of protein
Whether you're eating low carb because you want to keep an eye on your blood sugar, or if you're trying to lose weight, cornstarch should not be a part of your diet.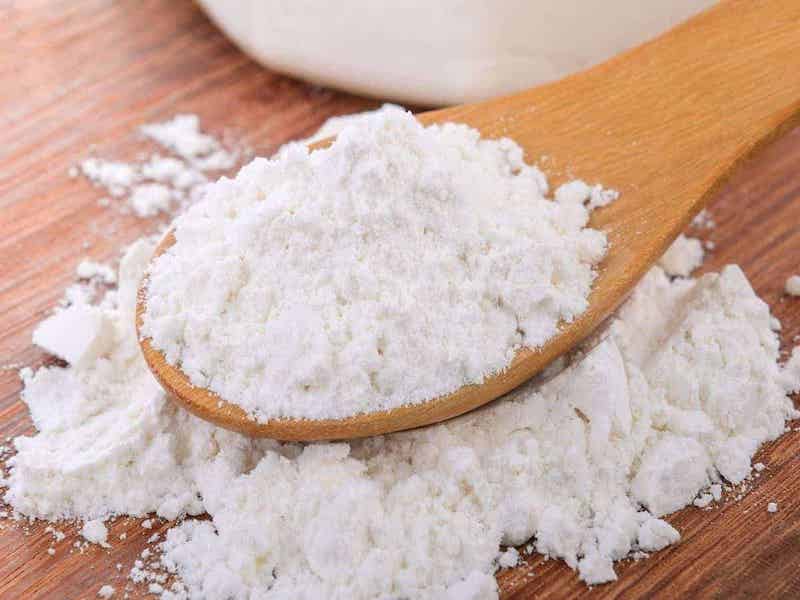 The Best Low-Carb Keto Substitutes for Cornstarch
If you're looking for a low carb alternatives to cornstarch, there are several to choose from. Below, you'll find several alternatives that are easy to find at your local supermarket. Unlike common substitutes like potato starch and rice flour, these options are all very low in net carbs.
Almond flour
Almond flour is often used by those with gluten sensitivities. It's a great replacement for all-purpose flour, as well as cornstarch! It's filled with plenty of vitamins and minerals, meaning that it's a nutrient-packed keto substitute for cornstarch.
It has even been shown to improve heart function and is a great dietary supplement for those with diabetes or folks who are very overweight.
Coconut flour
Next up is coconut flour, another ingredient that is often seen in gluten-free and vegan cooking. It's made from coconut meat that has been dried and ground, so it boasts a very slight coconut flavor.
It's very high in fiber if you're looking for a keto cornstarch substitute that will also help up your fiber intake. It's ideal in soups, sauces, and stews!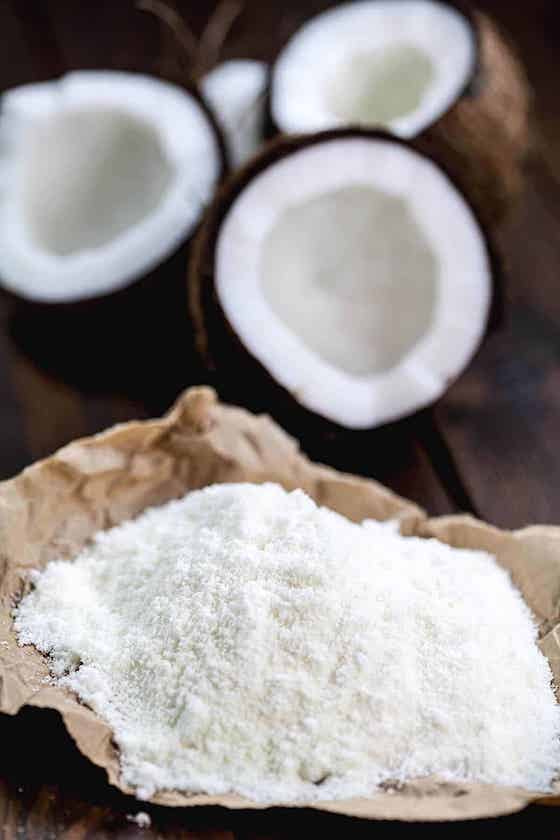 Flaxseed meal
Vegans will recognize flaxseed meal! It's often used as a substitute for eggs, and can also be used as a low carb substitute for cornstarch. It's a powerful thickener, acting as a sort of glue. It absorbs liquid well and can bind other ingredients together, just like cornstarch does.
Flaxseed is filled with omega-3 fatty acids and antioxidants, which is another reason why it's one of our favorite low carb substitutes for cornstarch.
Chia seeds
If you're a fan of smoothies or bowls, you've likely already tasted chia seeds! They're often added to the top of the health foods for a boost of protein and fiber. They are keto-friendly and work as a great thickener, making them the perfect keto substitute for cornstarch.
They expand when added to liquid and form a thick gel, making them ideal for sauces or desserts like pudding.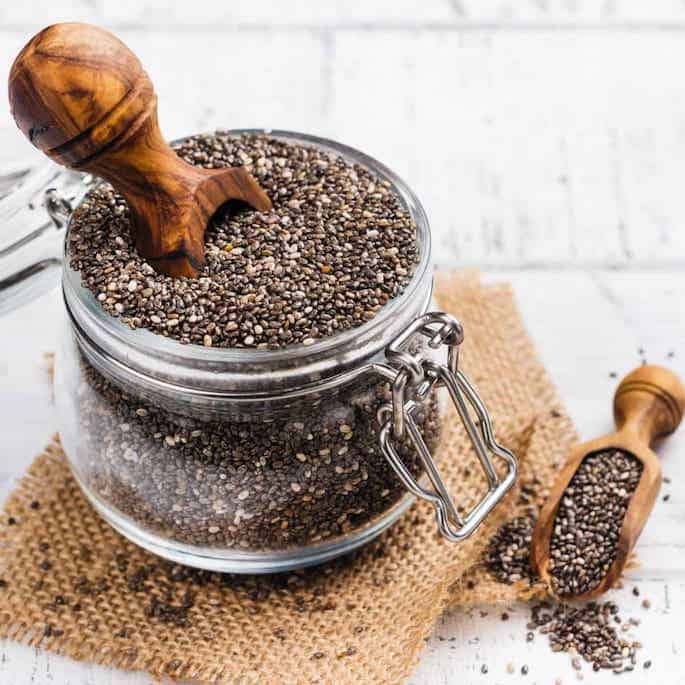 Psyllium
Psyllium, or psyllium husk, comes from the Plantago ovata plant. Don't let the fancy name fool you — it's a very commonly used ingredient in plant-based and keto-friendly recipes. You can use it as a thickener, and it works best in low-carb baking. It has no taste, so it won't affect the flavor of whatever you put it in!
Cauliflower
While you may not think to compare cauliflower with a white powdery substance, it can be used as a keto substitute for cornstarch. It works as a great thickening agent in soups and stews, and can also be used in your white sauces like alfredo or bechamel.
You'll want to cook the cauliflower by boiling it. Then, place it in a food processor or blender until it reaches a smooth consistency.
Whey Protein Isolate
If you like to dredge your food in cornstarch before frying, whey protein isolate is a great low carb and keto alternative. It has zero gram of net carbs and provides a similar crispy coating to fried foods.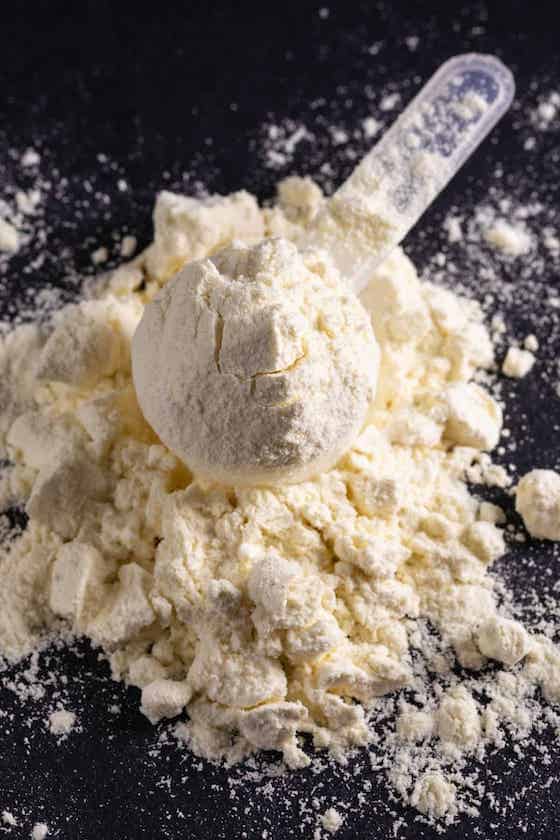 Guar gum
As many of the low carb substitutes for cornstarch on our list, guar gum is able to absorb water quickly and create a gel that acts as a thickener. It comes from guar beans and is perfect for thickening sauces. If you make homemade ice cream or yogurt, it's the ideal keto cornstarch substitute.
Xanthan gum
Gluten-free readers will recognize xanthan gum! It's often seen in gluten-free baking, and it's also an excellent keto substitute for cornstarch. It's used in baking as it helps treats like muffins, bread, and cookies rise without yeast.
It has no taste and works exactly the same way that cornstarch does, which is why it's also often seen in keto-friendly recipes!
Glucomannan
Glucomannan is taken from the konjac plant and is a dietary fiber. It has no taste and so can be added to almost anything without affecting the flavor of your dish. It is high-fiber and low-calorie and is often used to manage appetite and weight.
Plus, it's a natural probiotic! It can help improve your immune system, and digestion, and can even lower your cholesterol. If you have gut issues and are looking for a cornstarch substitute that's low carb, glucomannan is your best bet.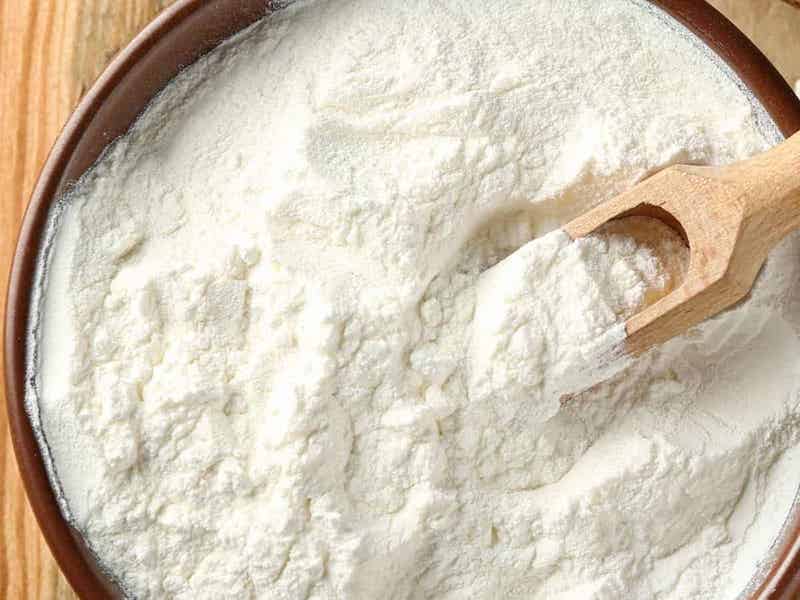 FAQs on Low Carb Substitutes for Cornstarch
If you don't see your question answered below, don't be afraid to let us know in the comments!
What can you use instead of cornstarch on keto?
There are several things that you can use instead of cornstarch on keto. Much depends on what you're using the cornstarch for. As a thickening agent? As a coating on baked goods? Determine exactly what you need it for and then choose between almond or coconut flour, guar or xanthan gum, glucomannan, cauliflower, psyllium, chia seeds, or flaxseed meal.
Is cornstarch allowed on keto?
Keto diets allow between 20-50 grams of carbohydrates per day. One serving of cornstarch is around 25 grams of carbs. If you don't want to use up your entire allotment of carbs for the day on cornstarch, you should look for some low-carb replacements. Cornstarch is technically allowed on keto if you're willing to give up the rest of your carbs for the day, but who wants that?
What can I substitute for cornstarch?
There are many substitutes for cornstarch out there. You may have to try out a few to determine which one you like best. Most are flavorless and won't affect the taste of whatever you put it in. Others do have a slight taste, so watch out for those!
Coconut or almond flour and cauliflower do have a slight taste. Glucomannan, xanthan gum, guar gum, psyllium, chia seeds, and flaxseed meal are either tasteless or feature a very slight and unnoticeable flavor.
Other Articles You May Be Interested In
On a keto kick? There is much to learn about this low-carb diet, especially if you've never tried it before! We suggest that you start with a few of the guides listed here, and then move on to keto cooking! You'll get a lot from the articles below: