Anyone who has a small space knows just how difficult it can be to store items that you have. Fortunately, there are many makeup storage ideas for small spaces that will keep your items organized and looking great at all times.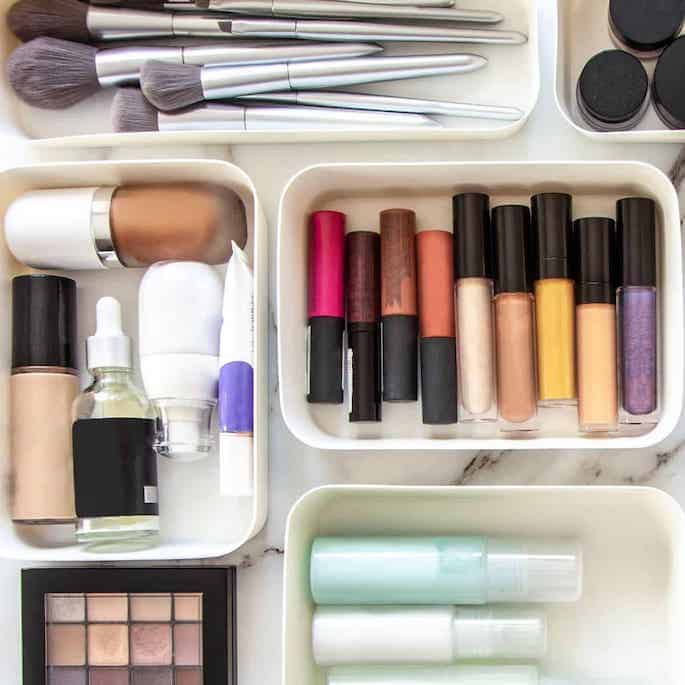 Have a small space and limited storage? You're not alone! A lot of us can relate. Having limited space is especially difficult when you want to store all your beauty products. There are so many wonderful makeup products available on the market now, but if one doesn't know where to store them; it can be frustrating and disastrous at times. So in this article, we will look at some great ideas you can use to store your makeup even if you have a small space.
Ideas for storing makeup in a small space
No matter how much you love makeup (and I know a lot of us do!), it's best to have an organizational system at home that you can fill with every shade of eyeshadow, highlighter, and lipstick you own. You can work around with small makeup storage spaces through these pretty nifty ideas that'll help give you more space! Hopefully one of these will give you some inspiration.
Vanity table or desk
This will give you a place to store your makeup and also be used as a workspace. If you don't have room for a vanity table, consider using an armoire or cabinet instead. These pieces of furniture can be used to store both clothes and makeup, making them perfect for small spaces.
Storage containers
There are a variety of different types of containers that can be used for this purpose, including boxes, baskets and bags.
Lipstick Box – Want to store your lipstick and glosses? Place them upright in a box so you can easily reach the shade you need. You can even use an empty shoe box and decorate it for easy DIY makeup storage ideas for small spaces.
Makeup Basket – Baskets are ideal storage containers that you can use to keep various cosmetic items. You can allot a basket per category like one for lipsticks, one for makeup brushes, and another one for eyeshadows.
Cosmetic Bags – A zippered pouch is a great way to organize small objects like makeup items. Cosmetic bags come in a variety of sizes and styles. Some have built-in mirrors, velcro dividers, and slots for makeup brushes.
Makeup Train Case
For all of your makeup accessories, you can consider having a compact makeup train case (similar to what professional makeup artists use) with multiple levels, built-in mirror, and many small compartments. It's an excellent storage system that keeps all your items in one neat place and convenient too! Plus they're great for travel.
Racks
Just because the spice rack is used for keeping spices, doesn't mean it can't do double duty as a handy place to store cosmetic items like nail polish—if you paint your nails often, your collection will be nicely organized and easy to reach on a wall-mounted spice rack that has been painted in an appealing color.
Pocket Organizers
If you've collected a lot of makeup items over the years but have a small space, don't stop looking for places to store them. Consider adding a pocket organizer to the back of your door to save space. You can easily buy hanging organizers with as many pockets as you want!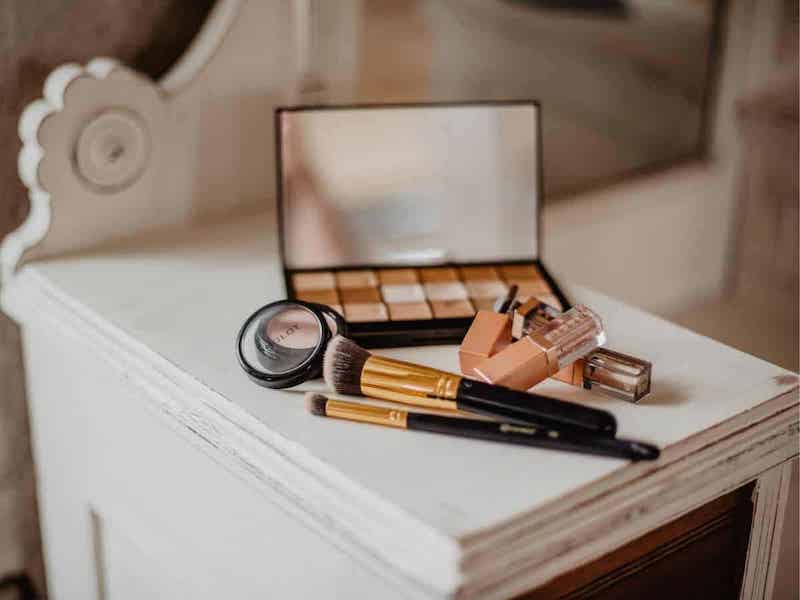 Organizing your makeup
If you're like most women, you've probably struggled with finding storage for your makeup in a small space. But with some creative thinking, you can find ways to store your makeup without taking up too much space. Here are six ideas for storing your makeup in a small space:
1. Use drawer organizers to store your makeup in drawers. A makeup lover needs several compartments for her products. With drawer organizers, you can easily see what you have and keep everything organized. Store eye liners, mascaras, pencils and other similar things in one drawer, brushes in another and blushes in a different one.
2. Use clear acrylic containers to store your makeup products. Most makeup storage kits come in dark or opaque containers that make it difficult to find what you want. But having a clear acrylic storage system enables you to see exactly where everything is, so you don't have to waste time searching for things.
3. Use a tiered storage system for your makeup items. Tiered storage is a good option for storing small makeup items in small spaces. Divide your collection into categories and give each category a tier. Put the things you need daily on the top tier, while keeping less frequently used items on the lower tiers. This way, you'll be able to find things easily and everything will be stored compactly.
4. Use a rotating makeup caddy to get what you need easily. If you're tight on space, a rotating makeup caddy will help you use your countertop or cabinet space efficiently. They're a great way to store your makeup, and they make it super easy to find the product you're looking for because they rotate 360 degrees. There are even models that come with adjustable shelves to suit your needs.
5. Use trays for easy and lovely storage. Add a little sparkle to your vanity with this mirrored glass tray. But of course, you can use any pretty tray you want. A vanity tray makes a beautiful display for your everyday essentials, perfumes, and skincare. You can even use it to store your rings and other small jewelry pieces.
6. Use glass jars for small makeup items. Why not use those empty mason jars you have lying around to help organize your makeup? You could arrange them by color, brand, or type of product. For example, you can sort all those red lipsticks in the first jar, the pink ones in next, and the nude colors in the last.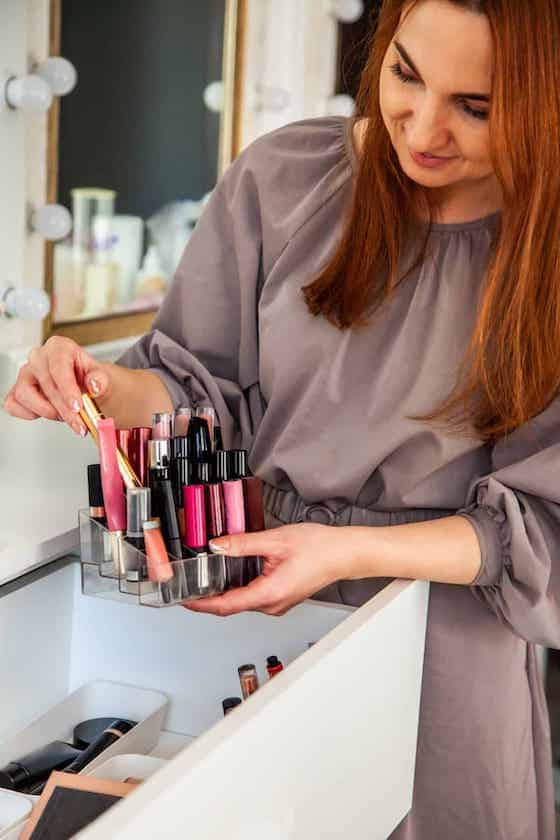 Choose the right storage
A makeup collection can take up a lot of space, but with the right storage, it doesn't have to. When choosing storage for makeup in a small space, there are a few things to keep in mind.
Consider what type of storage will work best for your needs. If you need easy access to all of your products, opt for shelves or drawers. If you want to keep your makeup hidden away, choose a cabinet or vanity.
Know how much space you have. Measure the space you have available and find storage that will fit. You don't want to buy an acrylic drawer that is too big for your cabinet or table.
Think about what type of décor you want to go with. If you want your makeup storage to match your bedroom furniture or other accessories, be sure to find something that matches.
With these tips in mind, choosing the right storage for makeup in a small space is easy!
Makeup brush storage
Makeup brushes can be a valuable part of your beauty routine, but they can also be a pain to keep clean and organized.
Keep them in a container or box. This can help protect the bristles and keep them together. You can also store them in an upright position so that they air out and dry properly.
Hang them on a rack. This will allow them to dry properly and keep them organized. Whichever method you choose, make sure to clean your brushes regularly so that they stay healthy and looking their best.
Put them upright in brush holders. Give your brushes some careful consideration. Brushes need to be stored in a holder that protects both the bristles and the handles from breaking. Consider a simple and stylish vase with beads, or an acrylic holder with built-in dividers for brushes. For DIY storage ideas, you can use candle jars and rice or coffee beans instead of beads.
By choosing one of these options, you can keep your brushes clean and organized even in a small space—and enjoy easy access to them when you want to start applying makeup!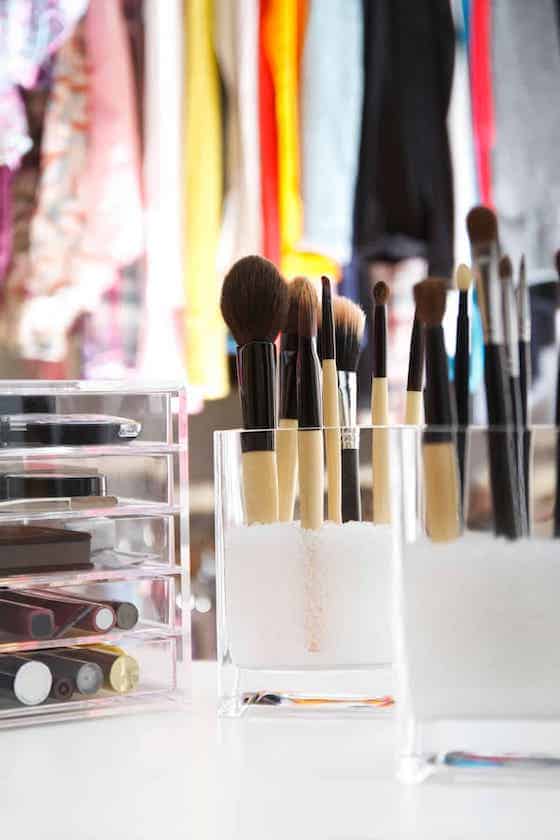 Storage solutions for lipsticks and eyeshadows
Lipsticks and eyeshadows are two of the most commonly used beauty products. However, they can be difficult to store because they tend to take up a lot of space.
Use a lipstick or eyeshadow palette for easy organization. Palettes are compact and allow you to store several products in one place. They also come with built-in mirrors, which is convenient for on-the-go applications.
Store them in an acrylic organizer. These organizers are designed to hold various types of cosmetics, including lipsticks and eyeshadows. You can choose one that best suits your needs from various shapes and sizes.
Get creative with ice cube trays. If you're short on storage space for your makeup, get creative and repurpose an ice cube tray. These DIY makeup storage ideas for small spaces are handy and perfect for holding lipsticks and eyeshadows, and they can be easily stored in a drawer or cabinet. Simply choose a tray with compartments that are deep enough to hold your makeup products.
FAQs about storing makeup in a small space
If you don't see your question answered below, don't be afraid to let us know in the comments!
How do I organize my makeup with little space?
stackable storage containers like boxes and baskets, drawer organizers, racks, and even pocket organizers at the back of your door.
How do you store makeup if you don't have a vanity?
Don't have a vanity table or desk? No problem. You can consider buying a makeup train case or an acrylic organizer with dividers to keep your makeup items in one place. You can also use jars, trays, cosmetic bags, and a whole lot more!
How do you store makeup in a small bathroom?
Tiered storage, rotating makeup caddy, and racks are perfect for a small bathroom. With these small space storage solutions for your makeup, you can have easy access to your things while maximizing the space.
Where should I store my makeup at home?
The bathroom is often the first place people think of, but it's actually one of the worst places to store makeup. The humidity and heat can cause makeup to break down and spoil more quickly. Instead, look for a cool, dry place out of direct sunlight to store your makeup.

A dresser drawer or shelf in your bedroom is usually a good option. By taking care not to expose your makeup to excessive moisture or heat, you can help it last longer and stay in better condition.
Other Articles You May Be Interested In
So, if you enjoyed this article on makeup storage ideas for small spaces, be sure to check out some of these others for more great tips and tricks!