Need a super simple main dish? This air fryer roast beef recipe requires just a few simple steps and can be cooked in less than 30 minutes. The end result is a delicious and tender meat that will leave your guests wanting more.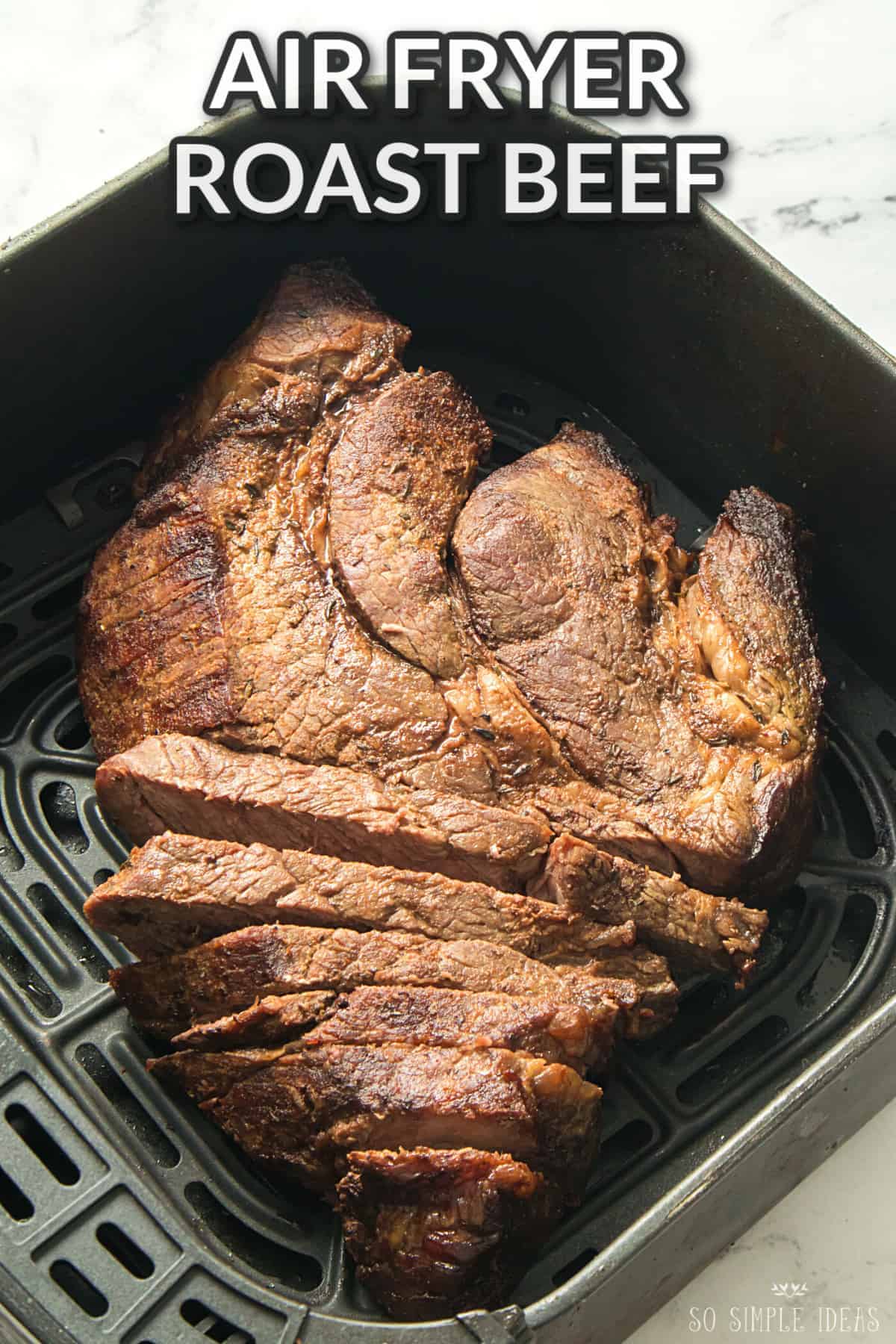 What could be more comforting than a medium rare roast beef that's been air fried to be pink in the middle and crisp on the outside? This easy and delicious recipe is perfect for a special meal or even just as a regular weeknight dinner. Air frying makes the meat so tender and juicy that you won't believe it's not roasted in the oven.
The great thing about air frying is that it cooks food by using hot air instead of oil. Air fryers are often considered to be better than traditional ovens because less heat is needed and food cooks faster.
Cooking with an air fryer is also a great way to reduce the amount of oil you use, as well as calories and fat in your food. Plus, they're easy to clean!
Ingredients
The best thing about air fryer roast beef is that you only need three primary ingredients: the meat, olive oil, and a seasoning blend.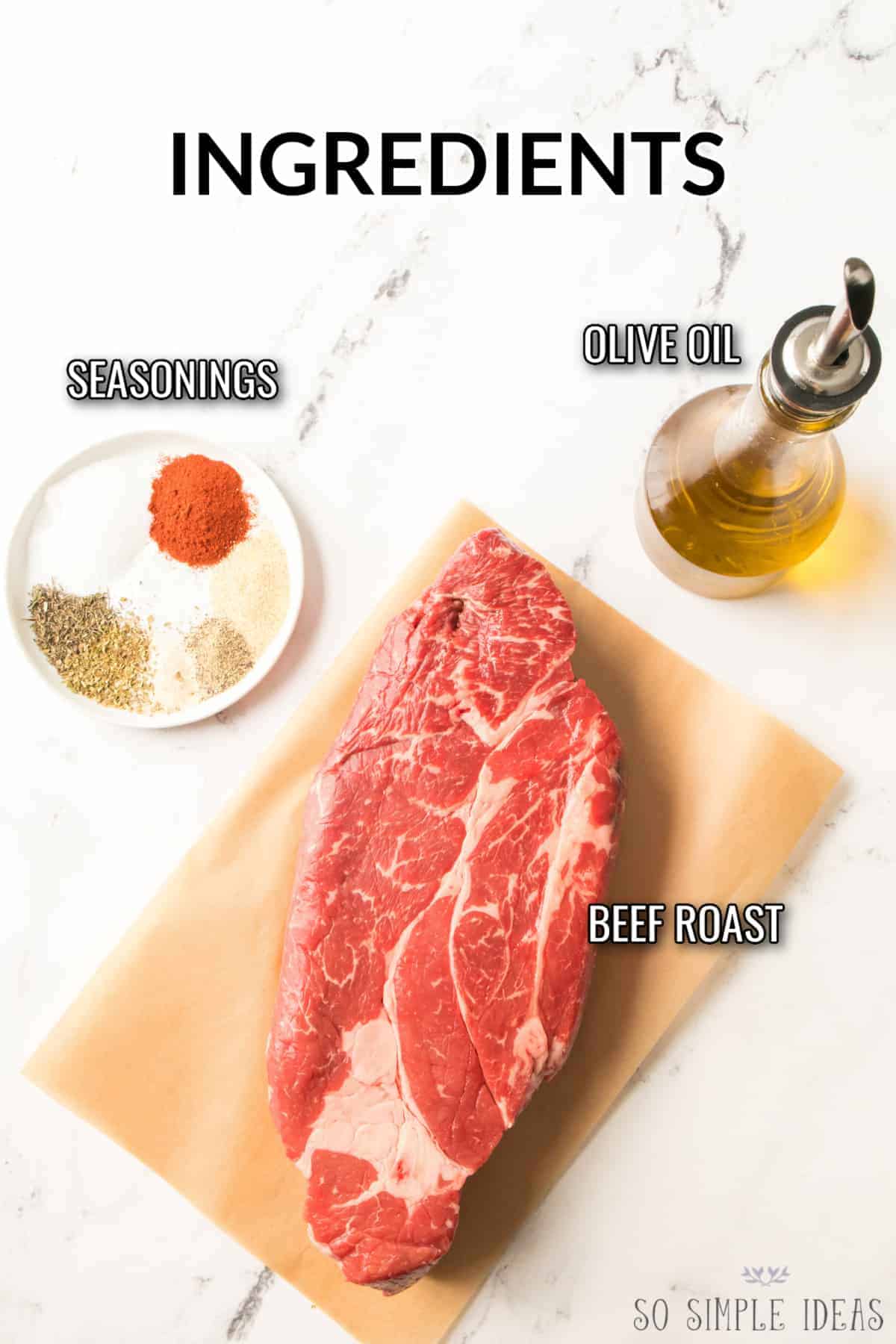 Roast beef
You may need to adjust the size of the meat depending on the number of servings and the size of your air fryer. The base recipe uses a 2 pound beef roast which should enough to feed four people.
The type of roast you choose is up to you. A chuck roast, round roast, and sirloin roast are good options.
Seasoning blend
Any steak seasoning mix works. Montreal steak seasoning is a popular choice. However, we like to make a homemade blend with salt, paprika, garlic powder, ground black pepper, onion powder, dried oregano, and dried thyme. Feel free to change things up to suit your own taste.
Olive oil
The seasonings are whisked into olive oil then spread onto the meat. The oil helps seal in the juices while the outside browns in the air fryer. This results in a really flavorful roast beef!
Note: The full list of ingredients with the exact amounts used are in the recipe card at the end of this post.
Instructions
This easy air fryer recipe that is sure to become a go-to for easy dinners. Here's a quick overview of how to make it.
Prepare seasoned oil
Mix your seasoning blend with a couple tablespoons of olive oil.
Season meat
Rub the seasoned oil on all sides of the roast beef.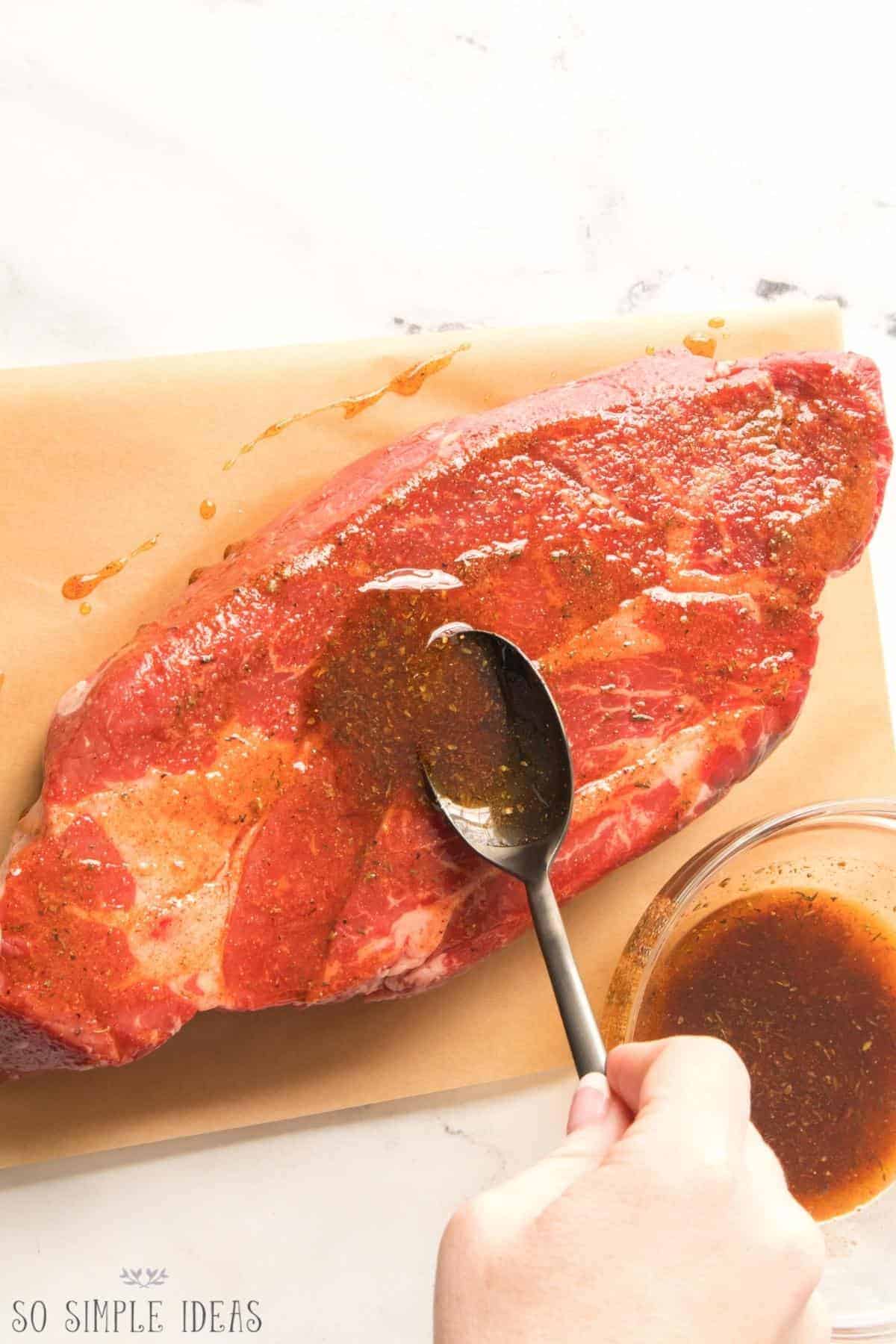 Put meat into air fryer
Place seasoned roast in the air fryer basket and place into the preheated air fryer.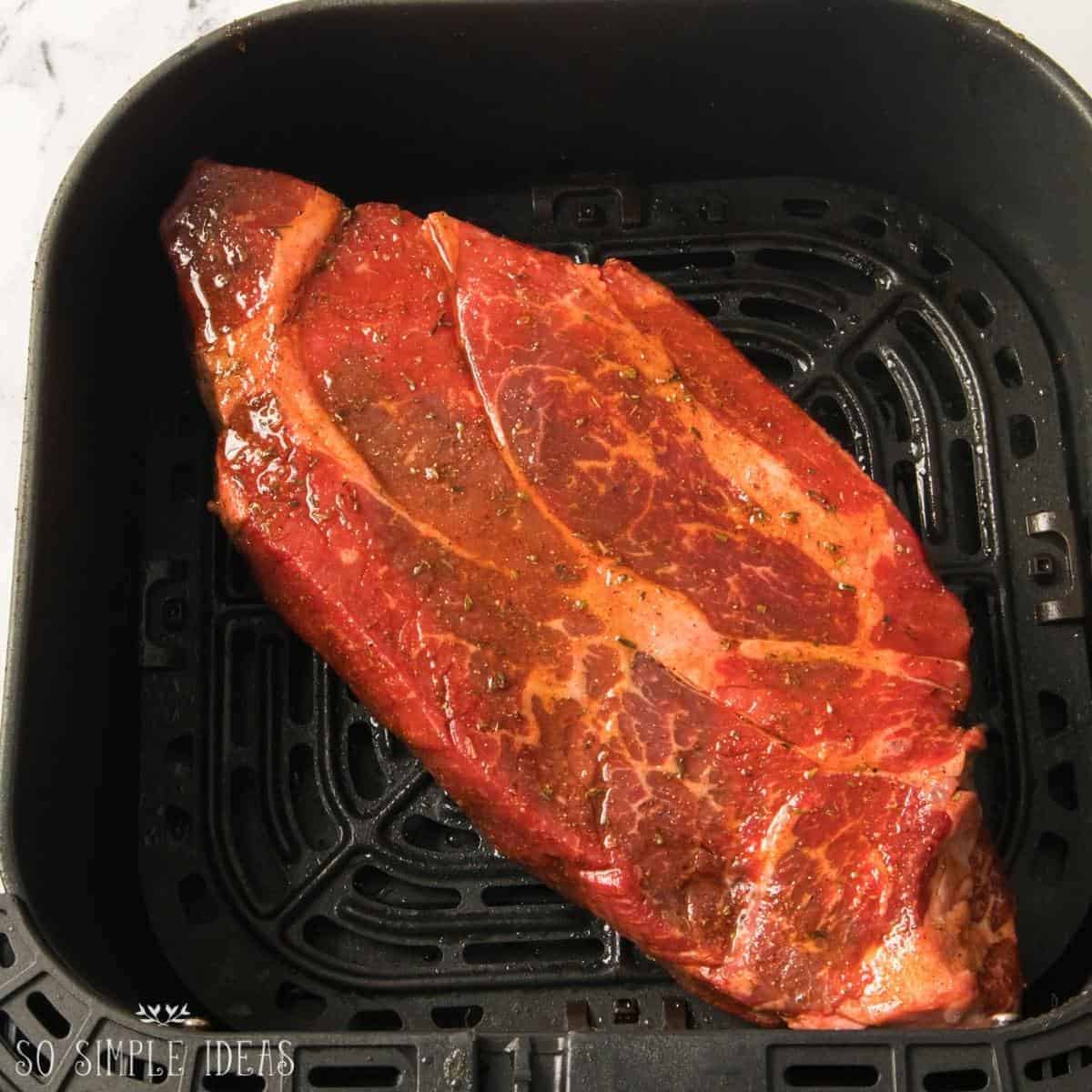 Air fry
The initial cooking is done at a higher temperature to sear the outside of the roast beef. Then, the temperature is lowered and the air fryer beef is cooked until the desired temperature is reached. Use a meat thermometer to check the as close to thee center as possible.
125°F for rare
130°F for medium rare
140°F for medium
145°F for medium well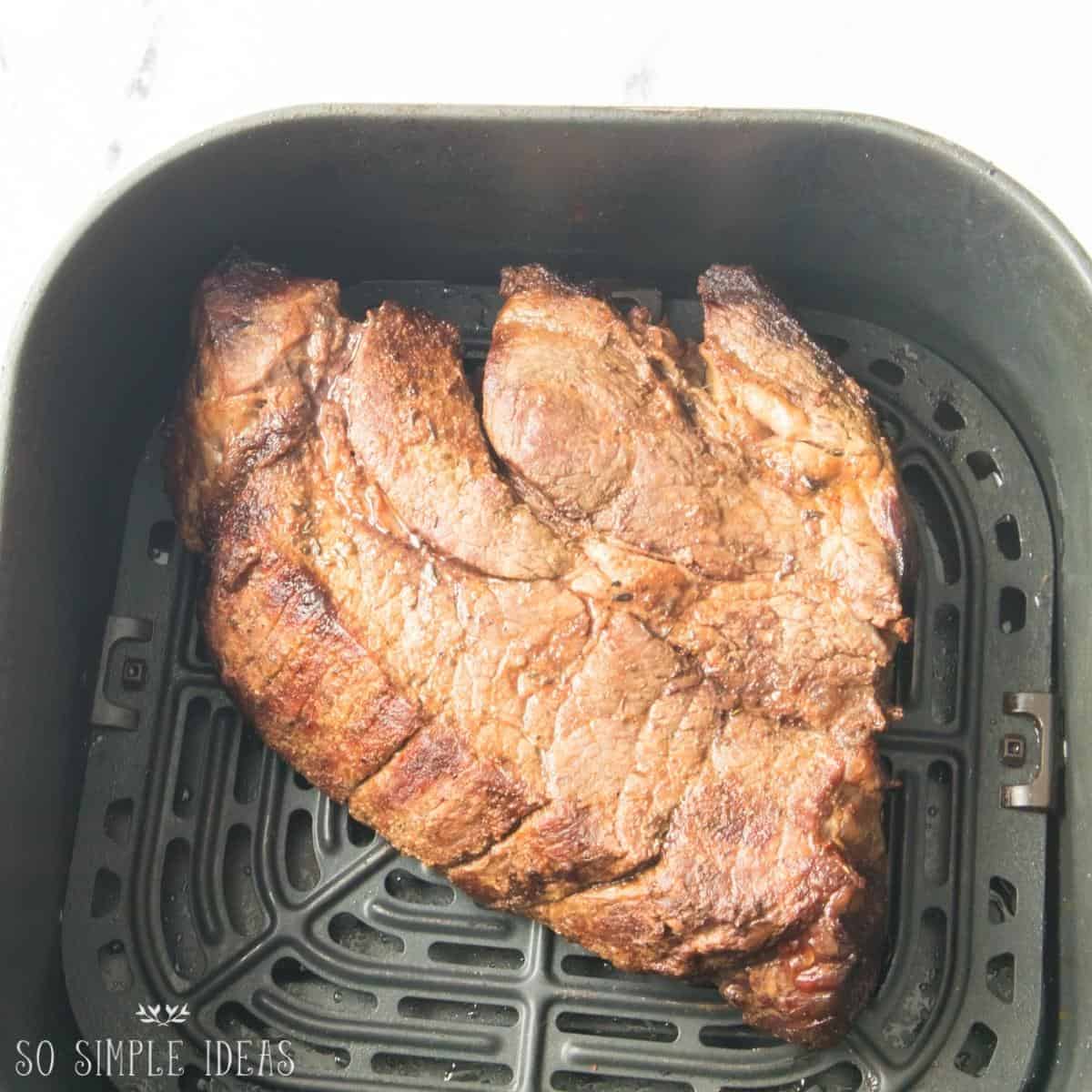 Tips
Cooking times and temperatures can vary depending on the specific air fryer used. Keep an eye on it to make sure the roast beef doesn't overcook.
Flipping halfway helps to cook the beef more evenly.
After you remove the roast, cover it loosely with foil and let the meat rest for 10 to 15 minutes before serving.
Serving suggestions
Serve with some mashed potatoes and a green vegetable for a traditional beef roast meal. If you're following a low-carb diet, you'll want to use a keto potato substitute and a side that low in carbs like our gluten-free green bean casserole.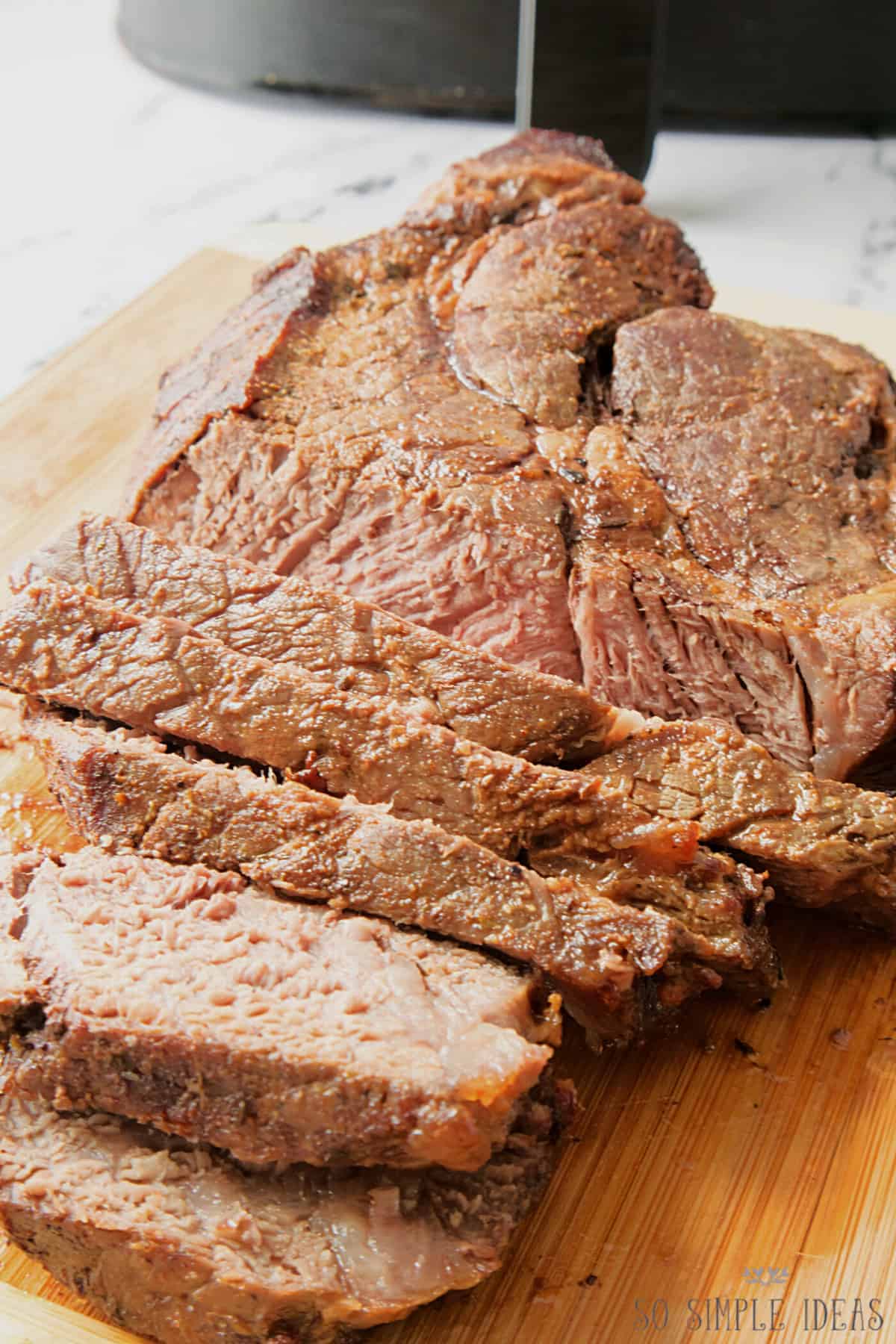 FAQs
Here's a list of common questions often asked about air fryer roast beef. If your question isn't answered, leave a comment below the recipe.
How long does a roast take in an air fryer?
A roast will take about 25-30 minutes in an air fryer.
Are air fryers good for roasts?
Air fryers are a great way to cook a roast. They cook the meat evenly and give it a crispy crust.
How long does it take to cook a 3 pound roast in air fryer?
Cooking time can vary. But generally, it takes about an hour to cook a 3 pound roast in an air fryer.
Related recipes
Need a few more simple dinner recipes? Check out some of these favorites.
Air Fryer Roast Beef
Need fast main dish for dinner? Roast beef in the air fryer is always delicious and tender for an easy dinner idea.
Ingredients
Rub:
1 ½

teaspoons

salt

1

teaspoons

paprika

½

teaspoon

garlic powder

¼

teaspoon

ground black pepper

¼

teaspoon

onion powder

¼

teaspoon

dried oregano

¼

teaspoon

dried thyme

2

tablespoons

oil
Instructions
In small bowl, whisk together the dry rub ingredients. Stir in olive oil and allow to sit for 10 to 15 minutes.

Preheat air fryer to 400°F.

Run the seasoning rub on all sides of the meat.

Place meat in air fryer and cook 12 to 15 minutes to sear the outside.

Flip the roast then finish cooking at 360°F for 20 minutes and check temperature.

Continue cooking for until meat reaches desired doneness (125F/Rare, 130F/MedRare, 140F/Med, 145F/MedWell).

Remove from oven and tent with foil for 10-15 minutes before serving.
Notes
Cooking times and temperatures can vary depending on the specific air fryer used. Keep an eye on it to make sure the roast beef doesn't overcook.
Nutrition
Calories:
473
kcal
|
Carbohydrates:
1
g
|
Protein:
44
g
|
Fat:
33
g
|
Saturated Fat:
12
g
|
Polyunsaturated Fat:
4
g
|
Monounsaturated Fat:
18
g
|
Trans Fat:
2
g
|
Cholesterol:
156
mg
|
Sodium:
1056
mg
|
Potassium:
765
mg
|
Fiber:
1
g
|
Sugar:
1
g
|
Vitamin A:
73
IU
|
Vitamin C:
2
mg
|
Calcium:
44
mg
|
Iron:
5
mg